Billboard Threatens 'Moscow Mitch' McConnell to Impeach Trump or 'Lose Your Job' As He Faces Kentucky Reelection
A new mobile billboard by the Need to Impeach campaign warns Senate Majority Leader Mitch McConnell of Kentucky to move in favor of impeaching President Donald Trump or "lose his job," after a Republican incumbent governor lost to a Democrat in the deep-red state.
The billboard, set to debut on a truck to be driven around Washington, D.C., Wednesday and obtained by Newsweek on Tuesday, refers to McConnell by a nickname bestowed on him by critics of his decision to block election security bills despite evidence that Russia meddled in the 2016 elections.
"Moscow Mitch: Do Your Duty or Lose Your Job," reads the billboard, which also features his face.
Need to Impeach and other groups have targeted McConnell before, but the campaign's lead strategist Kevin Mack told Newsweek that "things are different" since Republican incumbent Matt Bevin narrowly lost the Kentucky gubernatorial election last week to Democrat Andy Beshear.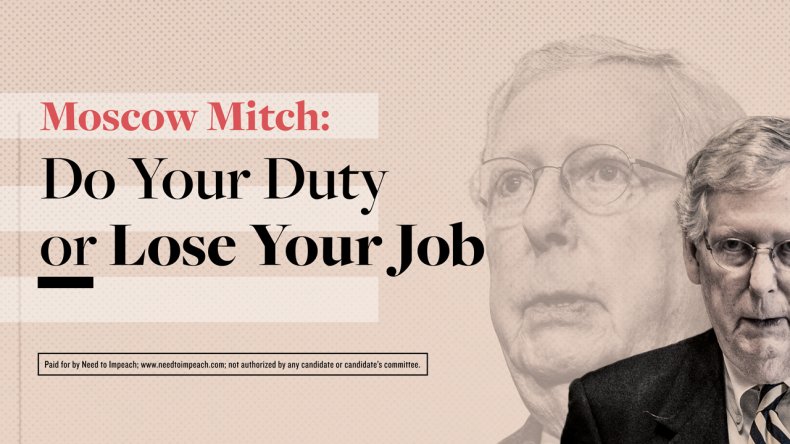 McConnell on Monday said "I'm sorry Matt came up short" and that "all indications" showed "we'll have a different governor in three weeks." Bevin's defeat is a sign that McConnell could be vulnerable when he runs for reelection in 2020. McConnell said "we'll find out," when asked if Bevin's loss could affect his run.
The Need to Impeach campaign is targeting areas that voted overwhelming Democratic in planned actions in Kentucky, as well as in Washington, D.C., where McConnell serves as majority leader.
"We believe that ultimately Mitch McConnell cares most about Mitch McConnell, so he will take action to protect himself and that will require him to hold the president accountable," Mack said, referring to impeaching Trump.
Several Republicans want to impeach Trump and "McConnell keeps them in line," Mack claimed. He added that a year and a half ago, it appeared House Speaker Nancy Pelosi would not act in favor of impeaching Trump but that she has done just that.
"If Mitch McConnell says vote your conscience, we're going to see a very different vote," Mack said, adding, "we will put pressure on Mitch McConnell to do his job."
Mack added that if McConnell decides not to do his job, Republicans lose the majority in the Senate and Trump loses the 2020 election, government will look different.
"We will have a whole different United States of America," Mack said.
McConnell's office could not be reached for comment by Newsweek on Tuesday.
The ad will be broadcast on a truck that will drive from Wednesday through Friday through streets around the White House, on Constitution Avenue and around the Capitol, Senate and House of Representatives office buildings. It will go live along with another new ad by the campaign with an image of Trump and stating, "Republicans: Someone Will Be Held Accountable ... A Corrupt President or You."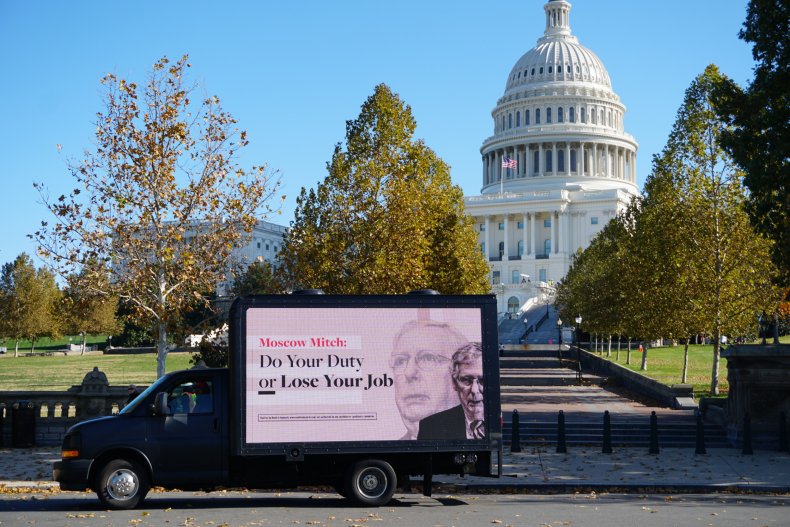 The action cost the campaign less than $20,000 and was paid for through its fundraising, Mack said. Need to Impeach was founded by billionaire Democratic donor and former hedge fund manager Tom Steyer, who left his position with the campaign when he announced his bid for president. However, Steyer is "still our major funder," Mack said.