Billboard Threatening 'Liberals' Over Trump Impeachment Will Be Removed: 'Better Get Your Guns'
A pro-Trump billboard warning "liberals" to arm themselves if they attempt to impeach the president will be taken down from its roadside position in Calvert County, Maryland.
"Hey liberals, better get your guns if you try to impeach President Trump," the billboard reads in large red ink. "From all of your deplorables in Calvert County."
According to WTOP, Mike Evans, Calvert County's sheriff, said that although the sign doesn't breach any laws, it has been the subject of various complaints and will probably be removed by the owner on Thursday.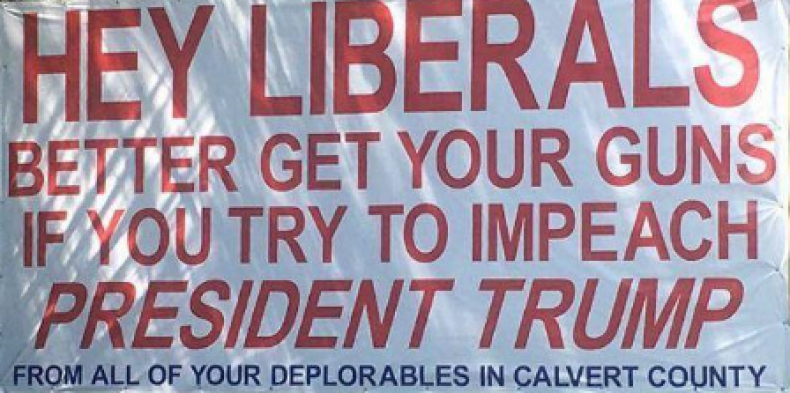 "When we have very little … going on in Calvert County, very little crime, [and] something like this pops up, it gets a lot of attention," Evans said.
Evans said that he discussed the complaints with the man who originally erected the billboard who then decided to remove the sign on his own volition, without having been asked to.
"Some people are quite upset, and maybe you should change your message or think about taking it down," Evans told WTOP, recalling his chat with the man. "I just expressed the opinion of some people in the county, and that was his choice."
Evans, who is running for re-election, revealed that he has his own plans for the soon-to-be blank billboard.
"I'm going to have a billboard… for campaign purposes," he said.
When asked by WTOP, Evans reportedly declined to say whether he agreed with the message the sign held but admitted that he was a Republican and stands "by Republican values."
On Tuesday, Snopes confirmed the existence of the billboard near Huntington in Calvert County after an image of the sign went viral on Facebook.
According to the report, Captain Dave Payne of the Calvert County Sheriff's Office confirmed the existence of the sign, but said he did not know how long it had been there for.