Billie Eilish Concert Abruptly Stopped as She Checks Fans' Safety
Billie Eilish has stopped another concert to ensure fan safety, just days after she was criticized by Kanye West for similar actions at an earlier show.
The 20-year-old singer paused her show during her Happier Than Ever tour over the weekend to make sure people in the crowd weren't getting hurt.
While performing at Madison Square Garden in New York City, the "Bad Guy" hitmaker told her fans: "If you want to sit down, you are allowed. Go ahead, sit down, take a breath."
Footage obtained by TMZ shows Eilish instructing audience members to "take a step back and give everybody some room down here."
Earlier this month, Eilish made headlines when she stopped a concert in Atlanta to help a fan who needed an inhaler in the pit section by the stage. "I wait for people to be okay," she said.
This act prompted outrage from Kanye West, who took Eilish's actions as a slight against his friend and rapper, Travis Scott.
Scott was at the center of a massive controversy last November when 10 people died and hundreds more were injured during a deadly crush at his Astroworld Festival.
The event's organizers and Scott himself are facing hundreds of lawsuits and the tragedy prompted a large conversation about whether artists are responsible for fan safety during their concerts.
Eilish never mentioned Scott, but West seemed to take her comments as a slight against Scott and erupted in a rant on Instagram and called for her to issue an apology.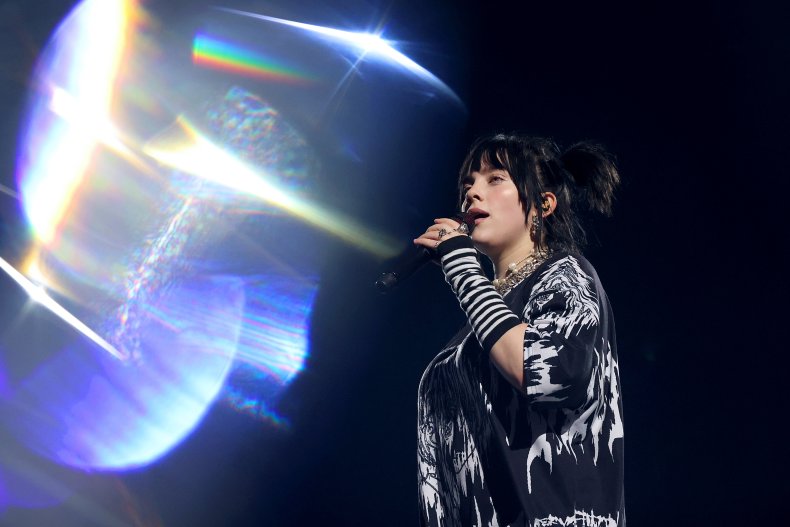 "Come on Billie we love you. Please apologize to Trav and to the families of the people who lost their lives. No one intended this to happen," the "Donda" rapper wrote in a since-deleted post.
"Trav didn't have any idea of what was happening when he was on stage and was very hurt by what happened, and yes Trav will be with me at Coachella, but now I need Billie to apologize before I perform."
Eilish later responded to West in the comments, writing: "Literally never said a thing about Travis. Was just helping a fan."
In December, Scott said he wasn't aware of what was happening in the crowd during his set.
"It wasn't really until minutes before the press conference until I figured out exactly what happened. Even after the show, you're just kind of hearing things, but I didn't know the exact details until minutes before the press conference," he said in an interview with TV and radio personality Charlamagne Tha God.
Scott also released a statement saying he was "devastated" after the incident.
"My prayers go out to the families and all those impacted by what happened at Astroworld Festival," Scott wrote on Twitter. "Houston PD has my total support as it continues to look into the tragic loss of life."