Billie Eilish Fans Wish Singer a Happy 19th Birthday
Billie Eilish is being showered with birthday wishes from fans as the "Bad Guy" singer turns 19.
The famous Sagittarius—whose full name is Billie Eilish O'Connell—updated her Instagram bio to read "19" to mark the occasion.
Having risen to fame as a teenager, many of Eilish's dedicated fans are growing up with her, with legions of followers bestowing birthday wishes on the singer.
"Dear, precious Billie... don't ever change," one fan tweeted. "We love you, you crazy, llama-faced angel. You fucking icon. Happy birthday, sweetheart."
While another added: "Happy 19th birthday @billieeilish you truly deserved our hearts."
"happy birthday to the cutest person in the world Billie Eilish @billieeilish #HappyBirthdayBillieEilish," tweeted another.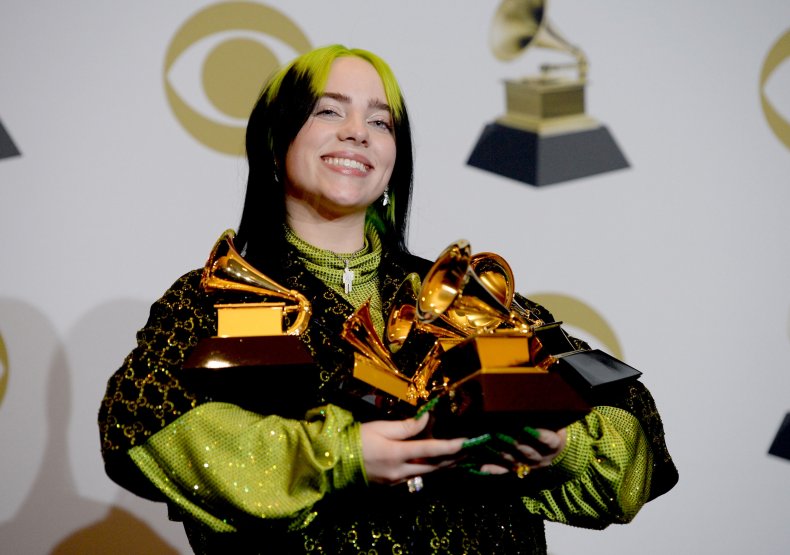 Another fan tweeted a fancam of the singer with the caption: "Happy birthday to this beautiful human being."
Earlier this month, Eilish sat down for her annual interview with Vanity Fair where she discussed everything from coronavirus to politics.
"I have made and created things that I don't think I would have ever created," she said of the pandemic. "I learned so much more about the way people are living that I wasn't aware of before. The climate crisis and social injustice and all the bad things made me think differently."
"I will never stop fighting for all the Black and brown people who have lost their lives to police brutality," she added.
Eilish has been promoting her upcoming documentary, Billie Eilish: The World's a Little Blurry.
"In life, we tend to do things and then we're always looking forward to the next thing when everything is about what's happening right now," she narrates in the trailer. "And this is happening right now. We are never going to be in this moment ever again. So why don't we be in the moment, yeah?"
Earlier this year, Eilish unfollowed every single person on Instagram in a move that confused fans.
The singer has a staggering 72.2 million followers on the platform and is an active poster.
During the summer she was actively supporting the Black Lives Matter movement in the wake of George Floyd's death, which seemed to be the reason for her to disengage from the social media platform somewhat.
Eilish posted a message on her Instagram stories that read: "If I am following your abuser, DM me and I will unfollow them. I will support you."
A short while later, she deleted it from her stories and unfollowed everyone on Instagram.