Billie Eilish Just Announced 'The World's a Little Blurry' Documentary—Here's What to Know
Billie Eilish is coming to the big screen. The Grammy winning artist announced on Monday that next year, the documentary Billie Eilish: The World's A Little Blurry will premiere this coming winter. R.J. Cutler, whose previous work includes Belushi, The September Issue, and The War Room directed the film.
The trailer features a green figure which grows larger and becomes blurry. Brief bits of her songs play over a creepy beat, along with the deep-voiced "Billie" that introduces her hit, "bury a friend."
The screen is then taken over by neon green stripes before showing the title of the documentary. The teaser clip also gives us a glimpse of a home video of a baby Billie sitting by a piano.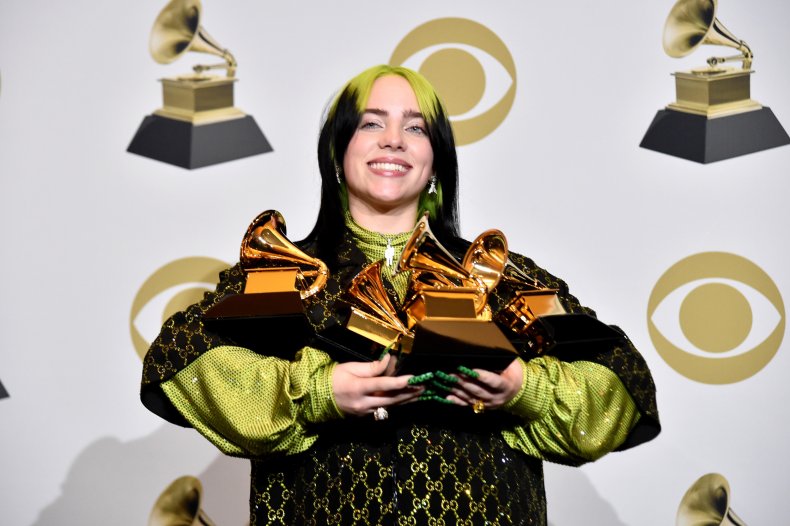 The documentary was initially announced in 2019. The Hollywood Reporter revealed at the time that the film was reportedly priced at $26 million. Hulu and HBO Max intensely fought for the film, but wound up losing to AppleTV+.
The movie is expected to follow Eilish after the release of her debut album, When We All Fall Asleep, Where Do We Go?, in March 2019. "Cutler was granted deep access to Eilish's private moments with family and behind-the-scenes of her public appearances," the publication noted.
Eilish is close with her family, and has previously revealed that her mother and her brother, Finneas, got her into music, as per Harper's Bazaar. "I feel like I was always I wanted to write songs just because my brother did, and also my mom did," Eilish admitted in 2017. "She taught both of us how to write and so I always have high standards for writing. If I didn't, I'd have 2,000 songs."
When We All Fall Asleep, Where Do We Go? swept the Grammy Awards this past January. She took home the Best New Artist, Album of the Year, Record of the Year, Song of the Year, and Best Pop Vocal Album awards.
The young pop star was also slated to go on tour this year, but only made it to a few of her show before the coronavirus pandemic shut things down, as per NPR.
She performed a hauntingly beautiful cover of the Beatles' "Yesterday" at the 92 Annual Academy Awards ceremony during the In Memoriam segment, and is slated to sing the theme song for the upcoming James Bond film No Time To Die.
Billie Eilish: The World's A Little Blurry will be available to stream on AppleTV+ and in theaters in February 2021.