Beyoncé fans had been hoping that it was the singer's time to win an Oscar, but Billie Eilish stood in her way.
The 20-year-old singer became the third James Bond theme performer in a row to win Best Original Song, following Adele and Sam Smith. She beat out Beyoncé's "Be Alive," her song for the Will Smith vehicle King Richard.
Both Eilish and Beyoncé were first time nominees at the 2022 Academy Awards, though the latter's "Spirit" from The Lion King was shortlisted in 2019.
Bey's fans are known for being loyal, so it is no surprise that not all of them were happy with the Academy's decision. Among the Beyhive reactions to the snub were the following:
"I know they didn't have Beyoncé perform and be there just to lose to Billie Eilish."
"I'm sorry but Billie Eilish receiving an Oscar over Beyoncé. The world is dark times rn."
"I finally tune into an Oscar's ceremony only to witness two crimes:
1. Will Smith giving Chris Rock a Rick James slap
2. Billie Eilish winning the Oscar over Beyoncé
Wild."
Another used that shocking clip from earlier in the 2022 Oscars of Will Smith appearing to strike Chris Rock to make their feelings known. Alongside the clip, they wrote, "me to the Academy after they chose Billie Eilish over Beyoncé AGAIN."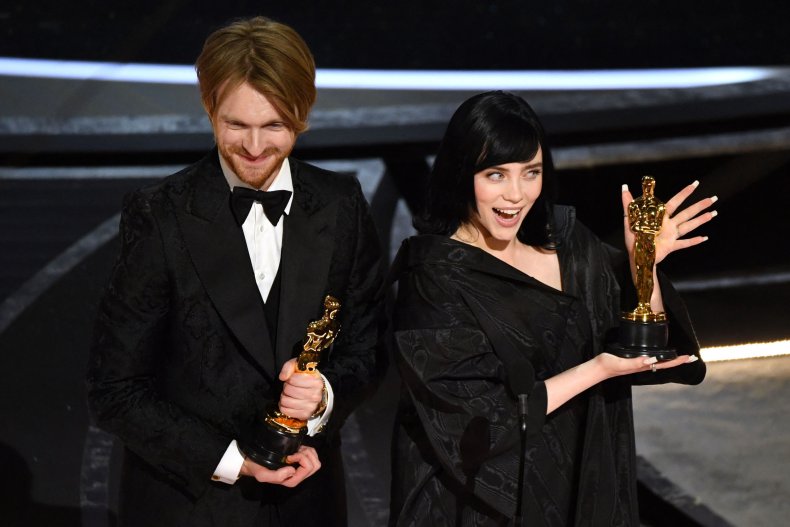 Both Beyoncé and Eilish performed at the ceremony. The former kicked off things in an outside broadcast from Compton, in which the singer and her dancers appeared in green on a tennis court, after being introduced by the real-life subjects of King Richard, Venus and Serena Williams.
Eilish, meanwhile, performed after being introduced by No Time to Die villain Rami Malek, in an introduction that was described variously on Twitter as "creepy," "unsettling" and "weird."
Beyoncé, of course, is not short of silverware. Across her solo career, the singer has amassed nearly 30 Grammys. She has also had multiple songs nominated for Best Original Song at the Golden Globes, even if she has not managed the same success at the Oscars. This year, however, the Globes also picked Eilish's song over Beyoncé's for their own Best Original Song category.
Eilish, meanwhile, has seven Grammys of her own.
Even if Beyoncé was not a winner on the night, she was not far from many Oscar viewers' thoughts. Many people tweeted about the singer in relation to the on-stage altercation between Smith and Rock. Among the tweets were the following:
"I can't believe we let @Beyonce witness that mess."
"IN FRONT OF BEYONCÉ???"
"What was Beyonce's reaction about Will/Chris thing, me wonders"