Billie Eilish has released a powerful short tackling body shaming and the unhealthy fixation on her body as a young woman in the public eye.
Not My Responsibility features the 18-year-old star performing a haunting spoken-word piece over footage of her removing her signature heavy clothes in a powerful commentary on the double standards she faces.
The "Bad Guy" singer has been widely praised for the move, which is being hailed as "powerful" by fans on social media. The hashtag #notmyresponsbility was trending Wednesday morning.
The artistically shot short film is just over three and a half minutes long and the singer's voiceover narrates her important message: "Some people hate what I wear. Some people praise it. Some people use it to shame others. Some people use it to shame me."
She continues in the short: "Do my shoulders provoke you? Does my chest? Am I my stomach? My hips? The body I was born with, is it not what you wanted?"
Eilish has faced intense scrutiny since she rose to fame, as an unhealthy fixation with her body—and why she chooses to dress in oversized baggy clothing—dominates much of the discourse around her.
Before she even turned 18, the Grammy winner was forced to ask fans to stop sexualizing her when a photo of her wearing a tank top circulated online.
She told Elle last September: "Someone with smaller boobs could wear a tank top, and I could put on that exact tank top and get slut-shamed because my boobs are big. That is stupid. It's the same shirt!"
In an ad for Calvin Klein, she opened up about her love for baggy clothes stating: "Nobody can have an opinion because they haven't seen what's underneath. Nobody can be like, 'She's slim-thick,' 'She's not slim-thick,' 'She's got a flat ass,' 'She's got a fat ass.' No one can say any of that because they don't know."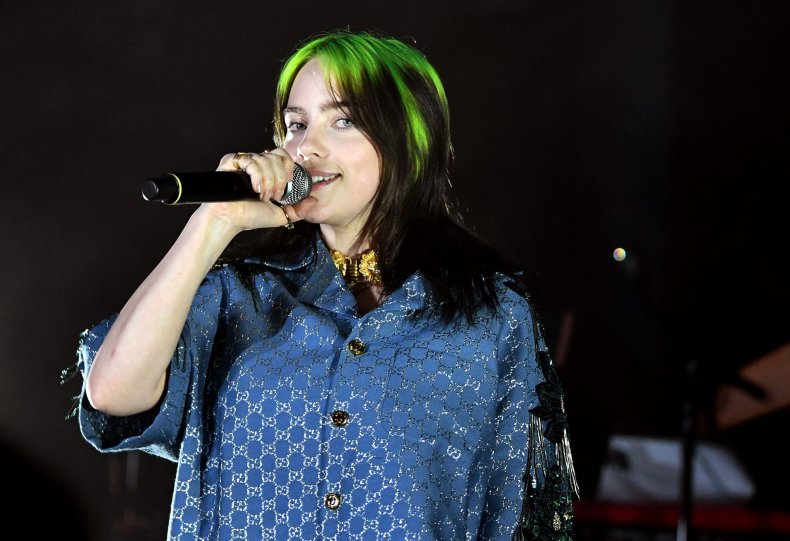 In an interview with Dazed in April, Elish reflected on how comments online about how she dresses and how she is sexualized have affected her body image.
"There was a point last year where I was naked and I didn't recognize my body 'cos I hadn't seen it in a while," she said. "I would see it sometimes and be like, 'Whose body is that?'"
Now, Eilish's response to this obsession surrounding her has struck a chord with her young fans, who are praising her on social media.
The short was originally played during a concert in Miami in March. Fans present at the time were blown away but only grainy phone footage of the piece had been seen until now.