What did Billie Eilish Do? 'Queerbaiting' Controversy Explained
Billie Eilish is coming under fire this week amid accusations of queerbaiting due to her latest music video and an accompanying Instagram post.
The "Ocean Eyes" singer was photographed with actor Matthew Tyler Vorce this weekend. The two are reportedly dating, which has led fans to question the star's sexuality after an Instagram post where she seemingly came out as bisexual or a lesbian.
In a newly released music video for the single "Lost Cause," the 19-year-old frolics with a group of girlfriends at a slumber party.
The video itself has garnered criticism over perceived queerbaiting which was then exacerbated by an Instagram post of behind-the-scenes shots of the video shoot with the caption: "i love girls."
According to LGBTQ+ outlet Pink News, queerbaiting is a term that refers to authors, writers or showrunners attempting to attract an LGBTQIA+ audience by consciously hinting at same-sex relationships between characters that are never confirmed nor portrayed.
Although it is usually discussed in the context of movies and television, the term is being applied to Eilish's new music video and Instagram post.
It essentially means when creators attempt to attract the LGBTQIA+ community to their work but without having to actually represent them.
This can be harmful due to a lack of legitimate LGBTQ+ representation in certain spheres of the media.
In GLAAD's 2020 annual Where We Are on TV Report, the advocacy group notes that: "Of the 773 series regular characters scheduled to appear on broadcast scripted primetime television this season, 70 (9.1 percent) are LGBTQ. This is a decrease from the previous year's record-high percentage of 10.2 percent, and the first season to see a decrease since the 2013-14 report."
On Monday morning, Eilish began trending on Twitter along with the hashtag #youlikegirls as fans questioned the queerbaiting situation.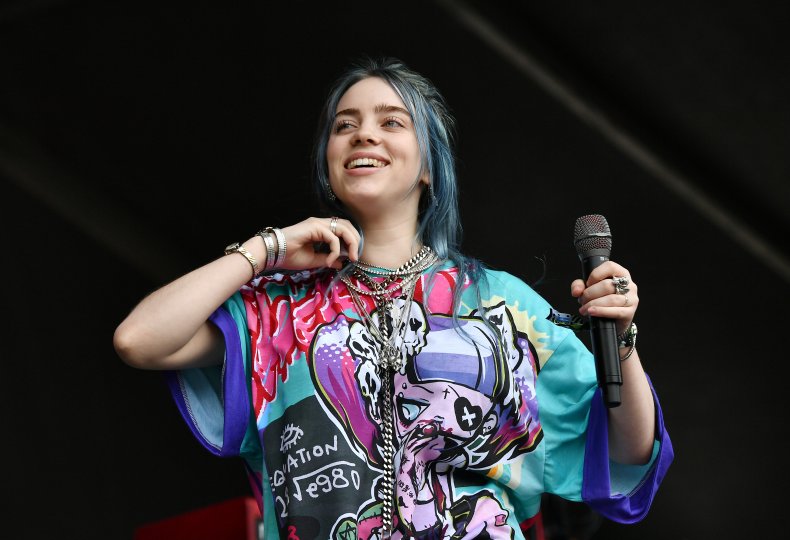 The controversy extends to Matthew Tyler Vorce receiving backlash over alleged homophobic and racist social media comments.
Dating back to 2017 and 2011, the alleged comments have seen Eilish criticized for dating someone who purportedly used offensive slurs.
Eilish has since subtly responded to the situation by liking a post that criticized her fandom.
"The post read: "This fandom is so embarrassing sometimes like why would you go in someone's comments and say something that you literally don't even know is true and something y'all LITERALLY MADE UP, sometimes y'all are so dumb. Some of you just need to learn how to mind your business."
Newsweek has reached out to Eilish's representatives for comment.