Billie Eilish Calls Out YouTuber For Impersonating Her In Public: 'Please Stop Doing This Sh*t'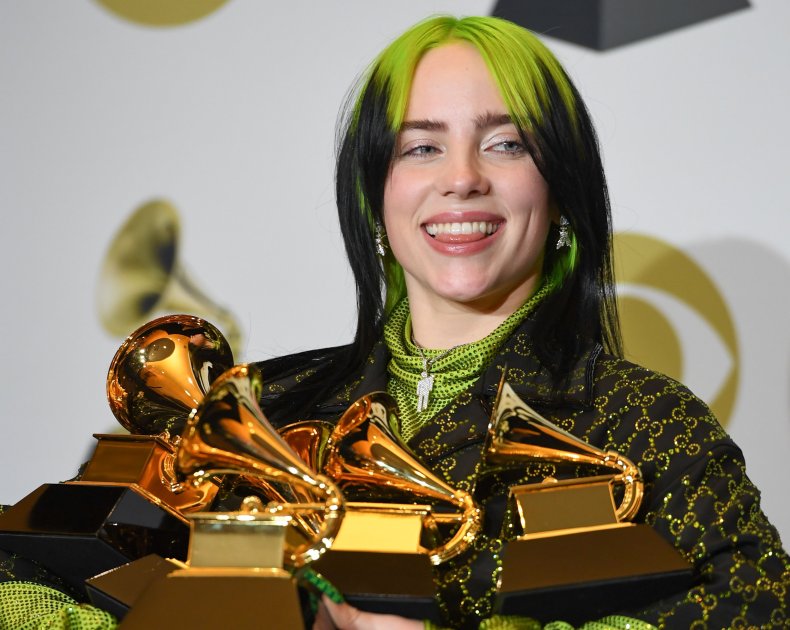 Billie Eilish is fed up with people posing as her.
The multi-Grammy-winning artist called out her many impersonators in a series of posts shared on her Instagram Stories on Thursday. The "Bad Guy" singer shared a screengrab of a list of YouTube videos of people "pretending to be Billie Eilish" and requested the imposters to "please stop."
Eilish shared one particular picture of a doppelgänger that was spotted walking down a boardwalk while men in black t-shirts that read "Security" surrounded her. "Please stop doing this s**t," Eilish wrote.
"It's not safe for you and it is mean to the people who don't know any better," she said, adding, "You make me look bad."
The 18-year-old also fired a shot at the lookalike's outfit by sharing a second photo that offered a zoomed-in view of the person's lime green shorts, neutral-colored socks and black sneakers. "Also soooo disrespectful that you'd go out pretending to be me wearing THIS," Eilish wrote.
Although YouTube is flooded with videos of fans transforming themselves into Elish's signature black-and-green-haired look—videos with titles like "Insane Billie Eilish Transformation *SHUT DOWN MALL* and "TuRNED MY GIRLFRIEND INTO BILLIE EILISH" are at the top of YouTube search results—the person impersonating Eilish in her Instagram Stories turned out to be part of an acrobat stunt.
YouTube vlogger and photographer Jordan Matter claimed responsibility for the lime green lookalike and explained the impersonator was an acrobat who he had dressed like Eilish for a performance. He shared a photo of the acrobat flying in the air while the fake security guards served as bases for the stunt.
"You've been commenting on the video shoot I did yesterday, and I'd like to respond. I gathered a crowd and had an acrobat pretending to be Billie do a huge cheer flip, which revealed it was not Billie. I had absolutely no intention of disrespecting Billie. I'm a big fan, like everyone else," Matter wrote. "I've never done a celebrity impersonation video before, but they're pretty common so I thought it would be fun to add my own acrobatic twist. I felt it was completely harmless since at no time in the video are we pretending that she is actually Billie."
He added: "I have reached out directly to Billie and Maggie and apologized, and I will not post the video without their permission. I hope this clarifies everything."
Matter did not respond to Newsweek's request for comment at the time of post.