Billie Eilish's New Haircut Looks Exactly Like Her Mom's
Billie Eilish surprised fans with a new haircut today, debuting a shorter look that is reminiscent of a style previously worn by her mother, Maggie May Baird.
The "Ocean Eyes" singer took to Instagram late on Monday where she shared a series of photos and videos of her new do along with snaps of her mother sporting the same look when she was younger.
The 19-year-old also shared two new posts showing off her new chop with one captioned "gone" and the pixie emoji.
In the second post, Eilish captioned some artful snaps with a quote from the Fleetwood Mac song "Rhiannon": "wouldn't you love to love her."
The star surprised fans with a drastic hair transformation earlier in 2021 when she said goodbye to her signature black and green locks in favor of a striking platinum blonde.
Speaking to Ellen DeGeneres about the process of going blonde back in March she revealed that it took six weeks to achieve the right shade, which meant she was wearing a wig at the Grammys.
"It was a lot because we started in January, and then it was two weeks of nothing, of healing and letting my hair take it in and digest and recover," she explained. "And then again, and then two more weeks—it took a long time."
She said going blonde was something she had wanted for a long time, telling DeGeneres: "I've been wanting it for a while. I don't know what came over me."
Eilish added: "So, I kinda thought of it as a dream. I didn't think it was gonna happen because my hair went through so much. I thought I would burn it all off, but I did it."
Eilish's mother gushed about her daughter's success in 2019 during a Carpool Karaoke appearance.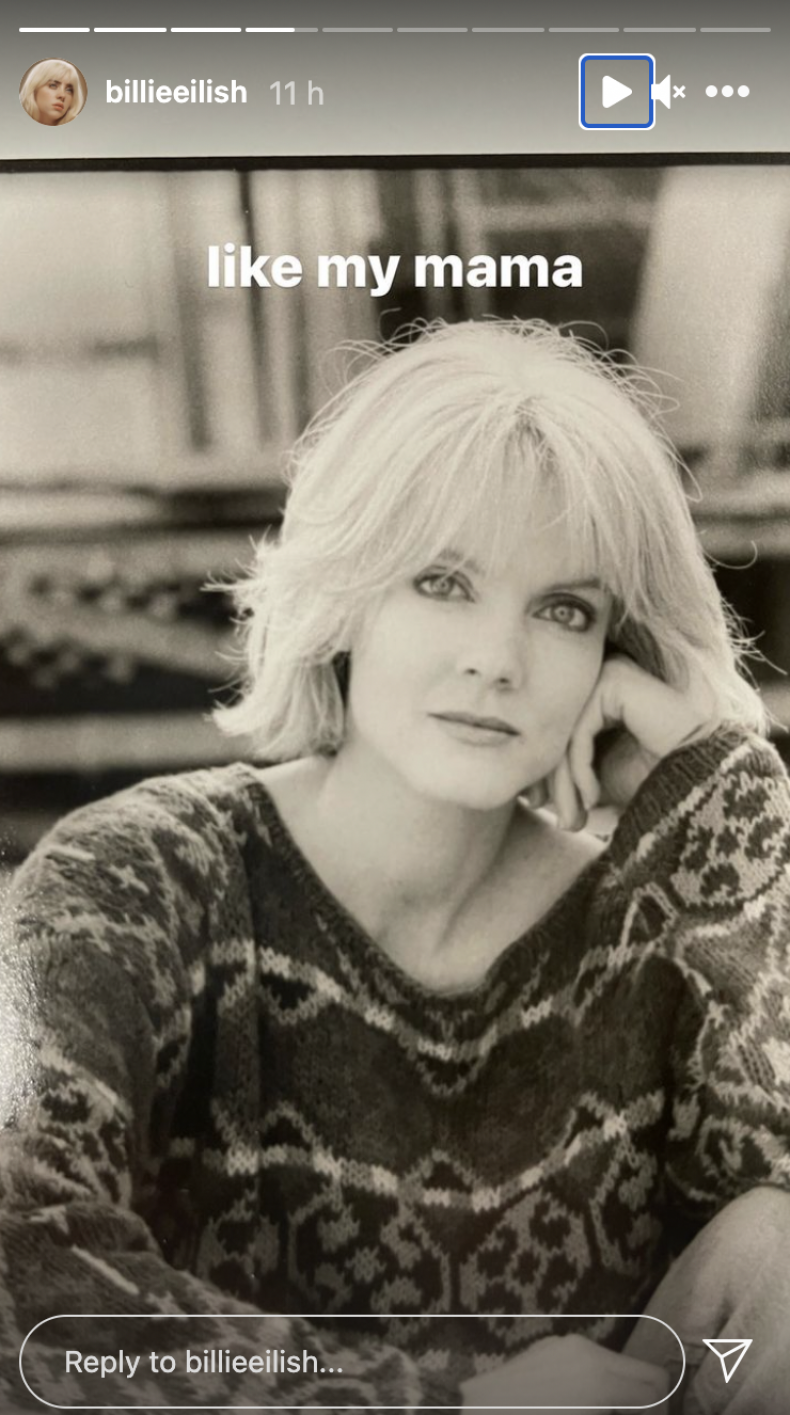 "People are like, 'How does it feel, she's at Radio City?' It's like, it blew my mind when she sang at the Hi Hat. It blew my mind when I sat here and heard Billie and Finneas play a song. It's never not been mind-blowing," she said, per Seventeen. "It's not like I can ever feel it in the moment, because the whole experience is so crazy."
Eilish's latest album Happier Than Ever is currently in its third week at No. 1 on the Billboard 200.
The project is accompanied by Eilish's "cinematic concert experience" called Happier Than Ever: A Love Letter to Los Angeles which is set for release on Disney+ on September 3.