Feminist Icon and Tennis Star Billie Jean King Opens Up About Becoming a Barbie Doll
Mattel announced the release of a Billie Jean King Barbie as part of the iconic toy's Inspiring Women series.
The tennis star's doll is added to the collection alongside jazz legend Ella Fitzgerald and medical pioneer Florence Nightingale. The series, which began in 2018, has paid tribute to pilot Amelia Earhart, NASA mathematician Katherine Johnson, artist Frida Kahlo, civil rights activist Rosa Parks, and astronaut Sally Ride.
King, 76, showed her excitement to be included in the Barbie family in an interview with People. "I'm also with Ella Fitzgerald, who is being released and who was a real 'shero' of mine," King told People. "And then also, Florence Nightingale who I always admired as a child. I read her story because I love history."
King did not immediately respond to Newsweek's request for comment.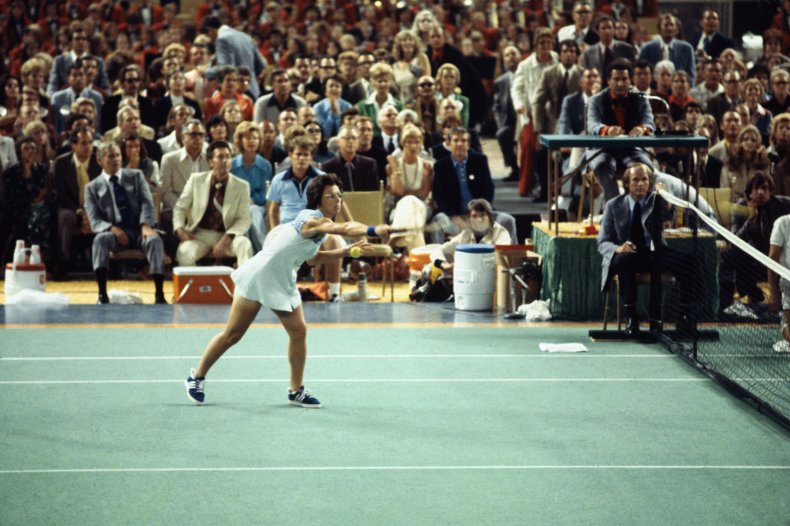 In a statement given to Newsweek, Global Head and SVP of Barbie and Dolls for Mattel Lisa McKnight said the line is meant to inspire girls by showing women through history. "Through our Barbie Inspiring Women line, we are committed to shining a light on historical women who have broken boundaries by introducing their stories to a new generation of girls through play to remind them they can be anything," McKnight told Newsweek. "By highlighting these women and their stories in the format of a doll, we celebrate the impact they've made on history and encourage girls to chase their own dreams."
The tennis legend told People about the importance that Barbies bring in inspiring young girls. "They can dream, they can imagine when they have their Barbie," she said. "Hopefully it helps them to think about all the possibilities in their life — that they can be anything they want to be and that it'll help them decide how to define their lives and not be defined by others. So I think it's fantastic."
King's doll features the outfit she wore during her famous 1973 Battle of the Sexes exhibition match against Bobby Riggs. Riggs was 55 at the time, but believed that women's tennis was inferior and tried to prove so by playing against contemporary female pros. King defeated Riggs 6-4, 6-3, 6-3 and received $100,000 for her victory. In an ESPN feature about her career, King said the game was important to help keep women's tennis moving forward. "I thought it would set us back 50 years if I didn't win that match. It would ruin the women's tour and affect all women's self-esteem," she told ESPN.
King won 39 Grand Slam titles in her career, first winning doubles in 1961 with Karen Hantze Susman. She won her final Grand Slam title in 1980 with Martina Navratilova. She was inducted into the International Tennis Hall of Fame in 1987.