For Rural America, School Choice Could Spell Doom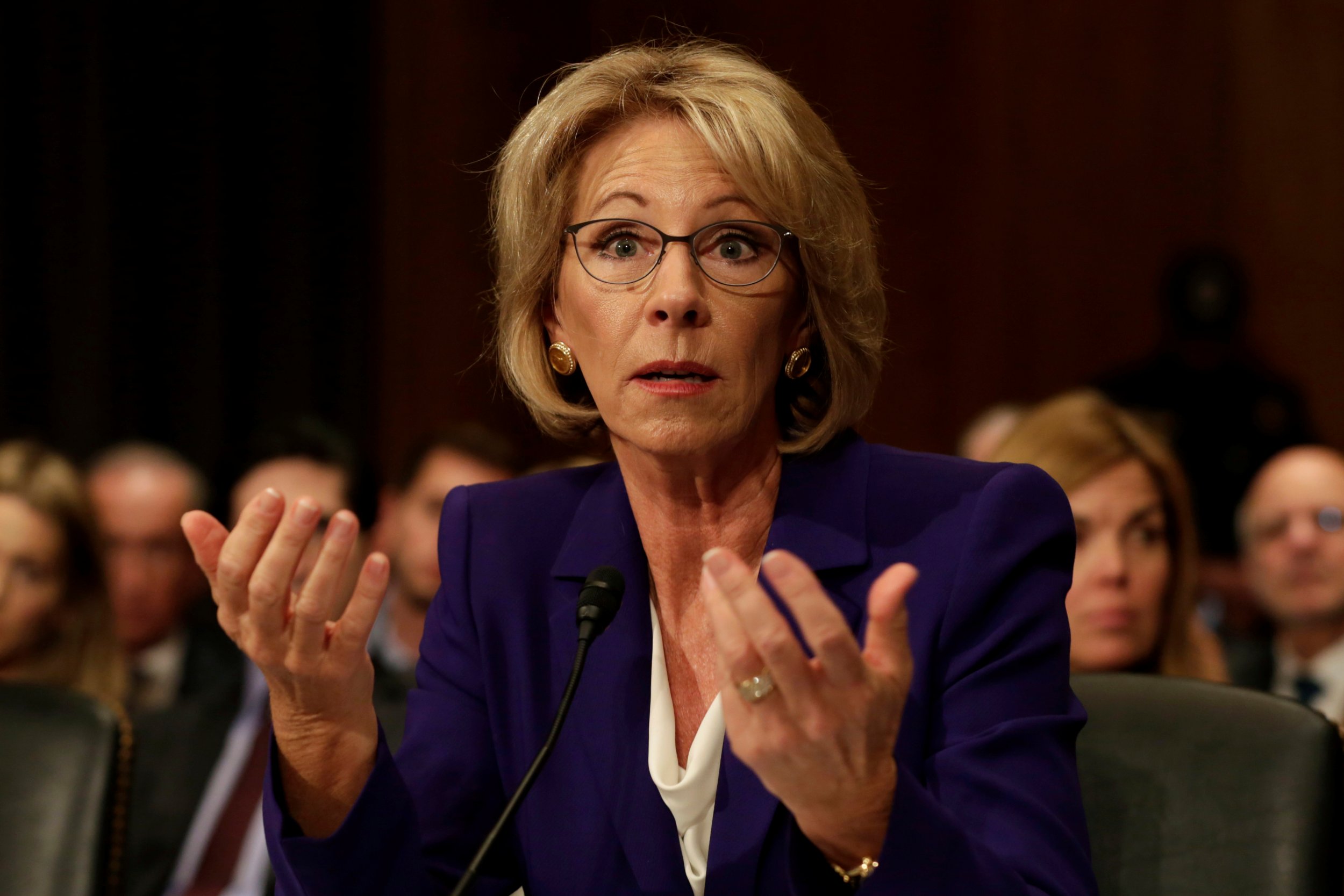 Updated | No demographic in November's election broke as dramatically for Donald Trump as small-town and rural America. While Hillary Clinton won the cities and Trump scored a narrow five-point margin in the suburbs (which generally vote Republican), the Manhattan penthouse–dweller's edge in the least-populated areas of the country was enormous: 62 percent to 34 percent, according to the Pew Research Center.
"There's this sense that people in those communities are not getting their fair share compared to people in the cities," political science professor Katherine Cramer of the University of Wisconsin told NPR over the summer. That may be perception more than reality, but the perception was strong enough to push the alleged billionaire from Queens into the White House.
Now, Trump must deliver on his campaign promises. And at least in one area—his nomination of Michigan billionaire Betsy DeVos as education secretary—his promises to rural America appear to be imperiled. While other controversial nominees are on their way to confirmation, DeVos might well be sunk by two Republican senators from rural states: Lisa Murkowski of Alaska and Susan Collins of Maine.
Criticisms of DeVos abound: She has never held a job in a public-school setting, she appears unfamiliar with the finer points of educational theory and she is an ideologue who wants to weaken public schools while enriching for-profit educational companies. For Murkowski and Collins, however, the objection is simpler than any of that. They come from rural states, and DeVos's vision for American schools would wreak havoc on rural education.
DeVos has a single controlling belief about education: Choice is good. She made this point forcefully at her hearing before the U.S. Senate Committee on Health, Education, Labor and Pensions: "Parents no longer believe that a one-size-fits-all model of learning meets the needs of every child. And they know other options exist, whether magnet, virtual, charter, home, faith-based or any other combination." During the campaign, Trump promised a $20 billion investment in school-choice programs, which would give parents precisely the kind of options DeVos described through a school-voucher program.
DeVos's free-market principles are on full display in Detroit, where for-profit charter school operators have sowed chaos without creating any educational gains. Detroit's miserable educational outcomes are some of the worst in the nation, and liberals have pointed to them frequently in their objections to DeVos. For Collins and Murkowski, it isn't so much about what she did as where she did it—in a relatively urban state where, for the most part, the population is dense enough to allow for reasonable selection of one school over another.
Collins and Murkowski do not represent such states. A Priceonomics survey of the 50 states and Puerto Rico ranked Maine 51st—i.e., the most rural state in America. Alaska was 38th, while Michigan was right in the middle, at the 25th spot. The exact number of schools in Michigan is difficult to calculate, but it is between 3,900 and 4,100. Maine, by contrast, has 737 public schools, and only nine charter schools, two of them virtual. Alaska has 509 public schools and 28 charter schools. The quality of schools aside, choice is a tough sell in a state where there are simply fewer options—and many of those that are available would necessitate prohibitively long travel.
It is understandable that DeVos would not be familiar with such issues. She has, after all, spent her adult life in the wealthy suburbs of Lansing, Michigan, where her children were either home-schooled or attended Christian schools. Her father ran an auto-parts empire that he eventually sold for more than $1 billion, while her husband, Dick DeVos, is an heir to the Amway marketing fortune. It is simply a fact that the realities of rural America are not the realities that Betsy DeVos has lived.
Yet those realities have come to the fore of her nomination process, threatening her confirmation. Critics from rural America have been vociferous in their assessment of a school reformer who, they say, would not benefit their communities.
"Families in rural school districts are actually the least likely in the country to have a choice about where to send their children to school. As a result, a school improvement strategy centered on giving parents more educational choice simply does not apply to these communities," wrote Max Marchitello of Bellwether Education Partners in a USA Today op-ed. Marchitello noted that 93 percent of rural districts rely on single high schools. In other words, they count on improvement for the schools they have, not a shifting of funds toward choice programs that could weaken existing institutions.
"Simply recycling a reform agenda better suited for urban areas is insufficient to meet the needs of rural schools," he concluded.
Moreover, in rural America, schools may carry a social weight that they might not in denser areas. In a conversation with The Atlantic, ruralist Karen Eppley of the Pennsylvania State University College of Education argued that Americans in rural regions "tend to be highly involved with their schools; the schools are often the social anchor of the community, and they provide services not available elsewhere, like sports, summer lunch programs, night classes, and food pantries." As such, they might see "school choice" as a threat to their way of life no less troublesome than free trade or Samantha Bee.
Ironically, the most memorable exchanges of DeVos's long hearing in front of the Senate committee—Democrats wanted another, but it wasn't granted—came during questioning by Senator Mike Enzi, a Republican from Wyoming. In response to a question about rural education, DeVos indicated a passing familiarity with the issue by making reference to a fence in Wapiti, Wyoming, intended to keep out grizzly bears. Later, when Chris Murphy, a Democrat from Connecticut, pressed DeVos on whether she'd allow guns in schools, she returned to Wapiti, citing the need to keep out "potential grizzlies."
"Potential grizzlies" became an insta-meme. Several days later, Murkowski and Collins announced they wouldn't vote for DeVos. Apparently, her vigilance regarding ursine marauders just wasn't enough to convince them that she understood the needs of rural schools.
Correction: This article originally said Senator Mike Enzi is from Wisconsin. He is from Wyoming.