Billionaire Eric Schmidt Really Needs to Google '5G in the U.S.' | Opinion
5G technology is increasingly becoming a battleground that our international rivals—like China—intend to control. Former-Google head Eric Schmidt believes that China is so far ahead that the U.S. should employ China's strategy where the government, not private carriers (like AT&T, Verizon and T-Mobile), have full control of 5G deployments.
But is he right? Is China's victory in the race to 5G a foregone conclusion? Hardly.
Let's start with Schmidt's general premise—that China's version of 5G is better than ours because they built more infrastructure and China's services are faster.
Even a cursory Google search points to the contrary on both fronts.
Regarding infrastructure, it is true that China has been rapidly building out its networks, but it's a step too far to assume they are better. Executive director Ryan Ding of Huawei—one of China's largest telecom providers—described China's 5G rollout as "fake, dumb and poor." Moreover, Ding explained that Chinese users have 5G in name only, which means that in many cases, users may have a 5G phone with no 5G networks available and users must rely on existing 4G networks. This is a huge problem as China's expedited 5G rollout has a major drawback: It doesn't interoperate well with its underlying 4G networks, which leads to a lot of disrupted service.
In the U.S., carriers have engaged in a methodical deployment strategy to ensure that their 5G networks can efficiently interoperate with its 4G/LTE networks. This is why Americans haven't seen the same disruptions in services as China-built 5G users. It's a huge stretch to say that China's 5G networks are superior to the U.S.' based on deployments alone.
Another complication with China's 5G rollout is that less than half of China's rural population doesn't have access to any internet connection at all. Compare that to the United States where 94 percent of our entire population have fixed broadband at threshold speeds. Yes, the U.S. still has work to do on that front, but in some areas in China, forget 5G, a large portion of its population can't even get 1G.
Schmidt also noted China's broadband speeds as another indication of its 5G dominance. Again, he's grossly overstating China's broadband speeds, which a high-level Google search would show. China has an average internet speed of just 105.2 Mbps, where the United States has an average of 124.1 Mbps. In terms of broadband speed, we are still far ahead of China on that front.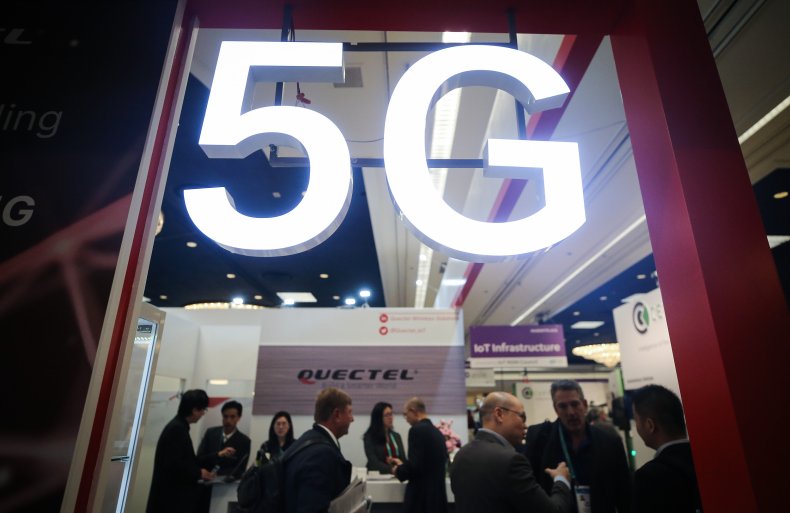 Not only does Schmidt ignore all these facts, but he then suggested we do away with the one government policy that is actually helping us stay competitive with China—spectrum auctions. Schmidt feels that spectrum auctions are an inefficient way to promote 5G services. Alternatively, he would rather the government hoard the spectrum and have private carriers make independent arrangements with every government agency that holds spectrum rights. Let's think about that. There are at least 60 agencies that hold some form of a spectrum right. Schmidt's plan can give each one more standing to put carriers in perpetual negotiations just to operate their networks.
Now, let's compare that strategy with auctions. A light Google search would show that the U.S. is in fact the leader in allocating valuable spectrum for 5G because of auctions. As FCC Commissioner Brendan Carr stated, the FCC has released "six gigahertz of spectrum for licensed 5G services"—all of it from auctions. Thanks to these efforts at the FCC, the U.S. is the global leader in high-band millimeter wave 5G spectrum. Moreover, the FCC auctioned large swaths of mid-band spectrum earlier this year with more auctions to come. The results have been so successful that Congress passed the RAY BAUMS Act and portions of the MOBILE NOW Act to allow the FCC to auction even more mid-band spectrum for 5G.
Our aggressive spectrum auctions are precisely why China lags behind the U.S. in spectrum availability for 5G.
The U.S. government certainly has a dysfunction when it comes to 5G, but the issue is not with the private sector—it's with the U.S. government itself. The Federal Aviation Administration (FAA) 5G debacle is a good example. There, the FAA sought to undermine a long and thoughtful 5G auction conducted by the FCC. The FAA made a conscious decision to ignore the FCC's authority and strongarmed mobile carriers into making unnecessary concessions by encouraging a very public 5G smear campaign. This resulted in a delay (albeit modest) in carriers using 5G. Government infighting is what really harms our position in 5G.
Schmidt's policy would invite more of this type of government disruption by giving agencies, like the Department of Defense or Department of Transportation, more authority over spectrum. It follows that China only has more to gain if the government follows Schmidt's strategy.
Joel Thayer focuses his law practice on telecommunications, regulatory and transactional matters, as well as privacy and cybersecurity issues. He has represented clients in front of myriad legal and regulatory fora, including the Federal Communications Commission, Federal Trade Commission and federal administrative agencies. Additionally, he has also represented amicus curiae before the United States Supreme Court and advised technology companies on the European Union's General Data Protection Regulation.
The views expressed in this article are the writer's own.