Billionaire Investor Mark Cuban on Which Stocks Are Buys, Sells and Holds
Mark Cuban, the Dallas Mavericks owner who made a few billion dollars by creating and selling Broadcast.com a couple of decades ago, has been playing the stock market during the coronavirus meltdown after having wrapped what might be the final season of Shark Tank, the reality-competition TV show that features him as one of several panel investors.
Mindful of social-distancing mandates, Newsweek reached out to Cuban by email to discuss his investment strategy in one of the most turbulent times in the history of the U.S. stock market, with the Dow Jones Industrial Average down 29 percent from its recent high. On Friday, the Dow was at 20,950 and one of Cuban's predictions is that it might test its near-term bottom of around 18,200. Read our conversation with Cuban below.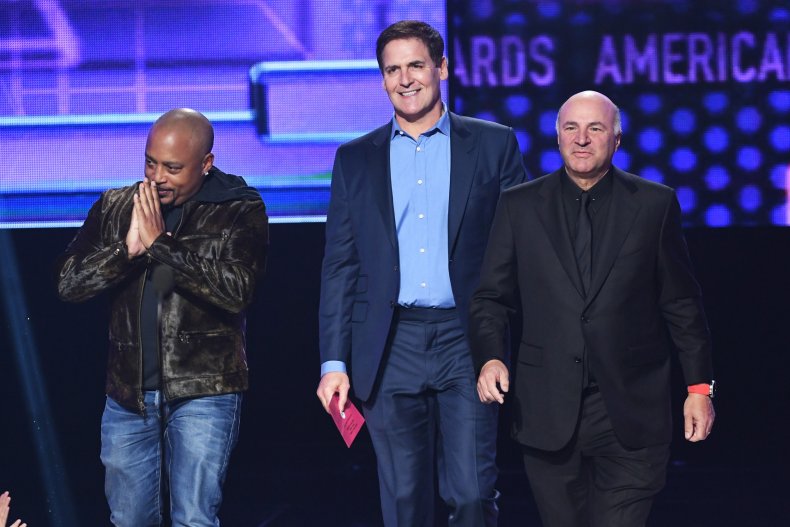 Are you a buyer still?
I'm nibbling. I think the market can go and retest the recent lows. But, like anyone else, I can't pick bottoms, so I nibble.
You were buying Live Nation Entertainment recently. That seems odd, considering no live shows are going on. So why buy?
Because when we get to the other side of this, people will look for every reason they can find to go out and enjoy music and events.
What stocks besides Live Nation have you been a buyer of lately?
I bought Live Nation and some Twitter. I think all social media will suffer from soft ad sales, but Twitter will uniquely build their audience during this period and will outperform their peers when digital advertising comes back.
What are you a seller of?
I had sold all my non-core positions months ago. I felt like we had too long without a correction and I wanted to be ready for it. I obviously didn't expect this. And I've said this publicly, but two positions that I kept were Amazon and Netflix.
You got a Dow bottom prediction?
I predict we will test the recent lows, but I have no idea whether we bounce from there or go lower.
Disney just laid off workers. How bad off are media companies, really, because it seems they are in dire straights with theaters and theme parks?
Anyone that needs to attract crowds will have challenges until we get past social distancing. But the good news is that we will get past it. There will be improvements to how we sanitize, how often we refresh and clean public surfaces. After 9/11 we adapted. We put new policies and procedures in place to do our best to protect people from terrorism. I am positive we will innovate, improve sterilization products and services and after some period, people will trust that public places will not be a risk and go back to theaters, parks, stadiums, etc.
What's your biggest regret regarding Shark Tank?
We don't film new episodes. Seriously, I do the show because it sends the message that the American dream is alive and well. When we get to the other side of this, call it America 2.0, the more entrepreneurs we have coming up with unique ideas, the sooner we will recover. In five to 10 years, we will look back and realize that 15 or 20 world-changing companies were created and moved us forward.
What was your biggest victory at Shark Tank?
Cycloramic. It sold for a lot of money. Can't disclose.
[Ed.'s note: Cycloramic is an app that causes an iPhone to balance on its flat edge and slowly turn while taking panoramic photos and videos. It was sold last year to Carvana, an auto-selling platform, reportedly for $22 million.]
What's your biggest investment regret aside from Shark Tank?
My biggest regret is being an absentee investor, operator at some companies and missing some big problems.
What's the best advice you gave to Shark Tank contestants?
Be able to share the vision you have for your company like you would with your employees or customers.
Advice for small businesses in the coronavirus era?
America 2.0 will create incredible opportunities. There will be companies that change the world. Why not you? If you have a vision for the future, turn it into a company that makes a difference.