'Billionaire Tax' Stirs Fresh Discord Among Democrats as Clock Ticks Down to Deal Deadline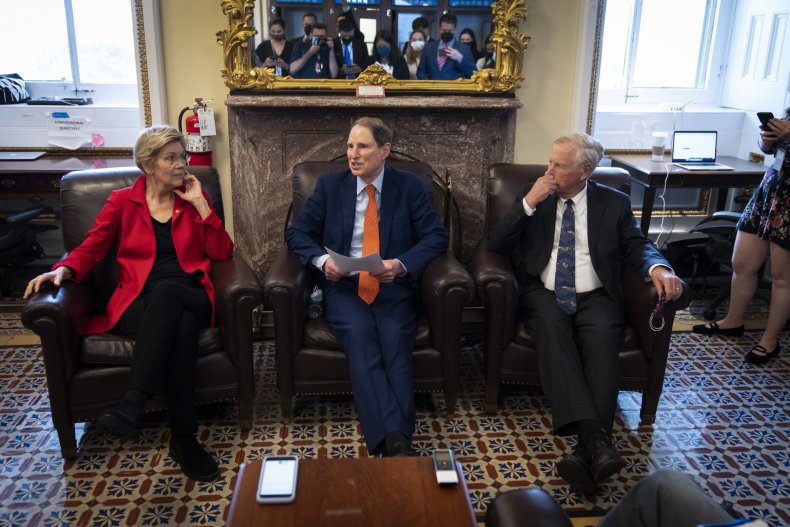 Democrats hoping to reach a deal to pass President Joe Biden's spending package have hit another potential stumbling block in the form of a new "billionaire tax."
The tax proposed by Senate Finance Committee Chairman Ron Wyden (D-Ore.) would apply a 20 percent tax rate to those making over $1 billion per year or at least $100 million per year for three consecutive years. The new tax would be on any gains made on assets held by billionaires. For instance, a billionaire owning stock that increases in value would have to pay tax on the increase whether they sold the stock or not. Fewer than 700 out of more than 330 million people in the U.S. are billionaires.
A selection of House Democrats, some of whom supported previous proposals for tax increases for corporations and the wealthy, have balked at the idea of the billionaire tax. Rep. Dan Kildee (D-Mich.) told Politico that the proposal was "more of a stunt." Rep. Jimmy Gomez (D-Calif.) expressed frustration with the new proposals and debate on the bill, telling the outlet that the "Senate needs to start saying yes or no on issues and stop f***ing talking."
Rep. Richard Neal (D-Mass.), chairman of the House Ways and Means Committee, told Fox Business that Wyden's proposal would be "a bit more challenging" than others to make a reality. It is also not clear whether Sen. Joe Manchin (D-W.Va.) or Sen. Kyrsten Sinema (D-Ariz.), moderates who have repeatedly presented challenges to passing Biden's agenda, would support the new tax proposal.
Sinema has signaled her opposition to earlier Democratic proposals to raise taxes on corporations and the wealthy. On Tuesday, Manchin did not state his position when asked about the billionaire tax, telling reporters that he had not "seen the text on it." Both moderate senators have backed a different proposal for a minimum 15 percent tax rate on corporations earning over $1 billion.
Democrats have until October 31 to reach a unanimous agreement that would allow them to pass both their infrastructure bill and Biden's spending package, which they hope to pass using the Senate's budget reconciliation process. Meanwhile, the mere threat of a potential new tax on billionaires has reportedly resulted in some of the nation's wealthiest residents scrambling to find new ways of avoiding the possible tax.
Robert Willens, who advises major Wall Street players on tax issues, told Politico that he had been contacted by multiple people who work with American billionaires who are hoping to evade the tax if it becomes law. Willens said that if the tax does pass and survives likely legal challenges, it may be difficult for billionaires to escape paying the tax.
"This is going to be perhaps the most difficult tax we have ever seen in terms of trying to plan to minimize it," Willens predicted. "I believe this is going to be the biggest challenge we have ever had."
Newsweek reached out to the White House for comment.