Tom Steyer had his best showing of the Democratic presidential race on Saturday night in the South Carolina primary. The billionaire looked at the results and said that his best was not good enough, and he dropped out of the Democratic presidential race.
Steyer has been an activist and a champion for climate change, and he spent nearly $24 million in TV and social media advertising in South Carolina, where he placed third behind Joe Biden and Bernie Sanders. Furthermore, Steyer did not win at least 15 percent of the South Carolina vote, which was the threshold to gain delegates.
Steyer previously said that if he did not see a path to winning the Democratic nomination, then he would step aside from the race. On Saturday night, he formally announced his withdrawal.
"Honestly, I can't see a path where I can win the presidency," Steyer said, according to the Associated Press.
Steyer won just 48,000 votes—or just less than 12 percent—of South Carolina Democrats.
It wasn't just money that Steyer dumped into South Carolina, hoping it would become his launching point to prominence in the campaign, he spent a lot of time appealing to the black voters in the Palmetto State, which is 56 percent African American.
"Am I going to continue to work on every single one of these issues?" Steyer said Saturday night. "Yes, of course I am. I've never stopped."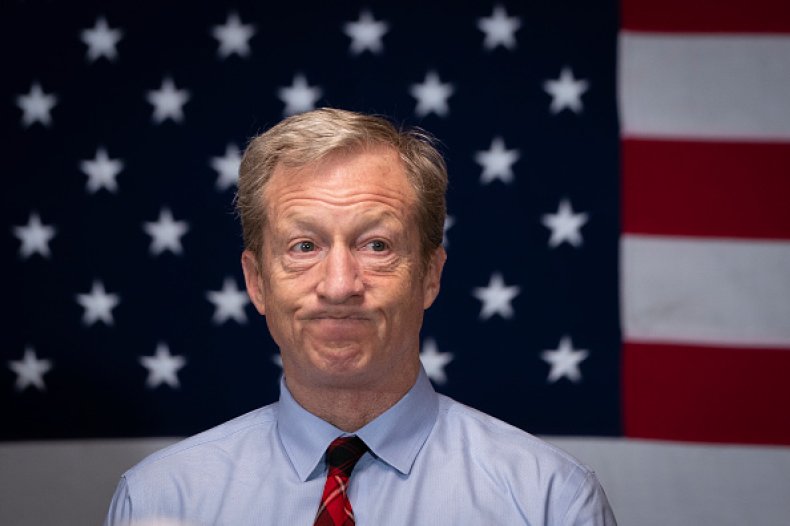 Steyer has a net worth of $1.6 billion, according to AP. In 2019, he launched a series of ads called "Need to Impeach," which led many Democrats to believe Steyer could be the right person who could potentially challenge President Donald Trump in the 2020 General Election.