'Billions' Season 5 Part 2 Release Date: When Will the Season Continue?
Billions Season 5 may have only just got going, but the show is about to air its midseason finale. Season 5, Episode 7 will air on Sunday, June 14 at 9 p.m. ET on Showtime, after which time the countdown until Part 2 of the season begins.
So far, Showtime has not revealed when Part 2 of Billions Season 5 will air, but there are some signs of when the show's next episodes will air.
Firstly, we can look at the other Showtime shows that have been forced to split their current seasons due to the production shutdowns caused by the coronavirus. Comedy series, Black Monday, for example, aired its first set of episodes from March 2015, while the second set is coming on June 28.
If Billions Season 5 follows suit, then we might expect Part 2 in August or early September, around three months after the first set of episodes began. However, Black Monday managed to film all its episodes before lockdown unlike Billions, which could mean longer to wait for the latter.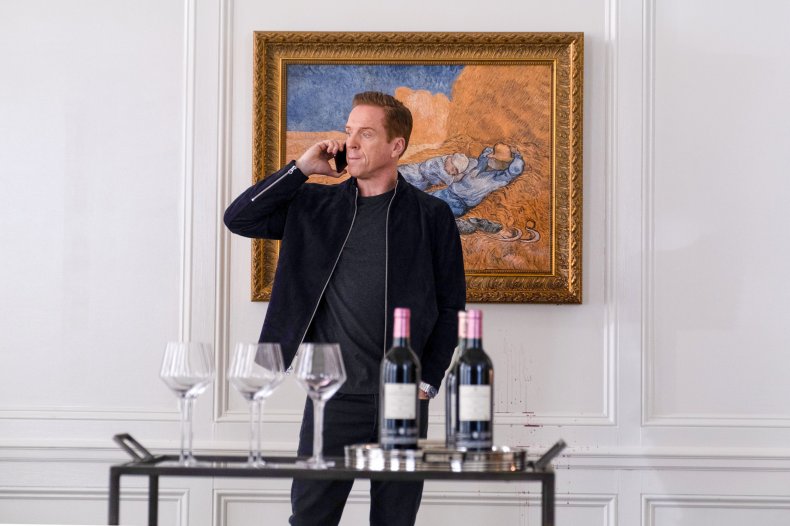 The U.K. release date may also give us a hint of when Billions might be returning. Writing on his Twitter, lead actor Damien Lewis wrote: "To everyone who's been asking, Billions not airing in U.K. until the Autumn. Annoying I know."
Whereas U.S. viewers are used to shows taking hiatuses and breaks, U.K. networks tend to run episodes of shows they import weekly with no breaks. This could be a sign that the show is set to return in the fall or very late summer in America, with the show's British network waiting until then so they can air Billions Season 5 uninterrupted.
As British GQ wrote in May that the show was airing in the U.K. in the summer, this further confirms that Sky Atlantic (the British network for Billions) has delayed the release to line up with Showtime.
According to show executive producer David Levien, the team stills need to film the final episodes, which could cause a further delay depending on when production can reopen. He told Forbes: "When it's safe, we will go back and film the back-half of the season. We are excited about this season and fortuitously, episode seven ends with a really good, fun cliffhanger.
He also pledged that the show would not be too Covid-19 heavy. He added: "Billions exists in some kind of parallel reality but we aren't going to focus on it too heavily. There might be some hand sanitizer on desks and maybe some references to social distancing."
Billions Season 5 Part 2 is coming soon to Showtime.