'Billions' Season 5 Premiere Annotated: Every Reference in Episode 1, From 'Click Click Boom' To Becky Lynch
Billions is back and its fifth season premiere is as stuffed with as many obscure references, apt song selections and combative tête-à-têtes as ever. After a brief alliance in Season 4, U.S. Attorney Chuck Rhoades (Paul Giamatti) and hedge fund billionaire Bobby "Axe" Axelrod (Damian Lewis) are once more determined to destroy each other. But this isn't a recap and we won't be delving into Axelrod's ayahuasca trip or the various backstabs and double-crosses setting up Season 5.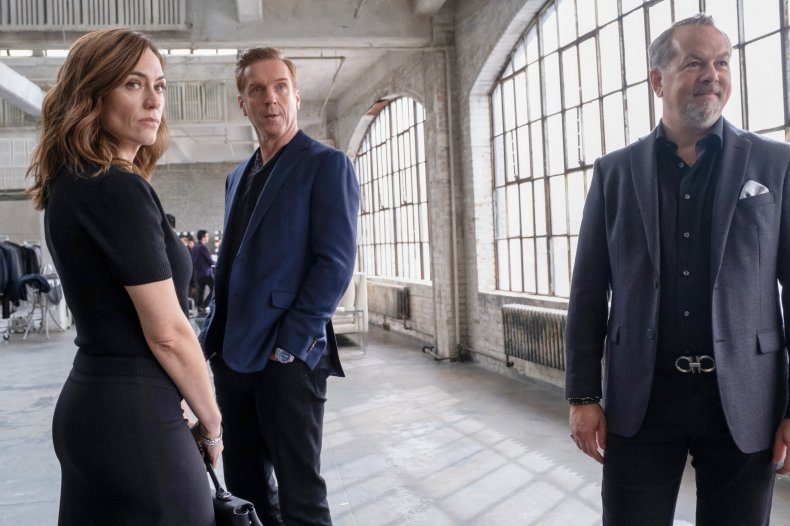 Instead, this is a guide to all those little references and moments that might have you pausing the show and diving for a search engine. Each reference is presented roughly in order, so while there's no spoilers for specific plot points, the lines do tend to form a loose narrative that tracks the events of the premiere episode.
Use these handy annotations wisely and happy watching.
"My kitchen cabinet," Chuck says of his compatriots at his father's wedding. He's referencing a derisive term used to describe Andrew Jackson's unofficial advisors, which he used to cut Vice President John Calhoun and others out of the loop. The name is meant to suggest they meet clandestinely, in the kitchen, rather than in the parlor.
"Click click boom, do it," Chuck says to his Assistant U.S. Attorney Kate Sacker (Condola Rashād), authorizing her to bust a cryptocurrency operation.Yes, he's alluding to the Saliva song "Click Click Boom," the lead single off their 2001 album Every Six Seconds.
"Ooh, he's bringing out the old American Bandstand moves," a member of Chuck's kitchen cabinet says, as Charles Rhoades Sr. (Jeffrey DeMunn) dances with his son's estranged wife, Wendy (Maggie Siff). American Bandstand was Dick Clark's Top 40s musical dance program, which aired on American television from 1952 to 1989.
"Looks more like Soul Train to me," someone else at Chuck's table replies, referring to the similar show that featured R&B and soul artists, airing from 1971 to 2006.
"Real Rudolph Valentino move!" yet another person says of Rhoades Sr. and Wendy's dance, evoking the 1920s silent film star (The Sheik, Blood and Sand) and "Latin Lover" sex symbol.
"Old days we would have made our getaway, McQueen and Ali McGraw style," Chuck says to Wendy (Maggie Siff) as they contemplate how to get out of the wedding. The Getaway is a 1972 action movie directed by Sam Peckinpah (The Wild Bunch, Straw Dogs) and written by Walter Hill (Hard Times, Southern Comfort). In the movie, Steve McQueen and his wife, played by McGraw, hightail it to Mexico after a bloody and botched bank robbery.
"More like Beatty and Dunaway: lot of talk of escape, but in the end, ratatatat of the tommy gun. Bloody. Tragic. No escape from any of it," Wendy responds, referencing the 1967 movie Bonnie and Clyde, which ends with the police gunning down its titular outlaws.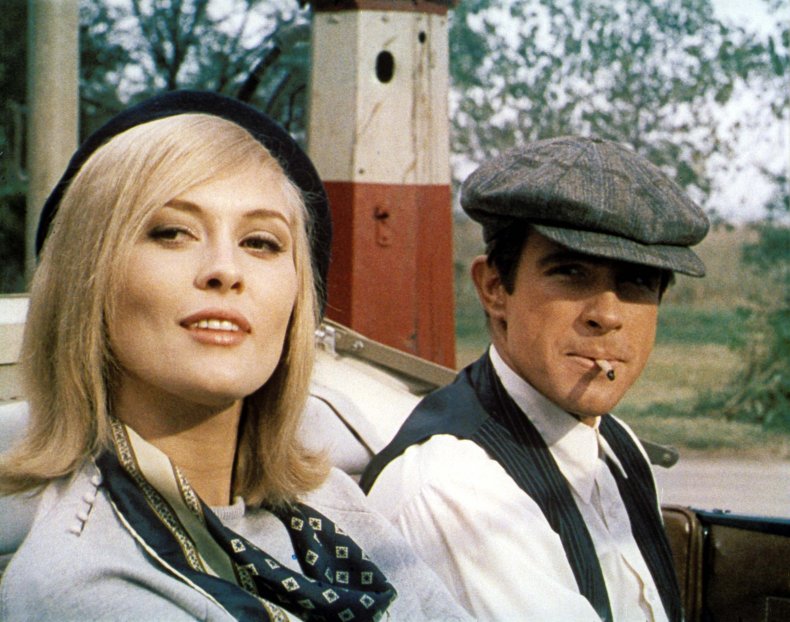 "In Bobby Axelrod's spare f*cking apartment with goddamn Van Goghs on the walls," Chuck says, jealous of Wendy's digs after she left him. Paintings in Axelrod's spare apartment include Dutch post-Impressionist Vincent van Gogh's 1890 oil painting Road with Cypress and Star, alongside van Gogh's Noon—Rest from Work (after Millet), Parade de Cirque by George Seurat and The Floor Scrapers by Gustave Caillebotte. In real life, all three are on display in museums and not hanging in a hedge fund billionaire's spare apartment.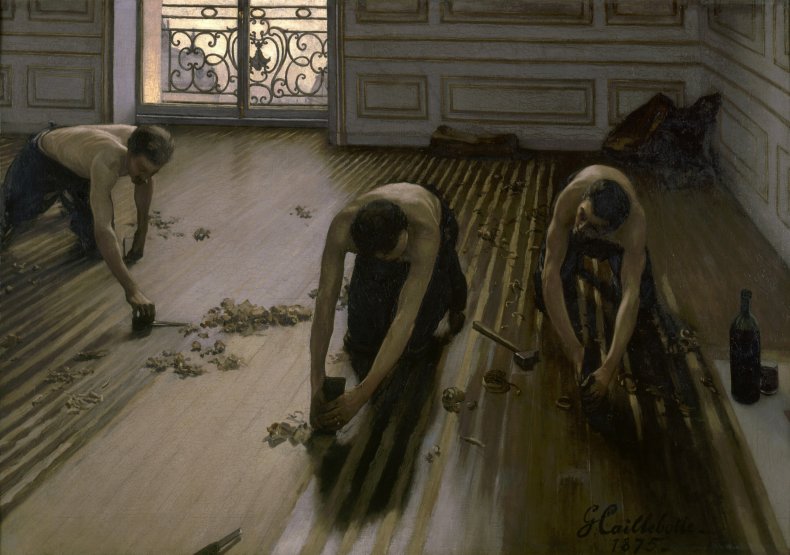 "For what, so your multitude of computers and servers could solve some abstract math equations resulting in the mining of Bitcoin. Worth millions right now, whoopee, but backed by what? Nada, nix, zot," Chuck says to freshly arrested cryptocurrency miners. He's already provided a succinct description of the cryptocurrency Bitcoin and alluded to its immensely wasteful energy expenditure, which consumes more terawatt hours than multiple small countries.
"What's a dollar backed by, since we went off the gold standard?" the Bitcoiner responds, invoking a free-marketeer canard, lamenting the abandonment of a monetary system premised on physical gold reserves.
"Aeroplane, give me a ticket for an aeroplane, ain't got time to take a fast train," Chuck says, quoting lyrics from the Box Tops song "The Letter" (a.k.a. "Give Me a Ticket for an Aeroplane"), which was memorably covered by Jefferson Airplane.
"Just so you know, I'm not some thin-skinned whiner. I've been through Plebe Summer at the Naval Academy," Taylor Mason Capital COO Sara Hammon (Samantha Mathis) says when complaining about practical jokes by Axe Capital employees. She's referring to the intensive, 7-week program incoming freshmen to the U.S. Naval Academy must endure, which includes rude awakenings, early morning workouts and memorizing lengthy quotes.
"We're not some Luddite dumbasses just because we come from an analysis driven—" an Axe Cap employee says, referencing the secretive group of textile workers who smashed machinery to preserve jobs throughout 18th century England. While originally labor rioters and activists, the term is now applied to anyone opposing technological developments.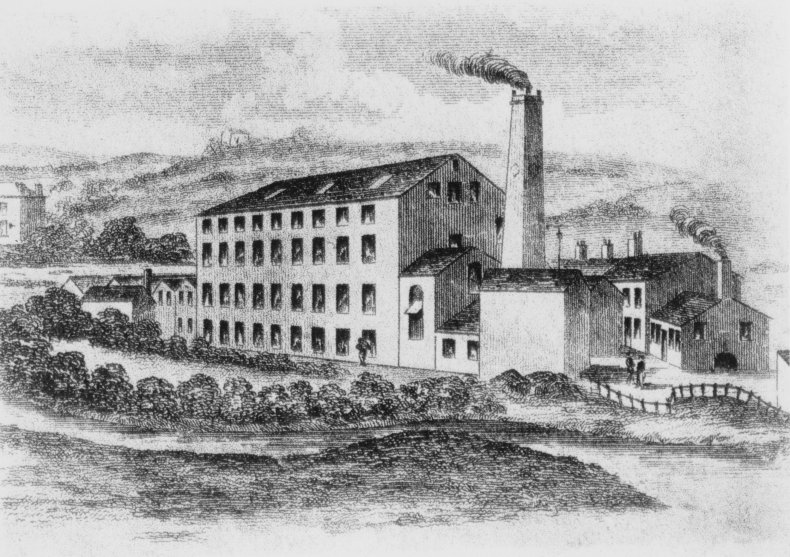 "So we don't want to debate full stack vs. MEAN stack over bagels in the kitchen, that doesn't mean we can't do the math," the same employee says, referencing two approaches to website development. Full stack refers to a development schema that uses many different programming languages and tools from the front and back-end of a website. MEAN stack is a more turnkey framework, which uses JavaScript components.
"Suck my Node.js, Bill," Mace Cap's Mafee (Dan Soder) says to Axe Cap's "Dollar" Bill (Kelly AuCoin), asserting his programming chops by alluding to an open-source JavaScript runtime environment that enables developers to write JavaScript code outside of a web browser, enabling command line and server-side uses.
"It's his plug uglies doing the instigating and we both know that," a disgruntled Taylor Mason (Asia Kate Dillon) says to Wendy, pinning the blame for the hostile work environment on Axelrod. Plug Uglies were an anti-immigrant street gang, who wore large top hats called plug hats. Participants in nativist Know-Nothing riots in Baltimore in the 1850s, the Plug Uglies were later allied with the Dead Rabbits of New York City (of Martin Scorsese's Gangs of New York) for the 1863 Draft Riots. But Taylor probably meant to use the term in a more generic sense, since plug ugly became synonymous with any brutal, dishonorable street fighter.
"Bumpy is right, I got to kiss the grapes, like they talk about in literature," Wags (David Costabile) says, feeling sick after a night consuming the powerful entheogen ayahuasca and a long motorcycle ride. This one is hard to explain fully, but he's likely referencing John Steinbeck's novel The Grapes of Wrath and the rough road the Okies take to escape the Dust Bowl and seek new opportunity in California.
"Michael Thomas Aquinas Prince," Wags says, introducing Wendy to the new Season 5 antagonist played by Corey Stoll. His middle name, passed down from generation to generation, comes from the 13th century Italian philosopher friar, who wrote the influential Summa Theologica, uniting Aristotelian philosophy and Catholic theology.
"Better than Saint Blaise, patron saint of throat ailments," Wendy responds. Saint Blaise of Sebaste, an Armenian bishop and physician who was beheaded in the year 316. He became one of the most popular saints of the Middle Ages.
"Yeah, but it was you won Mr. Basketball in the state of Indiana that year, it wasn't all the other guys," Axe tells Prince, rebutting the rival billionaire's espoused philosophy of teamwork. Mr. Basketball is an award presented every year since 1939 by The Indianapolis Star to the top high school basketball player in the state.
"With my connections from my W magazine and New York Post gossip days," investor relations whiz Lauren Turner (Jade Eshete) says to Wendy, cutting through her flattery to get at the real reason why Wendy needs Lauren to help finesse a press release. W is a fashion magazine read by rich women—average household income: $135,840—while the New York Post is a daily tabloid owned by Rupert Murdoch and notorious for its celebrity gossip, sensationalism and botched Boston Marathon Bombing reporting.
"The way I hear it, this place used to be outrageous, eating contests, body sushi, two trips on the private jet to Amsterdam for freaks (?) and space cakes from The Bulldog. F*cking fun, you know? Where anything could happen," Turner says to Wendy while giving suggestions on how to unite the fractured Axe Cap office. The Bulldog is Amsterdam's first coffee shop—a red-light district institution where people could consume cannabis—opened in 1975 and now a popular tourist chain. Space cakes are cannabis baked goods made with hash.
"You've got to put some fun back in this bisch, start tossing midgets or something. Call 'em 'little people' if that makes you feel better, but toss 'em," Turner adds, suggesting more ways to spice up life at Axe Cap with a reference to an infamous scene in Scorsese's 2013 movie The Wolf of Wall Street.
"Rage room? I don't see the situation where I would—" Taylor says, reacting negatively to a gift given her by Turner. At so-called "rage rooms," like New York's Break Bar, visitors can smash TVs, computers, alarm clocks, furniture, printers and porcelain with sledge hammers and baseball bats.
"I was about to break my PB," Taylor says, after emerging from a lap pool. She's referring to her Personal Best performance.
"I have him in a Peruvian necktie, do you know what that is?" Chuck says to Taylor, essentially claiming to have Axelrod in a metaphorical chokehold. The grappling hold—used in mixed martial arts, judo and other disciplines (Chuck employs them in his jiu-jitsu practice)—binds a person with both arms and a leg draped over the back, applying extra pressure.
"Axe still isn't talking to me about what you might call the deckle of the chop," Taylor says to Chuck, referring to the cap of a ribeye steak, prized for its fatty flavor. It's a metaphor that Chuck, a frequent patron of Keens Steakhouse, understands immediately ("Just nibbling at the edges," he says).
"The Vanity Fair article dropped. Those Deep State motherf*ckers," Wags says, lamenting that Prince made the cover of a special issue highlighting mega-billionaires, while Axelrod was excluded. Originally used to describe unofficial avenues of violence in Turkey in the 1990s, including military officials conspiring with hit men to conduct off-the-books murders, the concept of a Deep State has been mainstreamed in U.S. politics by President Donald Trump. For Trump supporters, the Deep State references faceless officials—in both the executive branch and intelligence agencies—who allegedly steer policy, leak and manipulate to make Trump look bad. It's more rarely used by scholars and journalists to describe the entrenched bureaucracy of intelligence agencies and the military-industrial complex, which continues to operate more-or-less without interference, regardless of the political party in power. Wags is likely using the term ironically.
"He's too big, too powerful. The man's a grizz, Kodiak Island size, and dangerous," Axe says, describing Prince's power by comparing him to the brown bears of Alaska's Kodiak Archipelago: a subspecies similar to grizzly bears, but larger. Alongside polar bears, they're the largest bears in the world.
"I give you the champion of the world: The Man, Becky Lynch," Wendy says, introducing the office to her former client and the Billions Season 5 premiere's major cameo. Lynch, dubbed "The Man," is an Irish WWE wrestler and current RAW Women's Champion.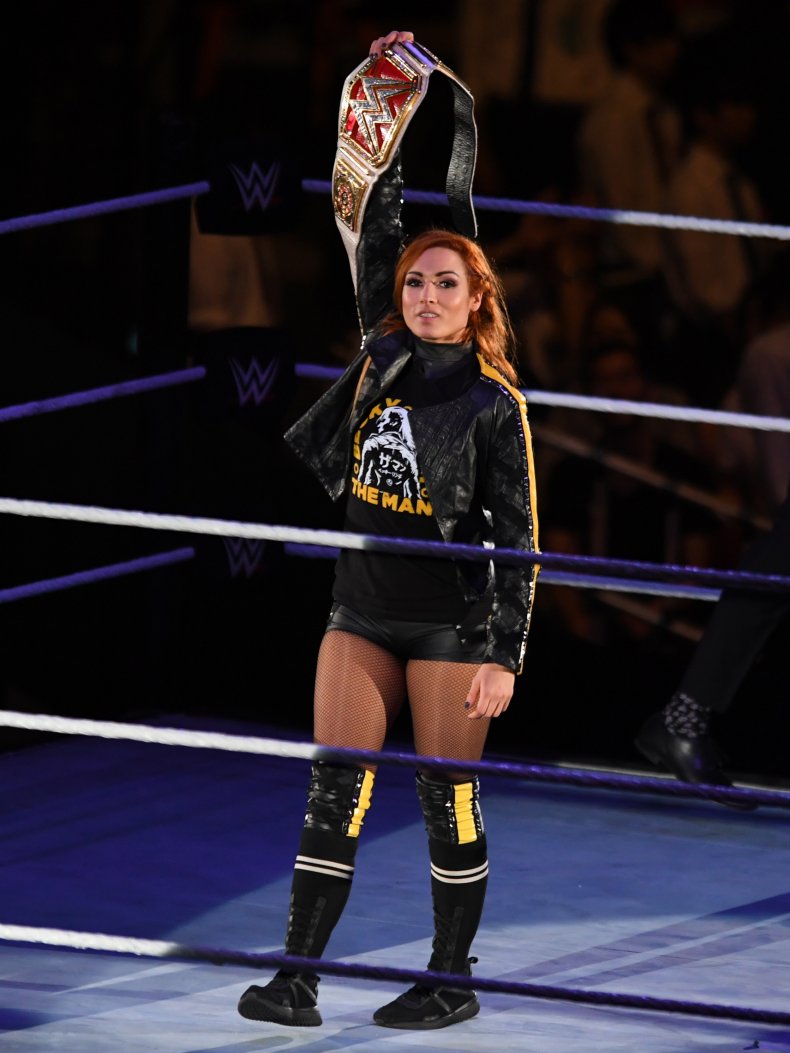 "Never give in. Never in nothing, great or small, large or petty. Never give in, except to convictions of honor and good sense. Never yield to force. Never yield to the apparently overwhelming might of the enemy," Chuck says, reading from a quote in the front of his copy of Winston Churchill's six-volume history, The Second World War—a beloved first edition he was forced to pawn in the second season of Billions. The paraphrased quote comes from a speech Churchill gave at the Harrow School for boys in London in 1941.
Songs featured in the episode include "Bad Company" by Bad Company and bookending songs by Patti Smith: "Gone Again" and "Summer Cannibals."
Billions Season 5 will return for its second episode on Sunday, May 10 on Showtime.