Billy Bob Thornton Explains Why 'Goliath' Is Ending After Season 4
Billy Bob Thornton has said he was happy to bring his role on Goliath to an end before the show goes "too far."
The fourth and final season of Goliath drops on Amazon Prime Video on Friday September 24, 2021. Season 4 sees Billy McBride team up with a white-shoe law firm to take on a big pharmaceutical company with J.K. Simmons and Haley Joel Osment playing some of the foes that he must bring to justice.
Newsweek spoke to the main cast of Thornton, Nina Arianda and Tania Raymonde as they reflected on their time on the show and looked ahead to what Season 4 has in store.
Why 'Goliath' Is Ending Now
Goliath has consistently received rave reviews, attracted huge guest stars each season and even won Thornton his second Golden Globe Award for his performance as a brilliant but deeply flawed lawyer.
The quality of the show hasn't dipped and Thornton told Newsweek that's why it's a good time to stop. He said: "There's something about when series go a bridge too far, you know. We knew that this season was very strong and it seemed right to end it here."
Thornton also confirmed he only ever signed up for four seasons and that it was always the long-term plan to complete those four seasons of Goliath.
Reflecting on Billy McBride's journey on the show, Thornton said that over the years he's reached the root of his character: "I think all along he's been trying to find out who he is and what he wants. Is it success, is it money? But at the end of the day, he wants a relationship with his daughter, Denise [Diana Hopper]."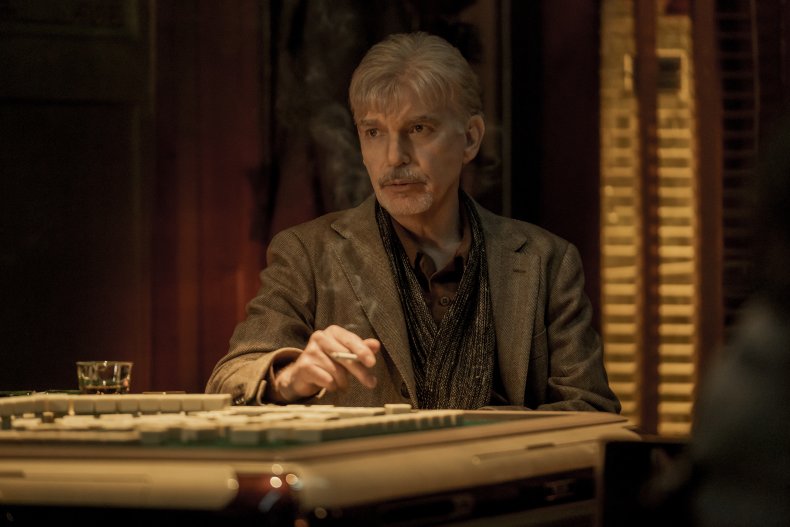 Going on this journey with Thornton throughout Goliath's run has been Arianda as Patty Solis-Papagian and Raymonde as Brittany Gold.
Arianda said in the upcoming season we would see an entirely new side to Patty. She told Newsweek: "I hope viewers really appreciate that there is a lovely completion with her. This season is the first time that she really owns her own abilities and talents, and is pretty unapologetic for it.
"She has a great deal of belief in herself coming out of a personal crisis and being in this new firm she's owning herself," Arianda said.
Raymonde told Newsweek that she's actually come to change her own personal opinion on the character Brittany across her time playing her: "I probably judged Brittany a little bit when I first met her because I thought 'okay, well she's a hot stuff, saucy escort and she kind of does her thing' but she's defied expectations every single time.
"It's been a lesson for me about not judging the people that I'm portraying, because she's never taken a path I expected. And the escort thing became the least important part of her character," she said.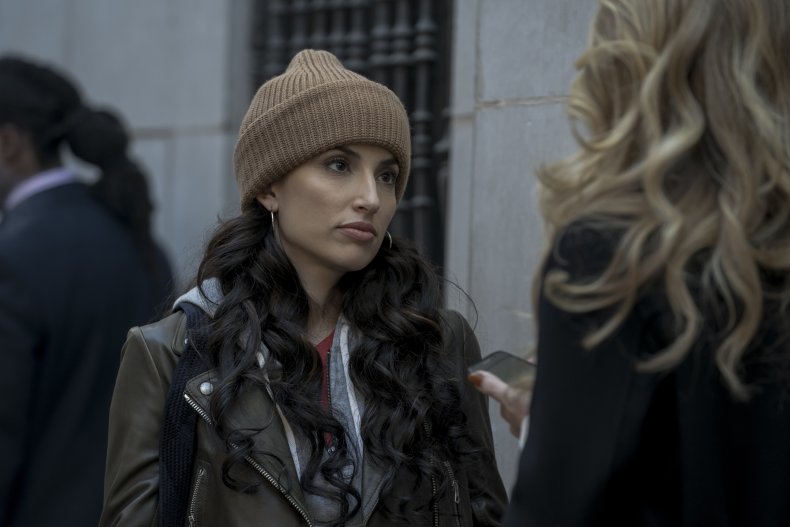 Leaving Billy McBride
Out of the three cast members Newsweek spoke to, Raymonde seemed to be the most upset that Goliath was coming to an end and joked that every journalist she speaks to keeps reminding her that it's all over.
Discussing what she'll miss about Goliath, she said: "I'll miss scenes with Billy [Bob Thornton] and the moments with Billy [McBride] and Brittany when they're not saying anything. They're kind of like karmic souls. I feel like we've known each other in another lifetime. There were so many moments on set with Billy where nothing was being said but I feel like we were having a whole conversation, and I don't know if I'll ever experience that again."
Thornton echoed Raymonde's sentiments in that he would also miss scenes with... himself: "I'll miss the cast and crew but also being able to play a character that was closer to who I am than most characters I played. If I were a lawyer in LA, I'd probably be Billy McBride."
Thornton said he believed even McBride's bad habits are similar to his own. "I'm not only leaving a character behind, but leaving a period of my own life behind because the behavior of Billy, although not always exemplary, was kind of how I am so I'm gonna miss being able to go to work and just kind of be myself," he said.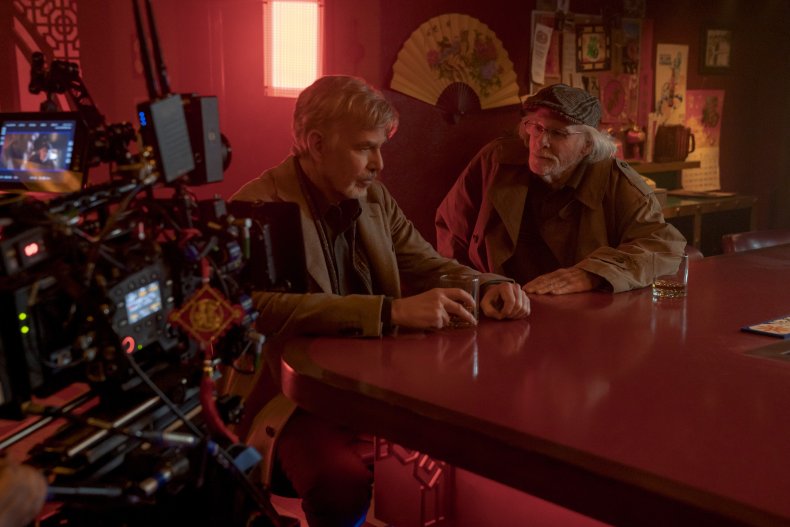 New Cast Members in 'Goliath' Season 4
Season 4 presents McBride with a new Goliath to his David. He will take on the Zax family who run a powerful pharmaceutical company—which means a lot of the perceived evil they're committing is protected by law. McBride teams up with the law firm Margolis & True where he meets Robert Bettencourt (Brandon Scott) and Samantha Margolis (Jena Malone).
Thornton said he was glad the opioid crisis was being addressed in Goliath, as he has experience with the subject in real life. "It's something that personally I have a stake in since I've had friends fall victim to it. He [Billy McBride] takes it very personally because it's affecting everyone and people are being killed legally."
J.K. Simmons and Bruce Dern join Goliath's Season 4 as series regulars. Simmons plays George Zax, the head of the family-owned pharmaceutical company while Dern plays his ostracized brother Frank Zax. Arianda said working with the two of them made this a memorable season for her.
She said: "There have been so many great actors [previously in Goliath] but I think this season, I still really can't believe that I was able to work with Bruce and J.K.. The moments off camera that I was able to speak and pick Mr. Dern's brain was kind of priceless."
All eight episodes of Goliath Season 4 will be available to watch on Amazon Prime Video from Friday September 24, 2021.