After 'Grab Em By the Pussy' Comment, Billy Bush Will Return to TV For First Time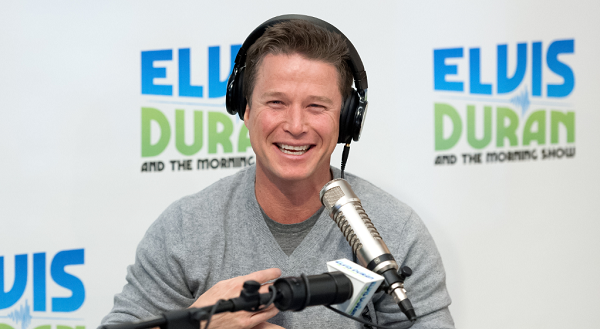 It's been over a year since form Access Hollywood co-host Billy Bush was booted off the NBC network following the discovery of a tape including President Donald Trump's infamous "grab em by the pussy" comment. But on Monday, Bush will make his return to the small screen, appearing as a guest on The Late Show with Stephen Colbert, according to The Hollywood Reporter.
The appearance will also mark the former television host's first time on late night TV.
Colbert is expected to question Bush over the authenticity of the 2005 audio, which was recorded on a live mic ahead of an Access Hollywood interview with Trump, star of NBC's The Apprentice at the time.
When the audio first emerged in October 2016, Trump initially apologized for the lewd comments he made against women and brushed the conversation off as mere "locker room banter." However, a recent New York Times article said Trump had earlier this year told a senator that the audio was faked. The report also alleged that Trump had repeated that the tape was not authentic to an adviser in recent times.
On Monday, White House Press Secretary Sarah Huckabee refuted The New York Times' claims and said that the president "had not changed" his position on the audio, initially uncovered by The Washington Post.
Back in May, Bush expressed his regret for engaging in the vulgar conversation with Trump during an interview with The Hollywood Reporter. The 46-year-old admitted that he didn't have "the strength of character" to end the conversation, which indicated Trump's encouragement towards sexual harassment of women, but said "if a moment like that arose again, I would shut it down quickly."
Bush, who had left Access Hollywood for his dream job as a co-host for Today just weeks before his career imploded, had issued a statement apologizing shortly after the tape was released. However, he told The Hollywood Reporter that he "would have welcomed addressing the audience" in person on camera. He was let go by the network before he was given the chance to.
While the audio has served as the butt of plenty of Colbert's jokes on The Late Show over the last year, it is likely that the late night host will also grill Bush on his former colleague Matt Lauer's recent scandal. Lauer, who had been an anchor on The Today Show since 1994, was fired by the network on Monday following allegations of sexual harassment