Billy Fuccillo, Legendary 'Huge' Car Dealer, Philanthropist, Dead at 64
Legendary "huge" car dealer and philanthropist Billy Fuccillo has died at age 64.
Fuccillo died earlier this week at his home in Florida after years of declining health. He is survived by his wife, Cindy, and their son, Billy Jr. Funeral details have not yet been released.
He began his dealership empire in central New York and was known for his advertisements on television and radio, in which he said his deals were "gonna be huuuuuge."
Fuccillo and his son owned several dealerships in upstate New York and Florida. Five of their New York locations, in Syracuse and Rochester, were sold to other dealerships this past January.
In a Friday email to members, the Syracuse Auto Dealers Association announced Fuccillo's death, writing, "It is with great sadness that we advise you of the passing of former member and friend, Billy Fuccillo."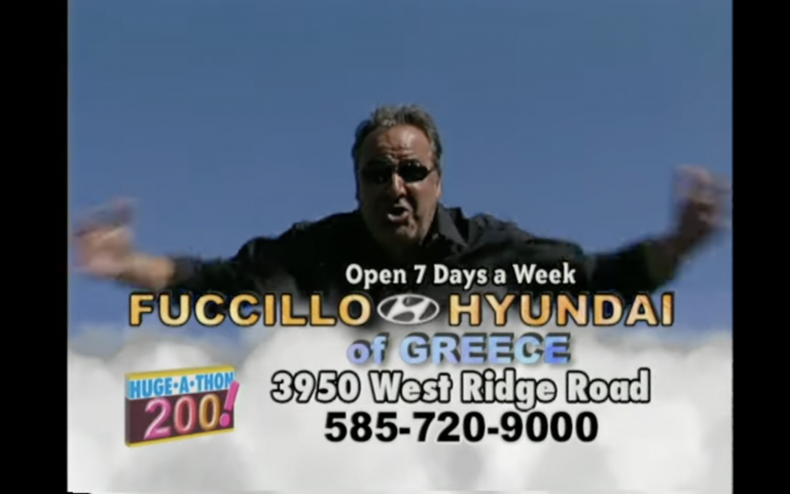 Fuccillo was also well known for his philanthropic efforts and was an active donor to local charities.
"Sad to hear of the passing of Billy Fuccillo who did a lot for the community," TV anchor Lisa Spitz tweeted on Friday.
"On Christmas Eve in 2012 he donated a lot of money to a local food pantry on our show," she recalled. "May he be remembered for his 'huge' generosity as much as his commercials."
"He was bigger than life," Onondaga County District Attorney William Fitzpatrick told WSTM. "When I was asked years ago to help fund the Syracuse Police Department memorial in downtown Syracuse, Billy was the first guy to help."
In an interview with the Albany Times Union in 2008, Fuccillo explained how he got his start in the auto industry.
After graduating from Syracuse University, he said, he "didn't have a job, was broke and was going to be evicted from my apartment. The only job I could get was selling cars. I found out I was good at it."
He bought his first wholesale car business in 1981 and his first new store just eight years later.
Fuccillo said his trademark phrase not only catapulted him to fame but also brought him plenty of business. One day he sold 514 cars, he said.
"I was having dinner in Saratoga last night, and people kept coming up to my table, asking for autographs, shouting 'huuuuuge!' I get that wherever I go. I figure 'huuuuuge!' turns off maybe 20 percent. I don't want to offend anyone, but you've got to get their attention and get them in your store," Fuccillo said in 2018.