Billy Graham Net Worth: Evangelist Was One of the Richest Pastors in America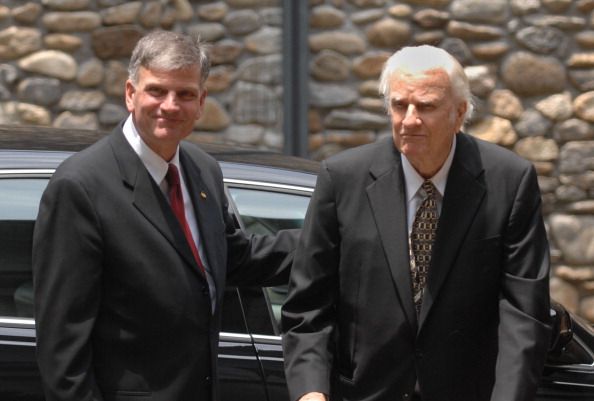 Evangelist Billy Graham made a name for himself over six decades as "America's pastor"—a position that would make him one of the wealthiest pastors in the country.
Born on a dairy farm in North Carolina, Graham had a reported net worth of $25 million. He died on Wednesday at 99 after battling failing health and severe memory loss due to hydrocephalus and Parkinson's disease.
Graham's reach was extensive; he reportedly converted more than 3 million people to Christianity throughout his career. He preached to more than 215 million people in 185 countries; wrote more than 30 books, including a 1997 best-selling autobiography titled Just as I Am; and counseled 12 presidents, starting with Harry Truman.
Graham also in 1950 founded the Billy Graham Evangelistic Association—an organization he oversaw until he tapped his son, Franklin Graham, to take over in 1995—as well as the magazine Christianity Today, which boasts a circulation of 120,000 and a readership of 240,000. He had established "checks and balances" at the BGEA via an independent board of directors that established his salary and housing allowance, which is believed to have been under $150,000, according to the Los Angeles Times.
His sole motivation in his career was "to proclaim the Gospel," NPR reported.
The evangelist's net worth is surpassed by religious figures such as televangelists Kenneth Copeland and Pat Robertson, who are reportedly worth $760 million and $100 million, respectively.
While Graham's income hasn't received widespread media scrutiny, there has been recent attention on his son's $880,000 pay, split between two nonprofit agencies. Franklin Graham pocketed a $622,000 salary as head of Samaritan's Purse, an international relief agency, along with about $258,000 for acting as CEO of the BGEA, according to a 2015 Washington Post article. The BGEA reported about $120 million in total revenue for 2016.
The 63-year-old's salary has attracted critics, such as Maria Dixon, a Southern Methodist University professor of corporate communications and public affairs.
"Basically, they are saying if Satan pays well, God should pay better," she told the Post.