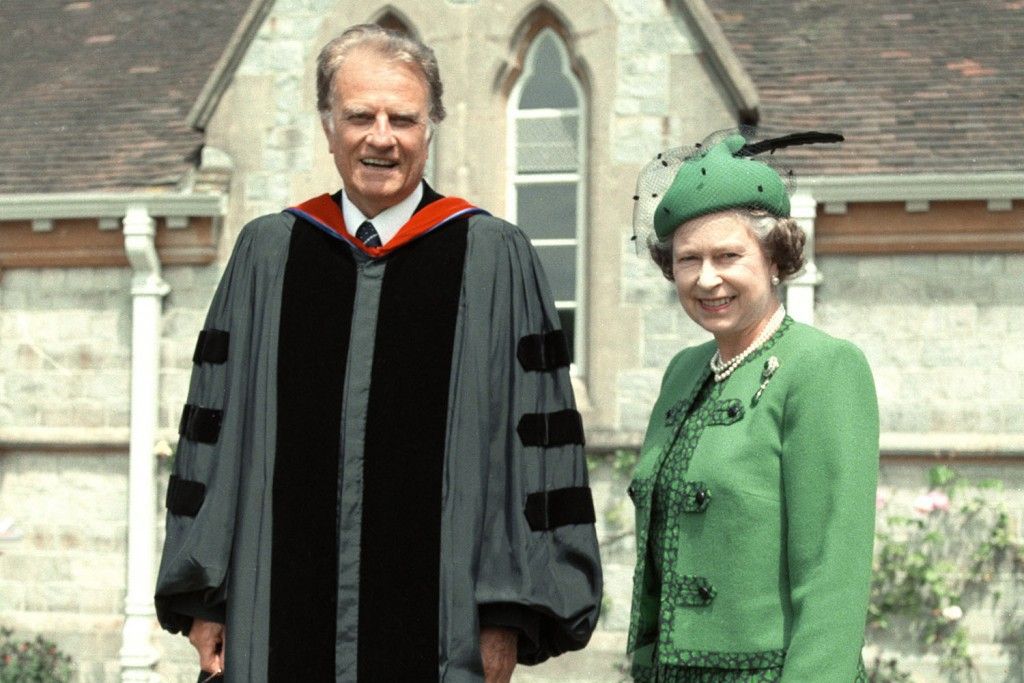 American evangelical pastor Rev. Billy Graham died on Wednesday. He was 99 years old.
Beginning in the 1940s, Graham led a "global crusade" to spread evangelical Christianity around the world, untethered to existing churches or religious denominations. Throngs of people—believers, worshippers and other interested listeners—filled stadiums and arenas to hear Graham's sermons and message. He earned the nickname "America's Pastor" and counseled presidents, but his influence extended beyond the United States.
In 1955, Graham began one of his most high profile and unusual friendships—with Queen Elizabeth II, the de facto Supreme Governor of the Anglican church in England.
According to an article Graham published on his website in 2016, in honor of the Queen's 90th birthday, her political position made it difficult for her to go public with her support for his beliefs. "But by welcoming us and having me preach on several occasions to the royal family at Windsor and Sandringham," Graham wrote, "she has gone out of her way to be quietly supportive of our mission."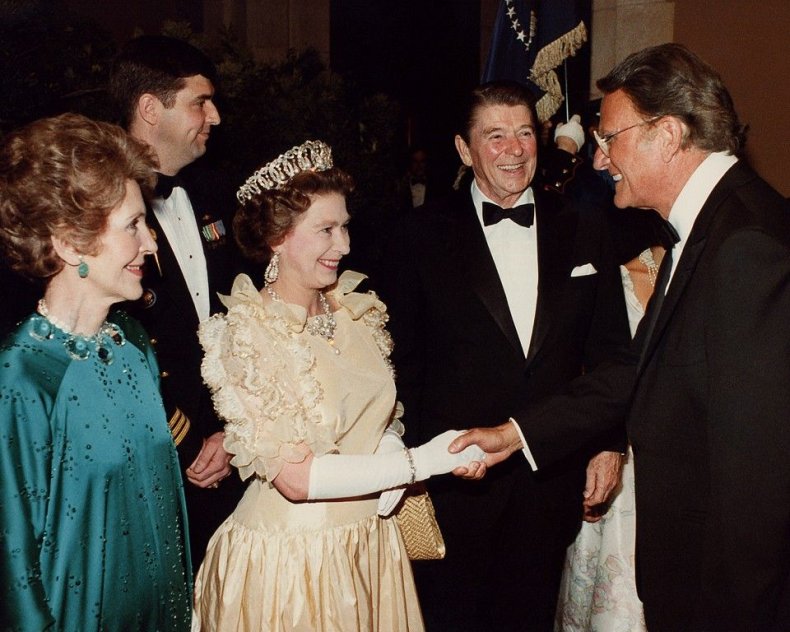 Netflix's British drama The Crown fictionalizes this meeting in Season 2. In Episode 6, Graham (House of Cards' Paul Sparks) is in England on one of his missions. The beginning of the episode, "Vergangenheit," finds the Queen (Claire Foy) watching Graham preach on television. The camera pans slowly around Foy's face as she watches his sermon, and though her mother calls him a zealot, it's clear Elizabeth finds him (and his message) intoxicating.
After seeing him on TV, the Queen arranges for Graham to worship privately with the Royal Family. During his sermon Prince Philip (Matt Smith) narrows his eyes when Graham delivers his entire speech directly to Elizabeth, who sits just underneath the pulpit listening with rapt attention. Philip, who is often portrayed as jealous and insecure on The Crown, calls Graham a "lanky bugger" in the episode, and his wife replies, "I think he's rather handsome."
The fictional Queen was right, by the way—in Graham's New York Times obituary, he's remembered as "6-foot-2, with a handsomely rugged profile fit for Hollywood westerns."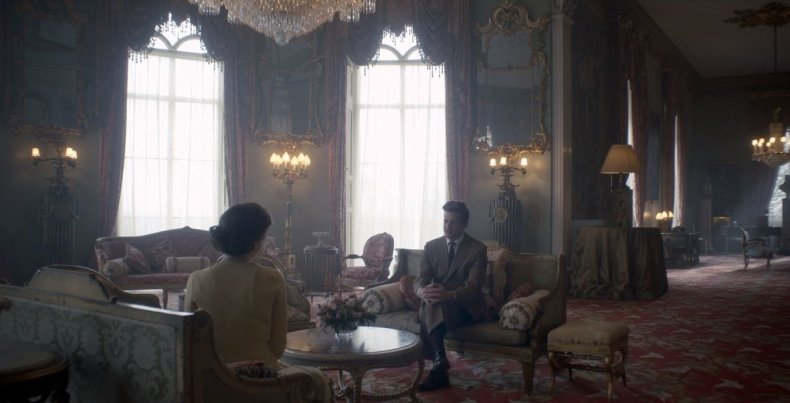 In the episode, the Queen is seen having two private audiences with Graham, who provides spiritual (and practical) advices to the monarch at a particularly difficult moment. She is seen mulling over his words and ideas, especially when it comes to forgiveness, then acting (it's implied) based on their conversations. The Crown suggests that it was Graham's counsel that led the Queen to finally boot her Nazi-sympathizing uncle, Edward VIII, out of England for good.
According to The Washington Post, it's unlikely the two ever met alone, partially because Graham exercised the same social rule as current vice president Mike Pence: he did not allow himself one-on-one visits with women who weren't his wife. To add to that barrier separating them, the Queen doesn't often take private meetings at all.
The relationship between Graham and the Queen might not have been as charged with chemistry as The Crown would have us believe. But they did speak highly of each other throughout their lives, and they were photographed together in different countries.
Based on Graham's own writing, and what we know about the Queen, theirs was most likely a platonic friendship, fused by their common belief in a benevolent, Christian God. Graham just happened to be a notably handsome man who was very good friends with the Queen, a passionate intellectual whose marriage had its up and downs.