Billy Graham's Grandson, a Cancer Survivor, Is Critically Ill With COVID-19
Jonathan Lotz, the grandson of televangelist Billy Graham and a cancer survivor, is hospitalized in critical condition with COVID-19.
Lotz's mother Anne Graham Lotz, the daughter of Billy Graham, revealed her son's condition while urging her followers to pray for him in social media posts over the weekend.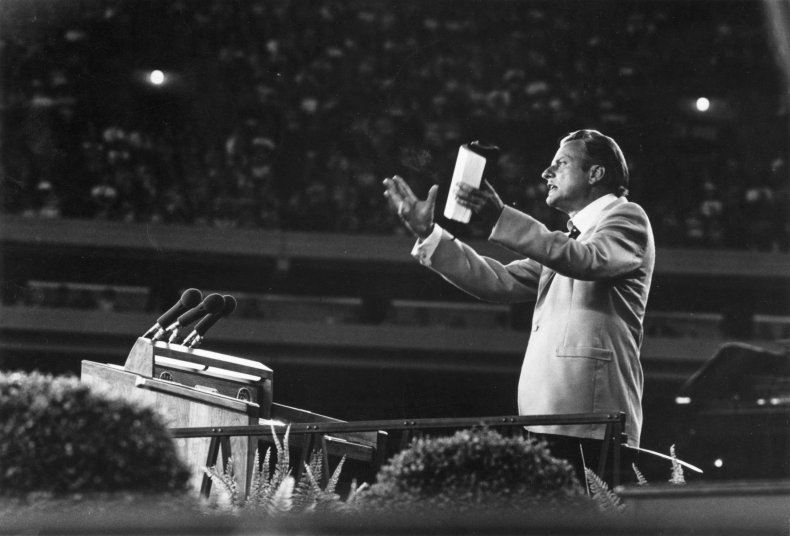 "Fifty years ago I could hold my son in my arms," Anne Graham Lotz wrote in an Instagram post on Sunday. "Now I have placed him in the arms of Jesus. He has been hospitalized with COVID and is in critical condition."
"I am asking you to please pray for Jonathans swift healing and recovery," she added. "For the glory of Gods great name. Thank you."
A short time later, Anne Graham Lotz urged followers to pray so her son "will not have to go on a ventilator, that his oxygen levels would increase, that his lungs will be strengthened, healed and that his health will be fully restored—with no long term complications."
She also shared what she said was a text message that Jonathan had sent her from his hospital ICU bed on the same morning.
"I am physically exhausted yet Spiritually overflowing!" Jonathan Lotz wrote, according to his mother. "I am continually pouring over the Psalms of Ascent [120-134] in ICU. I have had the privilege of sharing Jesus with the ER & ICU staff! What a Savior! God is so good!"
Jonathan Lotz is the survivor of a 1998 testicular cancer diagnosis, according to a 2014 article in Forsyth Family magazine. He was reportedly deemed cancer-free in 2005 following surgery and radiation therapy.
The article detailed a reunion between Lotz, who is 6-foot-9, and an allegedly abusive former high school basketball coach who was dying of lung cancer. Lotz credited his own cancer diagnosis with giving him the opportunity to reconcile with his coach and to evangelize.
"Some people ask me, why would a loving God let you go through all this, let you have cancer?" Lotz told the magazine. "I don't know. But this is what I do know; God has found incredible ways to use me because of it."
"Without having cancer, I couldn't have reconciled with my coach and told him about a personal relationship with Jesus," he continued. "I have also been given the opportunity to share my story with many others and encourage them in their battle with cancer."
Following in the footsteps of both his famous grandfather and his mother, Lotz is the leader of his own North Carolina-based evangelical ministry. In addition, a February 2018 article in the Winston-Salem Journal described him as the manager of a local Chick-fil-A restaurant.
Lotz told the paper he had been working for the restaurant since 2012 and that he loved his job because "I get to serve and encourage people, and it's closed on Sundays."
Newsweek reached out to Jonathan Lotz Ministries for comment.