Billy Graham's Historic NYC Crusade Drew Thousands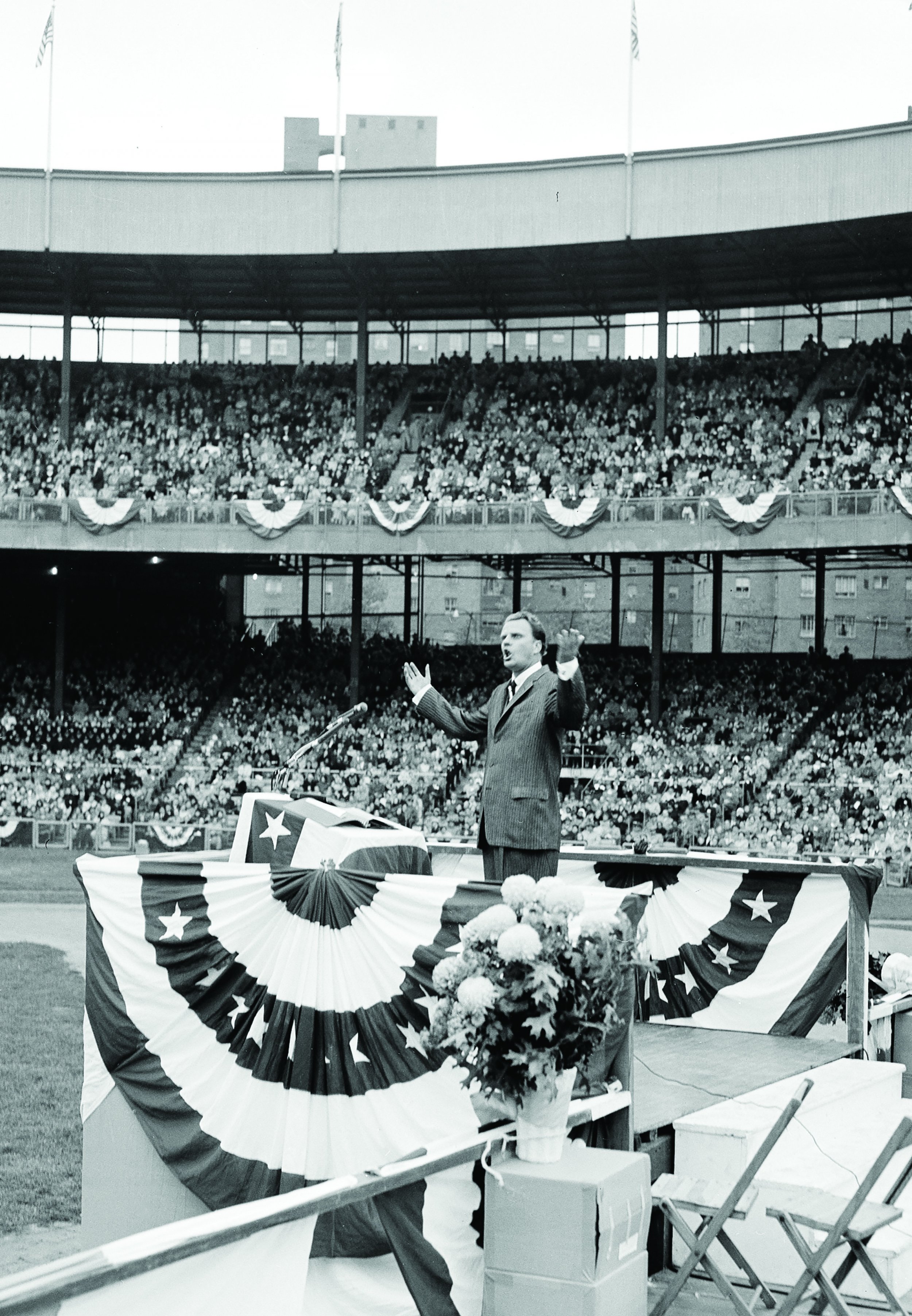 This article, along with others covering the life of the American preacher, is featured in Newsweek's Special Commemorative Edition: Billy Graham.
In 1957, Rev. Billy Graham set out to spread the Gospel in a metropolis he felt was in dire need of healing—New York City. But due to its massive population, which included everyone from the spiritually secure to the steadfastly secular, Graham knew this would be no walk in Central Park. "I have prayed, worried and wept over New York more than any other place in which we have held a Crusade," the reverend reveals in God in the Garden, an account of the Crusade by Curtis Mitchell. "I sometimes stand in the middle of that great city and wonder if I can ever reach it for God." With his work cut out for him, Rev. Graham began to plan for what would become his largest Crusade ever.
The marathon Crusade was in the planning process for years before finally coming to fruition in the spring of 1957. Talks of a major New York City evangelical event first began in 1951, when Graham met with a group of clergy and laity known as the Billy Graham Crusade Breakfast Committee about potentially holding a Crusade the following year. Eventually, however, the Billy Graham Evangelistic Association declined the opportunity. Still, the New York Crusade remained a possibility that many hoped to make a reality, including the Protestant Council of New York City, who fi rst extended an invitation for Rev. Graham in 1954. After some deliberation, Graham and the Protestant Council fi nally reached an agreement, and on December 10, 1955, the two parties announced Graham would host an evangelistic campaign in New York City beginning May 15, 1957.
The next two years were spent organizing the volunteers, ushers and follow-up workers who would assist Graham with the expected turnout. On April 4, 1956, the Billy Graham Crusade Committee held its first official meeting, which soon led to the forming of separate branch groups: the Executive Committee, responsible for the specific direction of the Crusade, and the General Crusade Committee, an advisory board. In the first few months of 1957, Graham visited New York City to finalize planning and assist in the preparation, which included a nine-week training course for the Crusade's counselors, who would wear badges in order to be identified by those who accepted Rev. Graham's invitation to welcome Christ into their lives.
With less than one week to go before the fi rst service at Madison Square Garden, a rehearsal for the 1,500-voice crusade choir was held at the Salvation Army Temple. The following day, Graham traveled to Washington, D.C., to meet with President Dwight D. Eisenhower about plans for the New York Crusade. On May 14, the night before the first service, prayer meetings were held at 10 New York City churches.
When Madison Square Garden opened its doors for the first service of the New York Crusade on May 15, approximately 18,000 attendees filled the World's Most Famous Arena hoping to either rea rm their faith or come to Christ for the first time. But this was just the beginning, and the crowds would greatly increase in the weeks to come. Media coverage of the Crusade was instrumental in spreading the word as Graham appeared on programs such as The Today Show and Meet the Press, and on June 1, ABC began airing live coverage of the Saturday evening services. Due to the event's immense early success, Graham's Executive Committee voted to extend the Crusade to June 20. Nine days later, overall attendance had already surpassed 500,000.
Graham was fi nally able to take his first day-long break from the campaign on June 17, due to Madison Square Garden hosting an annual event. But the reverend's rest would be short-lived as attendance and demand for the Crusade showed no signs of slowing down. The event would continue well beyond the June 20 extension, and Graham and his volunteers continued to hold services, rallies and workshops for ministers throughout the Big Apple.
July began with LIFE magazine featuring a cover story on the Crusade. By that time, attendance was beyond ascendant. An outdoor service on Wall Street drew an estimated 30,000 attendees, and just a week later, Vice President Richard Nixon was a guest speaker at a service at Yankee Stadium that drew a crowd of more than 100,000, with about 20,000 being turned away due to maximum capacity standards. One of the greatest highlights of the Crusade came when Martin Luther King Jr. delivered the opening prayer at a Madison Square Garden service on July 18. After pushing the end date several times, Executive Committee chairman Roger Hull declared that the Crusade would conclude with a final service at Madison Square Garden on September 1.
While the New York Crusade did officially end at the start of September, Rev. Graham served as a guest speaker at evangelist rallies and universities throughout the state of New York well into October. The unprecedented event lasted a total of 16 weeks, the first six of which alone cost $900,000. Its success was clear: Services in New York City yielded a cumulative attendance of 2,397,400; and of those individuals, 61,148 pledged to dedicate their lives to Christ. Graham had spearheaded an event that many considered to be a miracle, and his identity as America's most influential preacher was now undeniable.
This article, by issue editor Trevor Courneen, was excerpted from Newsweek's Special Commemorative Edition: Billy Graham. For more on the preacher, pick up a copy today.