Billy Graham's Son Says It's 'Unfathomable' Christianity Today Would Side With Democrats in 'Totally Partisan' Attack on Trump
Evangelist Billy Graham's son, Franklin Graham, said his father would have not agreed with the Christianity Today editorial that supported President Donald Trump's removal from office, adding that it was unbecoming of the magazine.
"For Christianity Today to side with the Democrat Party in a totally partisan attack on the President of the United States is unfathomable," Graham said in a Facebook post on Friday morning.
On Thursday, Christianity Today, an evangelical Christian magazine, published an editorial that said the positive aspects of Trump's presidency didn't outweigh the "moral and political danger" that comes with a leader of "such grossly immoral character." It urged those evangelicals who align with Trump to consider how their support impacts their credibility when it comes to discussing "justice and righteousness" in terms of Christian beliefs, including abortion.
The "typical approach" for the magazine was to stay "above the fray" of politics, editor in chief Mark Galli wrote in the editorial, but in certain instances, such as the impeachment of the president, the magazine had to make its opinions clear. Sharing that opinion with "conviction and love," he wrote, was a move Billy Graham, who founded the magazine in 1956, encouraged them to do.
In the Facebook post, Franklin Graham justified his response because his father was mentioned in the piece. Although his father founded the magazine, Franklin said, he wouldn't have agreed with the piece.
His father, who died in February 2018, Franklin said, voted for Trump during the 2016 election and believed he was the "man for this hour in history for our nation." He argued Trump's impeachment was politically motivated and "100 percent partisan," and the editorial showed the magazine was being used to promote the Democrats' political agenda.
"Why would Christianity Today choose to take the side of the Democrat left whose only goal is to discredit and smear the name of a sitting president?" Franklin wrote in the post. "...It's obvious that Christianity Today has moved to the left and is representing the elitist liberal wing of evangelicalism."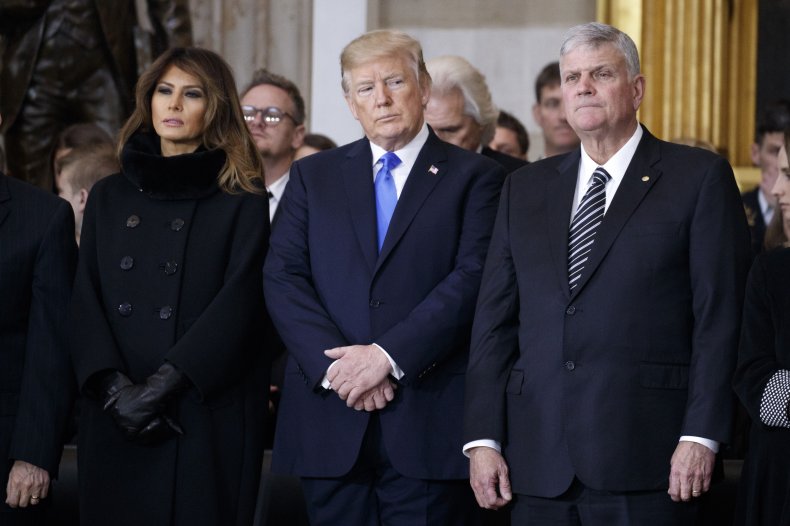 Newsweek reached out to Christianity Today editor in chief Mark Galli through email but did not receive a response in time for publication.
In the editorial, Galli acknowledged that Democrats have "had it out" for Trump since day one and Trump didn't have the "serious opportunity" to offer his side of the story. However, the editorial claimed the facts were "unambiguous" that Trump violated the Constitution, once again showing he is "profoundly immoral."
"His Twitter feed alone—with its habitual string of mischaracterizations, lies, and slanders—is a near perfect example of a human being who is morally lost and confused," the editorial said.
On Wednesday, the House of Representatives voted to impeach Trump on two articles: abuse of power and obstruction of Congress. Trump has fiercely denied any wrongdoing and claimed votes falling along party lines, with every Republican voting against the articles of impeachment, exemplified the impeachment was a "witch hunt" to get him out of office.
To defend himself, Trump has told critics to review the transcripts of the July call between himself and Zelenskiy that's at the heart of the case for his impeachment. In a Friday morning tweet, Trump claimed Christianity Today "knows nothing about reading a perfect transcript" and that it would rather have a "radical left nonbeliever" than Trump as president.
"No President has done more for the Evangelical community, and it's not even close," Trump wrote on Twitter. "You'll not get anything from those Dems on stage. I won't be reading ET (sic) again!"
Galli responded to Trump's tweets on CNN on Friday morning, sharing that he was "somewhat complimented" that the president felt his editorial was worth commenting on. However, he disagreed with Trump on "about seven or eight different levels," including the president's "far from accurate" characterization of the magazine as being far left.