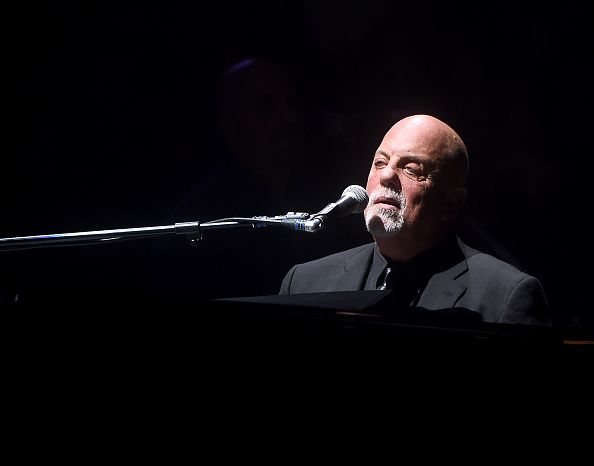 Billy Joel has made it clear he doesn't usually like to get political, on or off the stage. While many of his counterparts in the music industry and other celebrities have become very vocal activists, especially during and after the 2016 presidential election, Joel has asked Time "who cares about the political opinions of a piano player?" and told Rolling Stone, "I try to stay out of politics. I am a private citizen and I have a right to believe in my own political point of view, but I try not to get up on a soapbox and tell people how to think."
But he hasn't been completely silent. In that same Rolling Stone interview published this past June, he said, "Look, man, Trump is president, so all kinds of weird shit can happen." Last summer, he insisted he wouldn't play at Trump's inauguration if he were to win, saying, "I won't be anywhere near that place." He told the New York Daily News in early November that he would be voting for Trump's opponent, Hillary Clinton, though he added that "I have no desire to influence anyone to think as I do. My personal opinion shouldn't matter to anyone with their own free will."
On Monday night, Joel left his nonpolitical persona at home when he took the stage for his recurring (and recurringly sold-out) gig at Madison Square Garden and let the visuals say everything as he sang for a crowd of thousands.
First, he invited Patty Smyth up to the stage as his guest for the month. As the two sang the duet "Goodbye to You," the screen behind them flashed images of prominent figures who have left the Trump administration during its first seven months, including former press secretary Sean Spicer, former communications director Anthony Scaramucci and former White House chief strategist Steve Bannon, who was fired on Friday.
At the end of the evening, the singer came out for an encore wearing a yellow Star of David over his heart and one on the back of his jacket. The symbol conjured images of Jews forced to wear such markers under the oppressive laws of the Nazi regime during the Holocaust. It seems that Joel—who was born to Jewish parents and is often said to identify as culturally Jewish—was making a silent protest against the flagrant anti-Semitism exhibited earlier this month at a white nationalist rally in Charlottesville, Virginia.
He's not the first to use the symbol in the wake of the events in Charlottesville; some counterprotesters at a right-wing "free speech" rally in Boston on Saturday donned stars, as well. One woman told NBC News, "This is what our ancestors had to wear. We're saying 'No, we're not going to let it go to that point again,'" she added. "I never ever in a million years thought that I'd be waking up to protest Nazis, but I'm here and I'm doing it."
Reactions on Twitter to what seemed like a similar protest were mixed, with some lauding his choice and calling him a "hero," and others saying he has "lost his mind."
Though it appears that Joel didn't provide much in the way of explanation for the stars he wore, social media posts from his daughter and ex-wife, both of whom attended the Monday night concert, are telling. "Now, THIS Is How You Do It," Alexa Ray Joel wrote in a post on Instagram. "THAT'S MY POP!!! Proud Jewish New Yorker Through & Through!!!!! REPRESENT! STAND STRONG!"
Her mother, the model and actress Christie Brinkley, posted to Instagram, as well. "And on the day of the Solar Eclipse a yellow star appeared on the jacket of another kind of star with a clinched fist that seemed to be gripping painful, no excruciating, memories of loved ones who wore that star to their death," she wrote.
"May that star also remind you today of the gold stars pinned to the jackets of soldiers for their bravery and valor for fighting an evil so hideous even the gold stars in the sky were afraid to shine," she added. "Thank you Billy for reminding people what was…so it may never ever be again."