Billy Nungesser Vows To Fight the Oil Spill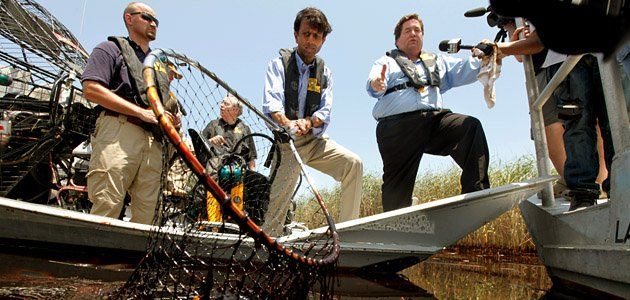 At about 11:30 p.m. on April 20, Billy Nungesser, the Plaquemines Parish president, received a call from his 911 operator with alarming news: an oil rig had exploded off the Louisiana coast. He immediately dispatched ambulances to aid potential victims and drove down to Venice, La., a major sportfishing marina at the southern end of the parish, down where the Mississippi River dissolves into a maze of estuaries and marshes. He monitored radio reports throughout the night, while his fiancée posted the names of survivors on Facebook to calm frantic family members. The following morning, Nungesser gave interviews to local TV stations—something he's fond of doing and has a knack for—and raised the prospect that the rig could list and possibly capsize. His press secretary, Kurt Fromherz, was pulling his hair out, worried that Nungesser was being too alarmist. But Nungesser's fears proved prescient.
Nungesser knows the oil industry well. Short in stature and immense in girth, he's a gregarious good ol' boy and a shrewd businessman. He made millions building offshore housing for oil rigs and supplying them with catering services. Nungesser is also intimately familiar with the region's other economic pillar: seafood. When he was growing up, his family owned a canning company in Algiers. As he told a Times-Picayune writer last year, he used to ride with his dad down to the Venice marina to buy barrels of shrimp and haul them back to the factory to get deveined, cooked, and sold off to restaurants. In this part of the country, oil and seafood exist symbiotically. The week before the oil rig blew up, Nungesser attended the sixth annual Oilfield Crawfish Boil-Off at Fort Jackson.
That background has made Nungesser an especially potent expression of the Gulf Coast's anguish and anger over the BP disaster. His parish has taken brutal hits in recent years. Hurricane Katrina made landfall in Plaquemines in 2005, roaring through with 120-mile-per-hour winds and a 20-foot storm surge that sank thousands of fishing boats and pulverized marinas. A few years later, Hurricane Ike flooded the parish, causing millions more in damage. Nungesser was at the center of both those reconstruction efforts. Now, as Plaquemines suffers yet again, he has become the voice of the aggrieved—and, given his relish of the limelight and skill at firing off pungent one-liners, a media sensation. Along with Louisiana Gov. Bobby Jindal, he's become the most biting critic of BP's and the Coast Guard's response to the crisis.
But it wasn't like that at the beginning. In the first week and a half after the BP rig exploded, Nungesser struck an optimistic tone. In an interview with NPR that aired on April 30, he declared himself satisfied with the partnership between BP and the Coast Guard. "Over the last day and a half, I'm very happy," he said. "[BP has] agreed to pay our fishermen and deploy and pay for the boom that we feel we need to put out in the marsh. So I feel that partnership is starting to work. And at this point, I'm satisfied. They're doing all they can." Later in that segment, he added, "The oil is still not up in the marsh, so we haven't lost any ground in that respect."
In that initial period, Nungesser said, as he drove his pickup between engagements on Wednesday, he trusted the officials in charge of the response. "They convinced me that they did have a plan," he said. "They also convinced me that the reason they were spraying dispersant is that it sunk the oil and it broke it into tiny particles, and it would be eaten by microbes offshore."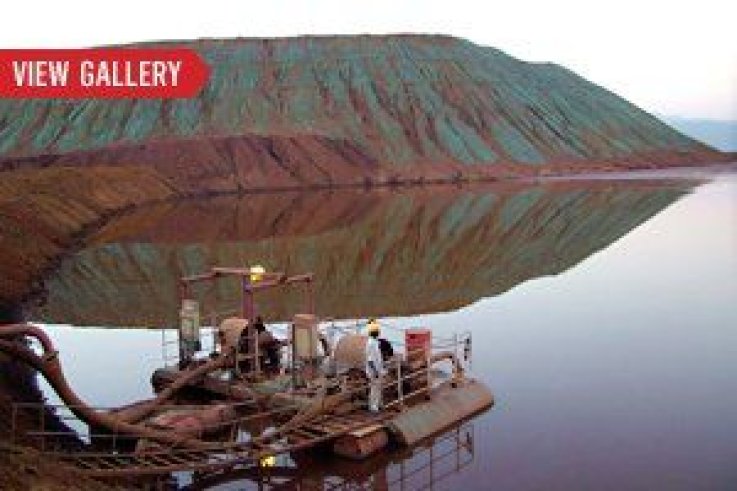 But as the oil continued to gush and steadily made its way toward the Gulf Coast, Nungesser became increasingly alarmed. He displayed one of his first flashes of anger with a local Coast Guard captain. "Don't worry, President Nungesser. We're going to help you clean up your parish," the captain told him. To which Nungesser snapped: "You don't know what you're talking about. You will never clean up the marshes." Removing oil from sandy beaches is one thing, Nungesser says. But trying to expunge it from intricate marshes is nearly impossible.
When President Obama visited Plaquemines Parish on May 2, Nungesser and Jindal met with him for two hours at the Coast Guard station in Venice. Both men are Republicans, and Nungesser's father was head of the state GOP for 25 years. So a bit of partisan tension might have been expected. Yet Nungesser was deeply impressed by Obama. "This president cares," Nungesser said. "He not only cares, he's smart, he's engaged." Nungesser seized the opportunity to request support for a plan he was promoting: to position jack-up barges (which have legs that extend to the riverbed and prop them up) at the outer edges of the marshes, where they could supply boats with boom and provide a front-line defense against the creeping oil. Nungesser says a Coast Guard official raised doubts about the plan. "Do you have a better plan than Billy Nungesser's?" Obama asked, according to Nungesser's account. When the Coast Guard official said no, Obama replied, "Then I would suggest you implement Billy's plan tomorrow." And so it was. To make sure, the president called Nungesser the following day. "Did they implement the jack-ups?" Obama asked. "Yes, sir, Mr. President," Nungesser replied. "You're a man of your word. Thank you so much. You're exactly what we needed on the ground here to shake them up."
Of course, the oil eventually arrived. On May 7 came the first sightings of sheen in the parish. On May 12, tar balls washed ashore at South Pass, where the Mississippi meets the Gulf. Then on May 17, thick oil arrived at nearby Pass a Loutre, coating patches of grass. The incursion of that goopy muck into the area's precious marshlands—the lifeblood of the region's fishing industry—sent Nungesser into a panic. "Everything that that blanket of oil is covering today will die," he said at a joint appearance with Jindal, after the two toured the affected area on May 19. "All of the bugs that the fish come in to eat, all of the critters in the marsh will die. And that marsh will die. There's no way to clean it up."
In recent weeks, Nungesser and Jindal have been relentlessly pushing a new plan: to fortify barrier islands with dredged sand so that the oil has a harder time making it into the marshes. The $350 million project—which Nungesser is credited with coming up with—has intuitive appeal, and indeed, restoring those protective buffers has long been a priority for environmentalists. Yet some scientists have raised questions about the scope of the plan. For instance, Gregory Stone, director of the Coastal Studies Institute at Louisiana State University, says it's unadvisable "to embark on a project of this magnitude without having at least some semblance of what might actually result." The Army Corps of Engineers apparently has reservations as well, since so far, it has refused to grant the necessary emergency permit. Yet Nungesser and Jindal insist that their idea could save some of the marshes. And, they argue, if the federal government doesn't like their proposal, then it should come up with an alternative—something much more aggressive than simply laying down boom.
In the past week, Nungesser and Jindal have stepped up their rhetoric against BP and the federal government, especially the Coast Guard. "We have been frustrated with the disjointed effort to date that has too often meant too little too late to stop the oil from hitting our coast," Jindal said at a press conference on May 24. Nungesser, for his part, has made a daily sport of lashing out at Admiral Thad Allen of the Coast Guard, calling him "an embarrassment" and "a cartoon character." (Today, the Coast Guard approved portions of the sand-berm plan).
On Wednesday, the pair were at it again. Joined by James Carville and Mary Matalin, Jindal and Nungesser toured South Pass at the mouth of the Mississippi, heading an entourage of boats carrying wildlife officials and media. As a storm rumbled in the distance, a few shrimpers glided past. Jindal's and Nungesser's boat pulled up to patches of roseau cane that were stained dark brown by oil at their base. "Everything was dead in the marsh," Nungesser told me afterward. "I get tears in my eyes, because when you'd pull into that marsh previously, fish would jump and scurry." Now, "ain't a bird, ain't a bug, nothing." Worse yet, there was no sign of activity to clean up the muck or defend against the invading slick. "There was nobody out there doing anything," said Nungesser. "It was disgusting."
Billy Nungesser Vows To Fight the Oil Spill | U.S.