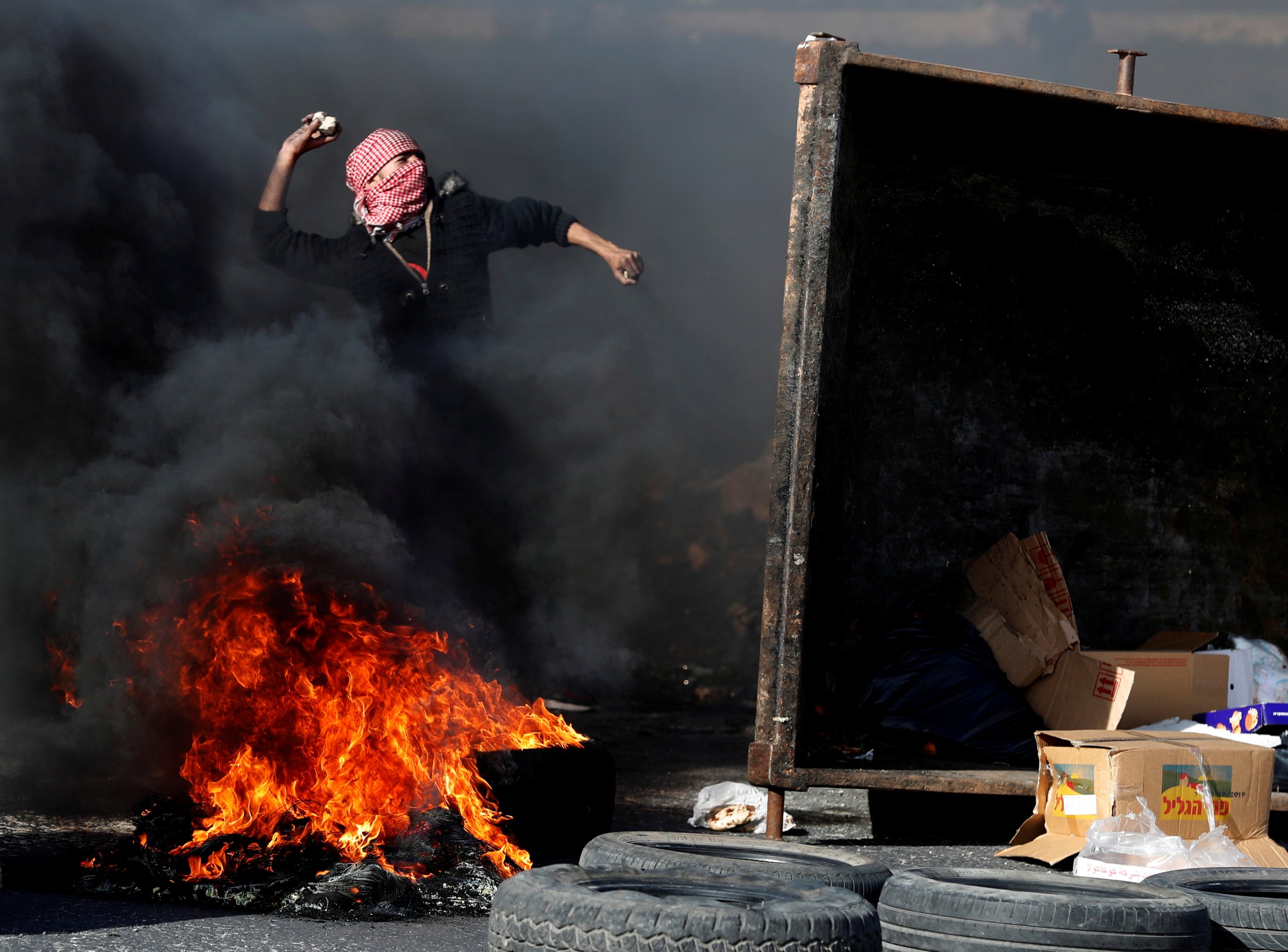 The Saudi Arabian monarchy should be overthrown for betraying Muslims and forming strategic alliances with the West, Hamza bin Laden, a son of 9/11 mastermind Osama bin Laden, stated in an Al-Qaeda propaganda video released Saturday.
The video, released by Al-Qaeda's as-Sahab Media Foundation, attacks Abdul Aziz bin Abdul Rahman Al Saud 'Ibn Saud, Saudi Arabia's founder, and accuses him and his successors of maintaining close ties with Britain despite British support for the Jewish state of Israel. In the video, the young bin Laden argues that the Saudi monarchy should be overthrown because it has maintained good political relations with Western powers at the expense of the Palestinians and their state.
"This is the consistent methodology taken by Al Saud towards Palestine: that they recognize Israel seizing most of it and the handing over of what remains to traitors such as Mahmoud Abbas," bin Laden says in the video, referring to the leader of the Palestinian authority.
"It is through these historical facts that it becomes clear and evident to us that the ruling tyrants among Al Saud are not part of Islam in any way," he continues in the missive, which was released by the SITE Intelligence group. "Indeed, the duty towards this family that betrayed the religion, the Ummah and the sanctities, is to remove and eradicate them, and establish in their place the law of Allah the Great and Almighty."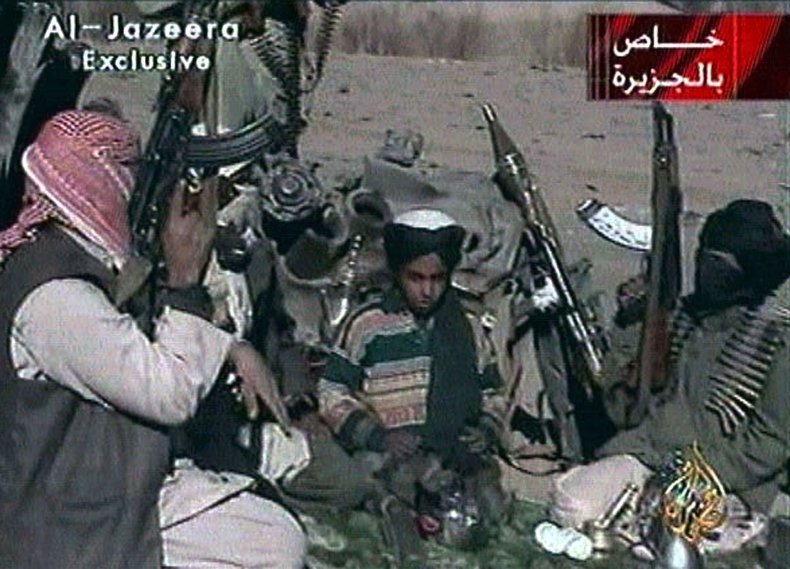 Hamza bin Laden was the favorite son of Osama bin Laden, the mastermind behind the terror attacks on September 11, 2001, when Islamist extremists hijacked four planes and crashed them into the World Trade Center, the Pentagon and a field in Pennsylvania, killing thousands.
The video was released as people across the Middle East protested President Donald Trump's decision to recognize Jerusalem as the capital of Israel. Jerusalem is currently controlled by Israel, but half of the city was seen as the future capital of a Palestinian state if a two-state solution were reached between Israel and Palestinian authorities. The decision to recognize Jerusalem as the capital of Israel has been widely criticized by U.S. allies. Protests over the last five days have left four Palestinians dead and hundreds wounded.
Saudi Arabia's leadership joined in the criticism of Trump's decision.
"My government calls on the U.S. administration to back down from its decision and support the international will to enable the Palestinian people to regain their legitimate rights," Saudi Foreign Minister Adel Al-Jubeir said in a statement on Saturday.
"This step, although it will not change or prejudice the firm rights of the Palestinian people in Jerusalem and other occupied territories, it represents a significant retreat in efforts to push the peace process forward and a disruption of the U.S. position."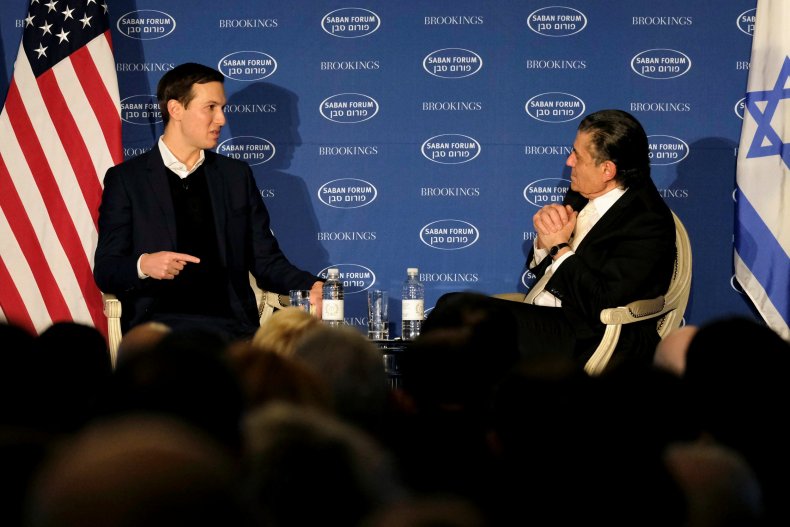 Despite its condemnation of the Jerusalem decision, the Saudi regime has maintained close ties with the Trump administration. Jared Kushner, Trump's son-in-law and close adviser, has developed a close relationship with Saudi crown prince Mohammed bi Salman. Kushner, an Orthodox Jew who is ostensibly leading a Middle East peace process, is a major advocate of Jerusalem's recognition as the capital of Israel.
For Al-Qaeda and bin Laden, the Saudi relationship with figures like Kushner is considered a personal betrayal. Saturday's video demonstrates that bin Laden's son Hamza, an influential figure quickly rising in the ranks of Al-Qaeda, is adopting his late father's stance on Saudi Arabia's role in the Middle East.
"Al Qaeda is not a fan of any Sunni monarchy, but with Saudi Arabia, it's personal," Chris Meserole, a Middle East expert at the Brookings Institution, told Newsweek. "Bin Laden has deep ties in Saudi Arabia, and Osama bin Laden always viewed its embrace of the West as a kind of intimate betrayal. With Hamza, that grievance now seems to have passed on to the next generation.
"With Palestine, the Saudis are a particularly easy target," Meserole continued. "They've long cooperated with the Israel on security concerns. Now, with the relationship between Jared Kushner and Mohamad bin Salman in full bloom, Al-Qaeda knows that Saudi Arabia is not going to do anything to reign in Israel or the United States. The royal family may talk a big game on Palestine, but Al-Qaeda knows it will never actually walk the walk—which is why it's trying to exploit the issue among Muslims in the region."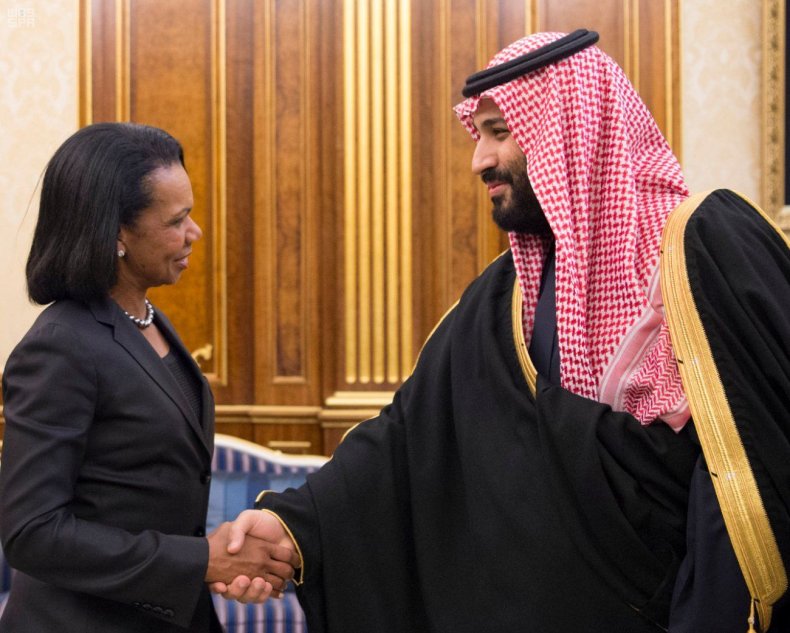 Meanwhile, some experts say Saudi Arabia has become so focused on countering its regional enemy Iran that it doesn't have time to focus on the Palestinian cause. Kushner is seen as playing a role in facilitating dialogue between Saudi Arabia and Israel about how to form a regional alliance against Iran—another cause for Al-Qaeda's outrage.
"[Al-Qaeda's] critique is also coming at a time in which Israel recently admitted to working with Saudi Arabia against their common enemy of Iran, which as a geopolitical strategy is understandable. However, this has created much resentment and anger within the region from a social and religious standpoint," Harrison Akins, a Middle East expert at the Howard Baker Center, told Newsweek.
"As Hamza bin Laden increasingly appears in Al-Qaeda videos, having recently called for revenge over his father's death, he appears poised to become the group's leader or at least its public face. His attacks against Saudi Arabia would be fitting with this historical narrative of Al-Qaeda."