"Binging with Babish" Faithfully Recreates TV and Film Recipes for an Online Audience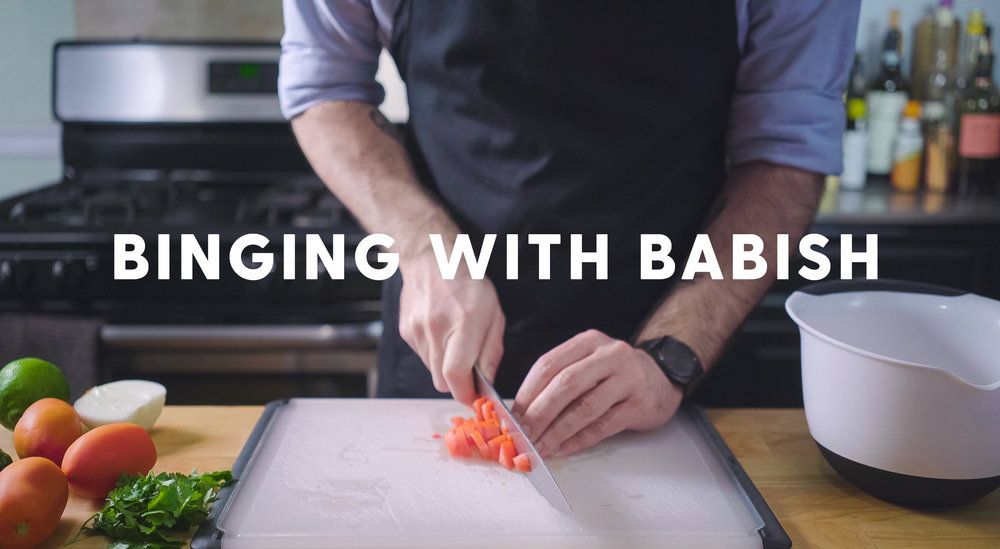 The genre of the cooking show can be categorically divided in two. There's the classic Julia Child-esque invitation into a famous restaurateur or cookbook author's kitchen (or set that resembles a kitchen), in which the host gets as much camera time as the food itself. On the other end of the spectrum, there are the sped-up internet tutorials, such as the ones produced by Tasty that regularly pop up on our Facebook feeds. While these videos are entertaining, the most you see of the chef are their disembodied hands whisking eggs or kneading bread, and with recipe titles such as "Unicorn Cheesecake" or "Red Velvet Churros," they can appear more as photo-ready food porn than anything else.
And then there's the series in which the host kicks off one episode with, "This week, we are utterly destroying a waffle iron using these caramels."
This show, Binging with Babish, is an atypical spin on the YouTube cooking trend of tackling recipes presented in movies and TV shows. Its host, Andrew Rea, has recreated everything from the prison sauce in Goodfellas and the "chef's special" in Moonlight to Freddy's famous ribs in House of Cards and—by far his most frequently requested recipe—the SpongeBob SquarePants Krabby Patty. But Rea's authenticity and commitment to how the food is originally presented in each work of fiction, no matter how outlandish it might be, is what sets Binging with Babish apart.
"I'm sure if you searched for 'how to make a Krabby Patty,' you'd get tons of videos that are just a burger or a crab burger or something like that," Rea tells me. "I wanted to see how deep I could get into exploring how might this actually be made, and what's a fun way to imagine that it might've been made."
In the Krabby Patty episode, Rea tests out three possible theories for the burger's infamous "secret ingredient" in his Harlem, New York kitchen. In another video, he spends $300 recreating the eggs Woodhouse, an over-the-top Archer take on eggs Benedict that features three different kinds of truffles and caviar. And in the aforementioned waffle iron episode, he first tries out Homer Simpson's sticky recipe for "moon waffles"—and, as expected, destroys the waffle iron in the process—before buying a new one and making an improved version that won't obliterate kitchen appliances.
It's not as gimmicky as it sounds; Rea says that the show grew out of what he calls his "psycho-energy" toward experimental cooking. "Before I started making the show, on a weeknight, I would be like, 'I'm gonna make the best meatballs in the world tonight. I'm gonna grind my own veal, I'm gonna use gelatin for moisture…Once I get that idea in my head, I'm a dog with a bone, I'm going with it."
Whether he's making a straightforward rendition of a Master of None pasta dish or turning the culinary abominations from It's Always Sunny in Philadelphia into Chef's Table-style haute cuisine, Rea always keeps the primary focus on the food. In each video, Rea only shows his aproned torso and the kitchen countertop, omitting his face but adding an instructional voiceover. He peppers his commentary with sardonic humor, either toward the food ("Add what I assume is blue Gatorade. That's blue-flavored Gatorade. They couldn't come up with a flavor, so they just called it 'Blue.'") or toward himself (when dicing celery: "Start by dicing the parsley. Then fix your voiceover so you say 'celery' instead of 'parsley.'"). Rea tells me that fans have compared his speaking style to that of Alton Brown, the former host of Good Eats, another series that broke the boundaries of the typical cooking show format.
Surprisingly, Rea never worked as a professional chef before Binging with Babish. Learning how to cook from his mother at a very young age, Rea kept up the hobby after she passed away when he was 11. "It's a nice way to feel closer to her, remember her," he says. When it came time for college, he debated on whether to pursue cooking or filmmaking—his two passions—and eventually chose the latter, graduating with a film degree from Hofstra University and working as a visual effects artist.
But in the meantime, he also worked on becoming a better and better chef. He even got a chef's knife and whisk tattooed on his left arm, as a way of "holding [himself] hostage" to developing his skill set. In February of last year, he bought a new camera and lighting equipment with the intention of doing freelance work, and decided to test both out by making a tutorial for a gourmet turkey burger featured in the show Parks and Recreation. In the original TV episode, the character of Chris Traeger, played by Rob Lowe, introduces the burger in a cook-off competition, rattling off a list of buzzword ingredients to the judges.
"I thought, 'Does that actually taste good? Or were they making up foodie bullshit buzzwords?'" says Rea. (His verdict: it tastes delicious, but Ron Swanson's plain burger-on-a-bun entry is "just better.")
Rea uploaded his video to Reddit, calling it Binging with Babish after his Reddit handle, which in turn is named after a character on The West Wing. The video garnered a couple thousand views and enthusiastic responses, which convinced Rea to make another video with a far more challenging recipe: an Italian baked pasta dish known as timpano from the 1996 film Big Night. It ended up taking him more than 14 hours to make.
"This show would not exist if that timpano had blown up or leaked," says Rea. "I would've said, 'Fuck it. I gotta pick up a different hobby.'"
But in the video, when Rea flips the Dutch oven over and slowly, dramatically, lifts it up, the timpano comes out perfectly intact.
From there on, Rea began devoting more and more time to his videos. After an episode on a Friends Thanksgiving leftover sandwich got picked up by various media outlets, Rea started producing episodes once a week and eventually was able to make the show his full-time job. He's now in the process of writing a cookbook, titled Eat What You Watch, due out in October, and is currently pitching ideas for other shows on streaming sites like Netflix and Hulu.
When I ask Rea what he thinks set his show apart from similar fictional-food cooking shows online, he suspects that viewers were drawn to the break-neck speed and visual style of his videos that fell in line with other online cooking channels, but that the informational elements and humor broaden the show's appeal and keep it refreshing. In addition to his nearly 1 million YouTube subscribers, he maintains a substantial following on Reddit, setting aside his Tuesdays (when he uploads episodes) to discuss recipes and techniques with fans.
"It's totally interactive and I love it," he says. "It's always going to be a part of the show, because it's one of my favorite parts."
In the most recent episode, Binging with Babish stays true to its name by recreating a gourmet dish from The West Wing: tomate du saltambique, an unusual dessert made with tomatoes stuffed with hazelnuts and passion fruit. After following the original recipe and ending up with soggy tomatoes, Rea makes an interpretation known as "tomato confit with 12 flavors."
"You might be saying to yourself, 'Andrew, that's only 11 flavors, I counted,'" he remarks at one point. "First off, stop micromanaging me. And second of all, I'm not done yet," he says, adding four strips of orange peel to a simmering pan of spiced tomatoes and caramel. Truth be told, Rea may be his own harshest critic, but his commitment to authenticity has kept audiences hungry for more.