'Bio-Hunters' Capture Rare Bioluminescence Phenomenon on New Zealand Beach
Visitors to a New Zealand beach Sunday night were greeted by a rare sight: the glowing, neon-blue waters of a bioluminescent algal bloom.
As The New Zealand Herald reported, the ocean waves at Tindalls Beach in Auckland lit up around 9:00 p.m., much to the amazement of a crowd of 30 onlookers.
Matthew Davison, a local man who witnessed the remarkable scene, is a member of a group of nature enthusiasts who describe themselves as 'bio-hunters.' He and his peers scour the coastline looking for bioluminescence—or, as they call it, "blue gold."
When Davison heard about the bloom on social media, he reportedly drove an hour to catch the bioluminescence under peak conditions.
"It's just amazing to see it," Davison told The New Zealand Herald. "I was in my shoes, and as you start walking along the beach, you leave blue footprints.... And sometimes you also see fish swimming around, and they leave an incredible blue trail as they swim through the waves."
He added that last night's spectacle was one of the most impressive he's ever witnessed. "One out of 20 trips or so you strike gold, and it puts on the most incredible show you've ever seen, and last night was one of those."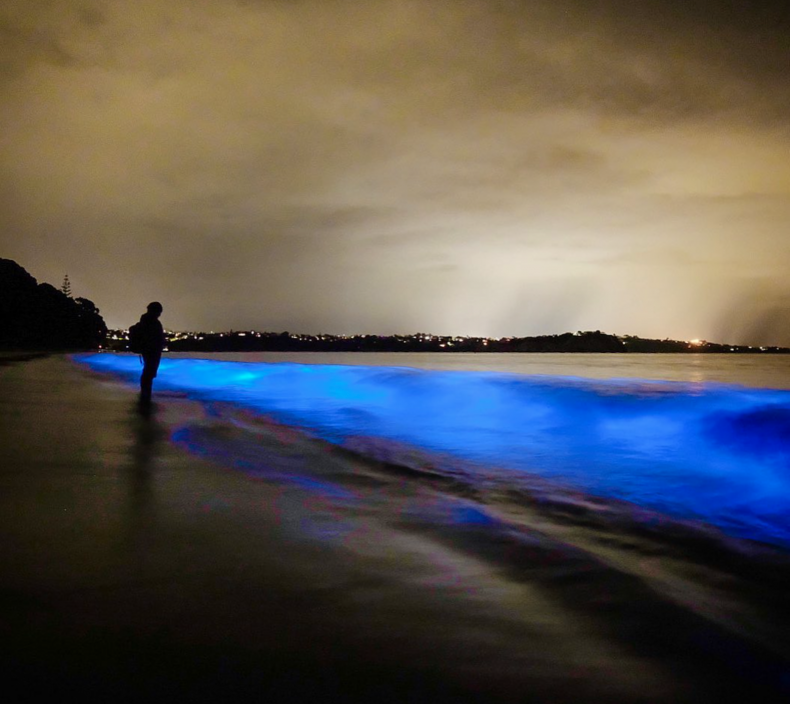 Footage captured by Davison and other bio-hunters highlights the unreal quality of the bioluminescent event. One image posted by Instagram account @pixturesque.nz shows a neon-blue shock of water against gray skies and sand. Also featured in their Instagram story is the TikTok profile @bessamemuch0, where more pictures was posted. "Went out to capture Bioluminescent waves at Tindalls Beach last night. Here's what we got..." reads the video's onscreen text, followed by 11 photos of the stunning algal bloom.
One Twitter user, whose images from Tindalls Beach feature the striking branches of an overgrown tree hovering above the glowing blue water, noted that the sighting was "lucky." "You can't know when it will happen," they wrote.
Auckland's Hibiscus Coast is a prime spot for bioluminescence sightings. The events take place when creatures like algae and phytoplankton emit a blue light in response to disturbance.
"As these algae blooms happen out in the ocean—these tides and winds bring them in, and the peninsula captures it and concentrates it," explained Davison.
That being said, it's unusual for such striking blooms to take place this time of year. According to The New Zealand Herald, bioluminescence of this type is typically found after hot days and not in the region's current autumn season.