Bipartisan Bill Would Waive Rules Keeping Iraq War Hero From Receiving Medal of Honor
On Wednesday in the U.S. House, two Republicans and one Democrat introduced a bill that would authorize the President to award the Medal of Honor, the nation's highest award for military valor, to Army sergeant first class Alwyn C. Cashe, a Black soldier who died on November 8, 2005 from extensive burns he received while rescuing troops from a burning vehicle during an attack amid the U.S. invasion of Iraq.
Republican Representative Michael Waltz of Florida, Democratic Representative Stephanie Murphy of Florida and Republican Dan Crenshaw of Texas filed legislation that would award Cashe the Medal of Honor even though current federal law renders him ineligible because more than five years have elapsed since his actions.
In October 2005, while serving during his second tour of duty in Iraq, Cashe's military vehicle was hit by an IED (improvised explosive device) before he and his fellow troops came under fire from nearby combatants. Injured, Cashe pulled the driver from the vehicle as its fuel cell drenched Cashe's uniform in fuel, eventually igniting.
While Cashe's body was literally in flames, he avoided the small arms fire and pulled all six passengers from the vehicle, including the body of an interpreter killed by the IED explosion. Covered in burns and flames, he ensured that his fellow troops escaped the area before leaving himself.
Cashe eventually succumbed to the second- and third-degree burns covering nearly two-thirds of his body. He died at the San Antonio Military Medical Center in Texas a month later.
After his death, he was awarded a Silver Star for his actions, partly because a paperwork error didn't disclose that he had been in active duty and under fire at the time of his death, criteria required to be considered for the Medal of Honor.
However, current federal law also requires Medal of Honor recipients to receive the honor within five years of their qualifying actions. Since Cashe's actions occurred nearly 15 years ago, he is ineligible.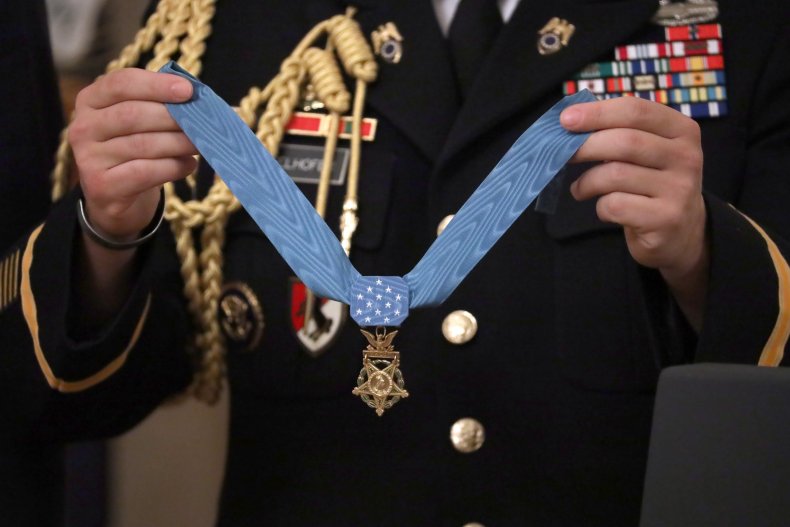 "For well over a decade, there has been a painstaking effort by Cashe's family, friends, and former comrades to have his Silver Star upgraded to the Medal of Honor, which is clearly justified by the facts of this case," Murphy said in a statement on Wednesday.
"With [this bill] today, my colleagues and I are working together to remove the one remaining technical obstacle that stands in the way of this incredible soldier receiving the recognition he earned," she continued.
In August, U.S. Defense Secretary Mark Esper said he reviewed Cashe's case and supported efforts to award him the Medal of Freedom. If awarded, Cashe would become the first Black soldier to receive the medal as a veteran of recent conflicts.
In addition to the proposed legislation, the aforementioned representatives also added an amendment in the most recent Defense Reauthorization Bill that would revise Medal of Freedom guidelines so that more veterans of recent conflicts may be considered for it. However, the bill is considered unlikely to be passed before the November 3 elections as many congressional officials campaign in their districts during October.
According to Military Times, only 24 Medals of Honor have been awarded to soldiers who served in the U.S. invasions of Iraq and Afghanistan. Comparatively, 3,500 Medals of Honor have been awarded since the 1865 conclusion of the American Civil War. A total of 406 Medals of Honor were given to soldiers of the Korean and Vietnamese invasions.
Newsweek contacted the Department of Defense for comment.