The Bipartisan CHIPS Act—and a United U.S.— Are China's Biggest Fear | Opinion
The tech world was abuzz: On May 15, 2020, a press release from the world's preeminent manufacturer of sophisticated computer chips, Taiwan Semiconductor Manufacturing Company (TSMC), announced the company's plans to build a $12 billion state-of-the-art fabrication facility ("fab") in the United States.
The deal, brokered by a combined State and Commerce Department team, was heralded as a "game-changer" for the tech industry because of its projected impact on U.S. national security and the stability of the global semiconductor supply chain—so prominent in the news these days due to crippling shortages.
At the press conference that day, I put it this way:
This is a big day for America—for national security, our global economic security, and our long-term prosperity... The [TSMC] investment will create thousands of jobs across the entire supply chain and create a broad ripple effect of technical training and know-how throughout the tech ecosystem... This is a giant leap towards bringing high-tech manufacturing back home where it belongs.
Our strategy was for the TSMC announcement to serve as a stimulus that would lead to the fortification of a trusted supply chain by attracting TSMC's broad ecosystem of suppliers, persuading other chip companies to produce in U.S., especially Intel and Samsung, and inspiring universities to develop engineering curricula focused on semiconductor manufacturing and R&D.
The TSMC deal became a crucial catalyst for the bipartisan CHIPS for America Act, designed to bring back American semiconductor manufacturing, and the Endless Frontier Act, to boost investment in domestic high-tech research. Both bills were eventually merged into the U.S. Innovation and Competition Act (USICA), and now have evolved into the bipartisan Chips and Science Act, or "CHIPS Plus."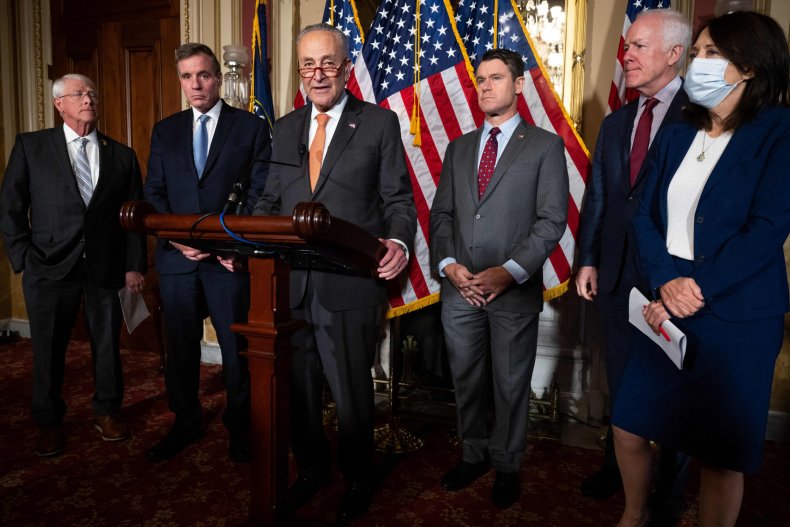 CHIPS Plus would help American tech companies build, expand, and modernize domestic facilities and equipment for semiconductor production. That's important because it's 30-50 percent more expensive to build in the U.S. than abroad. The CHIPS Plus bill would also accelerate research in AI, quantum computing, hypersonics, and other national security technologies.
Here's why the CHIPS Plus bill is so vital to our national security: Today, the semiconductor business is the world's most strategic industry, and the U.S. has lost its dominant position in chip manufacturing, shrinking to just 12 percent of the global market. America once led the world in long-term investments in research; now we rank 9th globally in total R&D and 12th in publicly financed R&D.
In the 21st century, there's no bigger challenge to the U.S. and the free world than China, and technology is the main battlefield. The Chinese Communist Party leader Xi Jinping is obsessed with the semiconductor industry because it's at the heart of our way of life. These tiny chips power everything from cars and medical equipment to electric grids and fighter jets.
The CCP is propping up China's semiconductor manufacturing by committing $1 trillion over the next 10 years. Xi knows that dominating this sector is the key to advancing his brand of authoritarianism around the globe. That's why he is stacking the deck in favor of Chinese companies, making it much harder for American companies to compete.
Xi is terrified that the United States will have another Sputnik moment and commit to the equivalent of a moonshot. The CHIPS Plus bill may do exactly that, taking the technological advantage away from China Inc. and returning it to the United States. The Chinese leader is so worried about the implications of the CHIPS Plus bill, his minions are lobbying against it. That should tell you how consequential this legislation is.
Some have voiced concern over the legislation's price tag. Technological preeminence in one of the world's most important industries doesn't come cheap. However, when it comes to our national security and protecting our freedoms, the value is priceless. Plus, this moonshot has its rewards.
Just look at the Apollo program. Our $140 billion investment (today's dollars) put a man on the moon. The program not only led to American leadership in aerospace, computers, and software but resulted in hundreds of spin-off products—from kidney dialysis machines to micro-electronics. It's still paying dividends. That initial $140 billion investment continues to yield $4.1 trillion in annual recurring GDP.
CHIPS Plus will likely replicate the Apollo precedent and lead to a three-fold compound investment by the private-sector.
By passing the CHIPS Plus bill, Congress will send a powerful message to our citizens, private sector, and allies that America is committed to preserving our precious freedom from authoritarianism.
There is nothing Xi fears more than a united United States. Let's get on with the moonshot.
Keith Krach was unanimously confirmed as U.S. Under Secretary of State and is currently the Co-Founder and Chairman of the Krach Institute for Tech Diplomacy at Purdue University. He served as Chairman and CEO of DocuSign and Ariba and Chairman of the Purdue Board of Trustees. Krach and his family were sanctioned by China.
The views expressed in this article are the writer's own.