Bipartisan Frustration Grows in Senate Over Lack of Legislation, as Judicial Confirmations Continue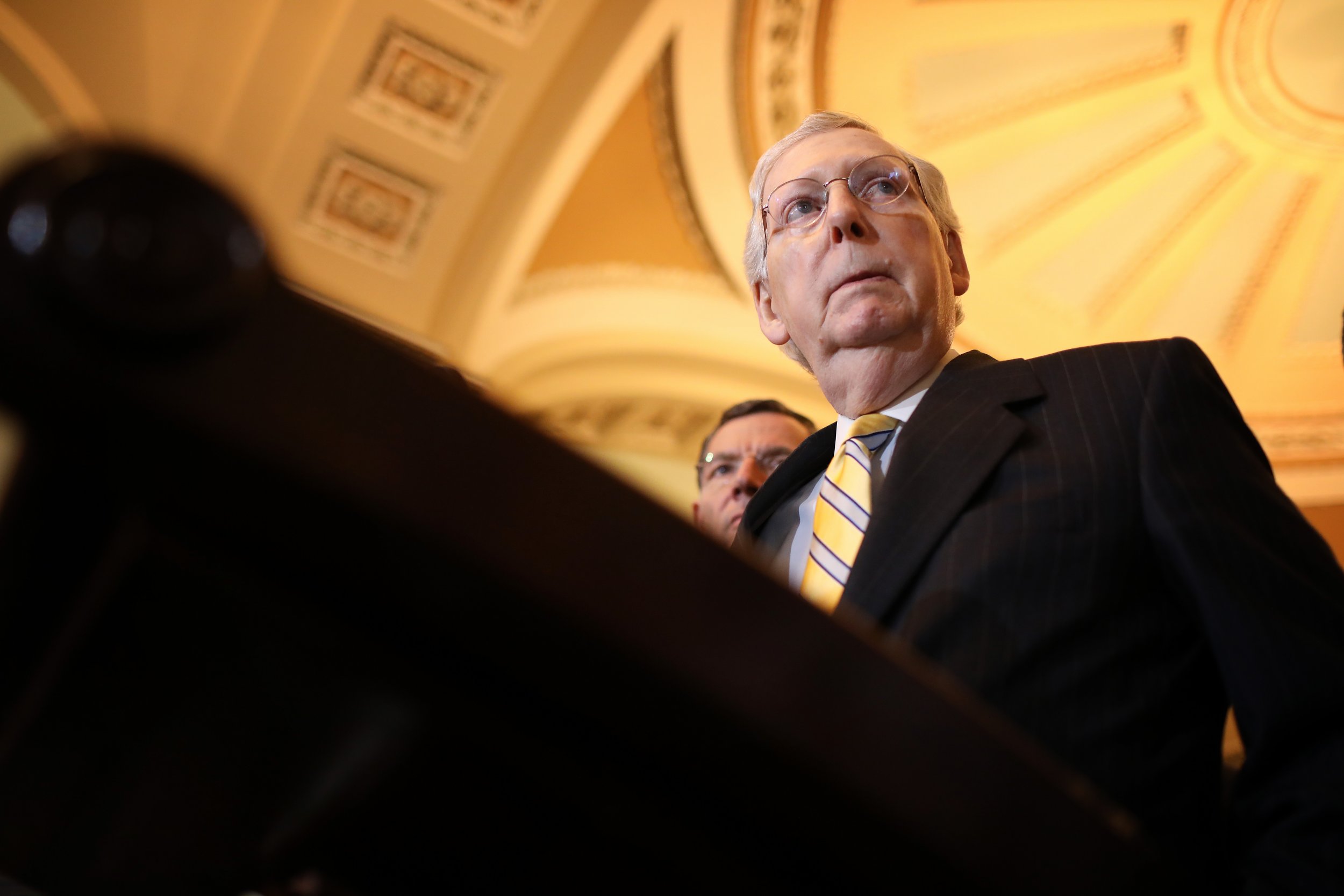 In recent months, the Senate has become known as being the destination for two things: Where House Democrats' bills "go to die"; and where President Donald Trump's judicial nominees are confirmed.
Senate Majority Leader Mitch McConnell has operated the chamber in this manner on purpose—and he's proud of it.
"If I'm still the majority leader of the Senate after next year, none of those things are going to pass the Senate," said the Kentucky Republican at an event last month in his home state, speaking about the progressive policy promises of 2020 Democratic candidates. "They won't even be voted on. So, think of me as the Grim Reaper — the guy who is going to make sure that socialism doesn't land on the president's desk."
But even some Republican senators have joined their Democratic counterparts in advocating for more legislative action, expressing frustration that the chamber's purpose has been reduced to confirming Trump's judges and passing emergency funding measures, such as ones to keep the government open (or, for that matter, reopen it).
As of Wednesday, the Senate had confirmed 112 judges nominated by Trump since taking office, a process that sped up significantly after Republicans enacted the so-called "nuclear option" in April, slashing the alotted time for debate on most federal judicial candidates from 30 hours each to only two hours.
"Doing judicial confirmations is very important, and I'm very proud of it—I sit on the Judiciary [Committee]," Republican Senator John Kennedy of Louisiana told Newsweek. "But we also need to find some issues in which we can legislate together, and I think they're there."
In a floor speech this week, Kennedy described Congress' achievements as, "Zero. Zilch. Nada." Congress will adjourn Thursday for Memorial Day recess, a week-long break where they'll spend the bulk of their time back home, likely speaking with constituents and holding town halls.
Going into the holiday, the Senate will have passed only a few dozen significant bills since the new Congress was sworn in. The House, on the other hand, has passed more than 160 significant pieces of legislation, with more than 100 bills awaiting Senate action.
"We will pass bills. But in terms of major pieces of legislation, the kind that you spend two weeks working on, that's a lot harder right now," Republican Senator Marco Rubio told reporters. "We will pass uncontroversial bipartisan pieces of legislation often by unanimous consent. But it's a lot harder to do something like tax reform, some major initiative."
A $19.1 billion disaster aid bill for hurricane and flood victims approved by the Senate Thursday had bipartisan support and was passed by the chamber on an 85-8 vote. But the deal was barely struck at the last minute just before recess, further frustrating Rubio.
"There's no way to explain to someone anywhere in this country that's been hit by a natural disaster why Congress can't pass what everyone here agrees on," the Florida lawmaker said.
Democrats have been preaching a similar message for some time, accusing McConnell of operating a "legislative graveyard," as Senate Minority Leader Chuck Schumer said last week, and painting the majority leader as unwilling to compromise and negotiate on measures passed by the House's Democratic majority.
"This place is where legislation goes to die," Senator Chris Murphy, a Democrat from Connecticut, told Newsweek. "You gotta start asking why McConnell is killing this legislation that comes over here from the House. Why doesn't he put his own big ideas before the chamber? I just don't know who's running this place."
Murphy disagreed with arguments from Republicans, such as Kennedy, who say House Democrats were "doing messaging bills" for the "purpose of the next election."
"This place works two ways. You either take up legislation that one body passes, or you do your own legislation, and then you put it together in a conference committee," Murphy said. "If he doesn't like [House Democrats'] versions of health care legislation or gun legislation, Republican leadership could put up their own versions before the body. But we're doing nothing."