Bipartisan Officials Call Trump Out For Not Acknowledging SolarWinds Hack
Democratic and Republican lawmakers criticized President Donald Trump this week for not publicly addressing the SolarWinds cyberattack that breached several federal agencies.
Though no group has taken responsibility for the attack, experts believe state-sponsored Russian hackers are behind the breach.
Senator Mark Warner, a Virginia Democrat who serves as the vice chair of the Senate Select Committee on Intelligence and is a co-chair of the Senate Cybersecurity Caucus, described Trump's lack of public acknowledgment of the SolarWinds hack as "extremely troubling."
In a Friday statement, Warner described the cyberattack as a "devastating breach of U.S. networks" and said Trump was not taking the breach seriously.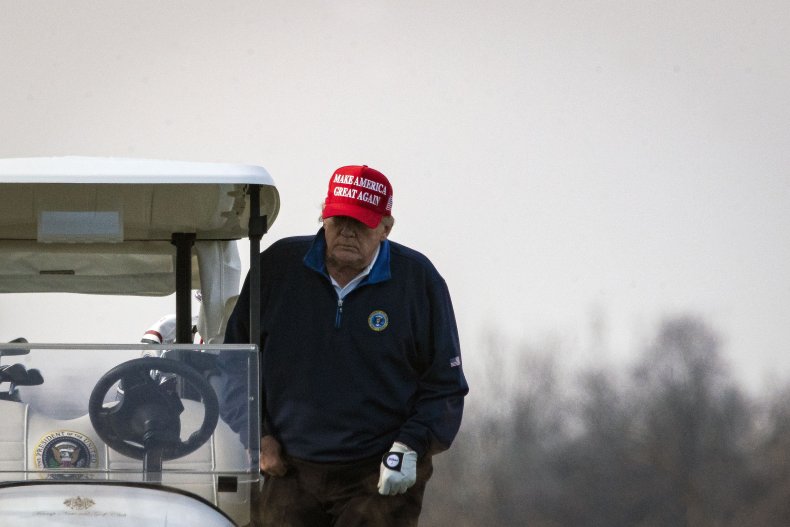 "An incident of this magnitude and lasting impact requires an engaged and public response by the U.S. government, led by a President who understands the significance of this intrusion and who is actively marshaling a domestic remediation strategy and an international response," Warner said.
"As we learn about the wider impact of this malign effort—with the potential for wider compromise of critical global technology vendors and their products—it is essential that we see an organized and concerted federal response. It is extremely troubling that the President does not appear to be acknowledging, much less acting upon, the gravity of this situation," his statement continued.
Warner is one of a handful of Democrats who criticized Trump for not commenting on the hack publicly. On Thursday, Rep. Bill Pascrell of New Jersey commented in a tweet about the president's silence and accused him of having "cozied up" to Russian President Vladimir Putin throughout his time in office.
Rep. Ted Deutch of Florida also connected Trump's public silence on the SolarWinds hack to his relationship with Putin in tweets posted on Thursday and Friday.
"It is unacceptable that the President of the United States has said nothing of a successful Russian cyber attack across multiple agencies of our govt. For 4 years, Congress has been urging him to take Russian threats seriously. Instead, he just keeps tweeting conspiracy theories," Deutch tweeted Thursday. Deutch questioned whether Trump would "acknowledge massive Russian hack" before leaving office in a separate tweet on Friday.
On the other side of the aisle, Utah Senator Mitt Romney also criticized Trump in connection with the SolarWinds hack. A frequent critic of the president's throughout Trump's time in office, Romney described the White House's silence over the cyberattack as "inexcusable."
"The cyber hack is like Russian bombers have been repeatedly flying undetected over our entire country," Romney's statement said. The senator listed four points of concern raised by the hack, including cybersecurity weaknesses within the U.S. and the "inexcusable silence and inaction from the White House."
"Past time for a national security re-set that prioritizes cybersecurity capabilities and defenses," Romney said.
Other Republicans voiced a need for retaliation but did not mention Trump specifically.
"The methods used to carry out the cyberhack are consistent with Russian cyber operations. But it's crucial we have complete certainty about who is behind this," Florida Senator Marco Rubio tweeted Friday. "We can't afford to be wrong on attribution, because America must retaliate, and not just with sanctions."
Members of the GOP serving on the House Armed Services Committee also issued a statement Friday calling upon the U.S. to respond "without delay."
Reuters first reported about the SolarWinds hack on Sunday. In a Monday U.S. Securities and Exchange Commission filing, SolarWinds said it alerted 33,000 of its customers about the cyberattack and believed fewer than 18,000 may have been compromised. The attack affected some customers who downloaded or updated Orion products between March and June of this year, the company said in its filing. Several federal agencies—including the State Department, the Department of Homeland Security, the Commerce Department, the Treasury Department and parts of the Pentagon—are believed to be among the SolarWinds customers impacted in the attack, according to The New York Times.
Though Trump has not publicly commented on the SolarWinds hack, White House Press Secretary Kayleigh McEnany responded to a reporter's query about the cyberattack earlier this week.
"We're taking all necessary steps to identify and remedy any possible issues related to the situation," McEnany said Tuesday. She referenced an earlier directive from the Cybersecurity and Infrastructure Security Agency, which told all federal civilian agencies to shut down their Orion products immediately following reports of the breach.
"We are taking a hard look on this and, obviously, take any sort of cyber hacks very seriously," McEnany continued.
Newsweek reached out to the White House for comment but did not receive a response in time for publication.