With Bipartisan Stimulus Package on the Line, Republican Governors Push Congress to Act
Legislators on Capitol Hill have a little over a week to pass another stimulus package and five Republican governors are sending a message to Congress: The time for partisan politics is over.
Last week, legislators unveiled a $908 trillion bipartisan package that included funding for state and local governments, expanded unemployment and financial help for small businesses. Sponsors of the package acknowledged that no one would be entirely happy with it, but said it targeted measures that were set to expire at the end of the month, calling it unacceptable for Congress to leave town without more relief for the American people.
In a joint statement on Monday, governors Larry Hogan, Asa Hutchinson, Phil Scott, Chris Sununu and Charlie Baker agreed that now was the time to act, saying their constituents "continue to pay a high price for Congress' inaction." They called the Paycheck Protection Program and unemployment assistance "vital" to people's survival as millions of workers, families and small businesses are "hanging by a thread."
"It would be unconscionable if Congress were to pull their lifeline now," the governors wrote.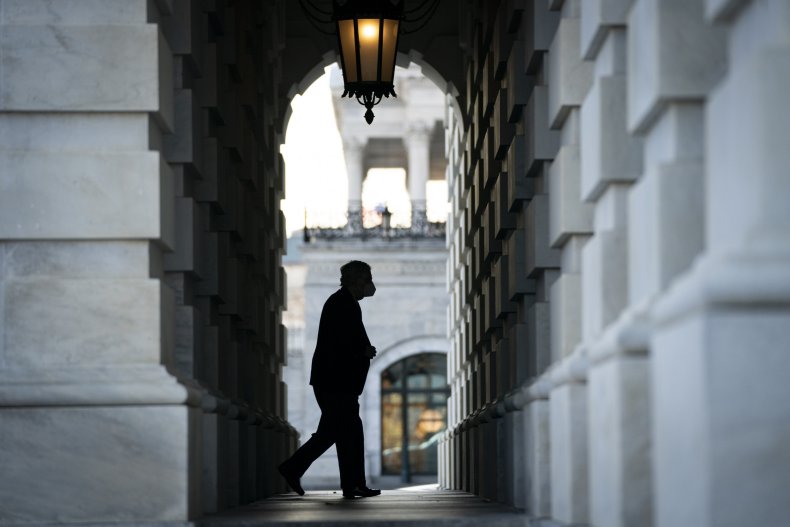 Nearly nine months ago, Congress passed the Coronavirus Aid, Relief, and Economic Security (CARES) Act with a resounding bipartisan agreement. The package expanded unemployment and put a pause on student loan payments and interest, two measures that President Donald Trump extended to the end of December by way of an executive order. Without another executive order from the president, inaction on the part of Congress will allow those measures to expire.
Unemployment remains elevated, and with governors implementing restrictions to curb spikes in COVID cases, it's possible the number of jobless people in America could rise. In New Hampshire, Arkansas, Massachusetts, Vermont and Maryland—the home states of the five governors—unemployment ranged from 3.2 percent to 7.8 percent, according to the Bureau of Labor.
The bipartisan relief package comes after months of negotiations between Democrats and Republicans that failed to yield a plan. Democrats pushed for a $2.2 trillion package, a price tag many Republicans balked at, and the Senate GOP twice has had a $500 billion targeted relief package blocked by Democrats.
Democrats and Republicans also differed in what they thought should be included in a package. Republicans wanted liability protections for businesses, schools and hospitals, a provision that Democrats saw as putting workers at risk, and Democrats were firm in needing aid to state and local governments, a provision Republicans called a "bailout" for poorly run governments.
Differences over which provisions to include, the price tag and the language of a package held up relief for months, and the five Republican governors said it's high time to put them aside.
"We recognize there are legitimate differences of opinion on what an ideal package should contain, but these differences pale in comparison to the cost of doing nothing," the governors wrote.