Bird Box: Utah Police Issue Warning Over Netflix-Inspired Challenge After Blindfolded Teen Crashes Car
Police in Utah have warned drivers not to take part in a viral challenge inspired by a horror movie.
The warning followed an incident earlier in the week in which a teenager with her eyes covered took on what has been called the Bird Box challenge, and slammed into another vehicle.
The challenge was inspired by Netflix movie Bird Box in which the central character, who is played by Sandra Bullock, must wear a blindfold while she is pursued by malign force.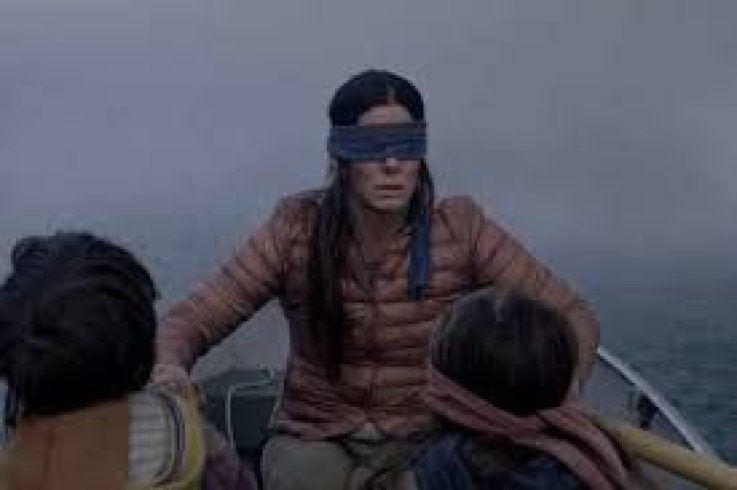 Layton police Department on Friday tweeted pictures of the vehicles damaged in the collision.
"Bird Box Challenge while driving...predictable result," tweeted the department in a message with the pictures.
"This happened on Monday as a result of the driver covering her eyes while driving on Layton Parkway. Luckily no injuries."
In an interview with KSL, police Lieutenant Travis Lyman said he never expected that he'd have to warn drivers not to wear a blindfold while at the wheel.
"It's just inexcusable to do something as dangerous as this, not only to yourself but everyone else on the road," he said.
"Apparently, as a part of this Bird Box Challenge,' (the driver) used her beanie to pull over her eyes as she was driving on Layton Parkway, and she ended up losing control of her car and skidded into the westbound lanes of Layton Parkway and hit another car and ended up hitting a light pole as well," Lyman said.
Police have not named the driver of the vehicle, who is 17, and her 16-year old passenger. Both they and the person inside the vehicle theirs collided with escaped with no injuries.
In the film, Bullock's character must keep on her blindfold to avoid looking at a mysterious force that compels people to take their own lives, if observed. In the film, she must guide her children, named simply as Boy and Girl, to safety.
Earlier in January, Netflix was forced to issue a warning for people tnot o take part in viral challenges inspired by the movie, after footage emerged on social media showing participants running into walls or near traffic and coming close to serious injury.
"Can't believe I have to say this, but: PLEASE DO NOT HURT YOURSELVES WITH THIS BIRD BOX CHALLENGE," an unsigned tweet posted onto the company's official Twitter account rad. "We don't know how this started, and we appreciate the love, but Boy and Girl have just one wish for 2019 and it is that you not end up in the hospital due to memes."