Bird Strike Forces 'Unhealthy' Sounding Plane Full of Passengers to Make Emergency Landing
When a bird flew into a Ryanair plane's engine during takeoff, pilots diverted the flight for an emergency landing at Liverpool John Lennon Airport Wednesday morning.
The plane, which took off from Manchester, England was meant to fly to Lanzarote before the bird flew into its engine. It landed in Liverpool, approximately 35 miles from where it originally took off from.
"The aircraft landed normally, and customers were transferred to a replacement aircraft which departed to Lanzarote following a short delay of approximately one hour," a statement sent to Newsweek read.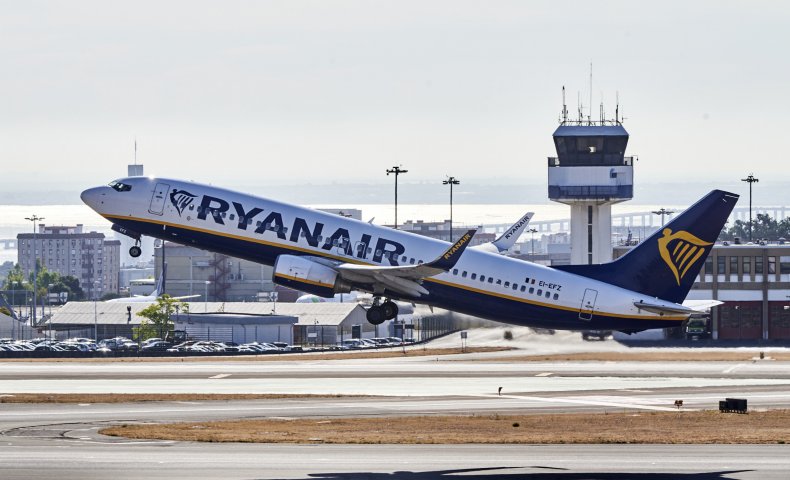 BBC reported that a representative with Liverpool John Lennon Airport confirmed that a Ryanair flight requested to make an unscheduled landing. Seven minutes later, the plane landed "safely and without incident."
What was going on in the air could be heard on the ground.
"The noise of the engine sounded more like a motorboat or a propeller engine," Mark Crilly told Newsweek. "At first I thought it was coming down as it was spooling quite fast but the plane was low and slow."
Crilly posted a tweet of the flight's path, asking others if they knew the status of the flight, writing that the engines "sounded really rough."
One Twitter user wrote that the noise woke him up and said it sounded like a "broken turbo prop at 3,000 feet."
Another replied to Crilly's tweet and said the plane flew over their house and it "sounded awful."
According to the United States Department of Transportation's Federal Aviation Administration, about 61 percent of bird strikes with planes occur during a flight's landing, 36 percent occur during take-off run and climb and 3 percent occur as the plane is en-route to its destination.
Steve Landells, a former pilot and former flight safety specialist with the British Airline Pilots Association, explained that bird strikes are fairly common, but are rarely dangerous.
"Aircraft are designed and built to withstand bird strikes and pilots undergo rigorous training to enable them to deal with eventualities like a bird strike," he said.
In a serious incident, there may be extensive damage done to the engine, but it is unlikely that an aircraft would crash if they lose one engine.
Landells continued and noted that there are instances that may cause a pilot to worry, like multiple bird strikes or a large bird strike. These instances can cause serious accidents. He cited the incident in which Captain Chesley Burnett "Sully" Sullenberger and First Officer Jeffrey Skiles made an emergency landing onto the Hudon River after a flock of birds flew directly into the plane's engines, saving the lives of the passengers on board.
Sullenberger told Newsweek in 2015 there were numerous things he would have had to do, even if he were to land on a typical runway. That type of landing with that type of aircraft was accomplished only a few times in the history of aviation.
After pilots successfully landed the Ryanair plane and passengers were given a new flight, Ryanair "sincerely apologized" to its customers.