Birding in View of the Panama Canal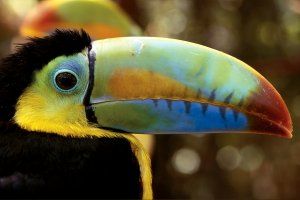 There's a simple difference between bird watching and birding: bird watchers wait for birds to come. Birders go out and find them.
I am a birder. The challenge is that the more I've found, the farther afield I've been drawn. When my mom and I first started taking birding trips, we went to places known for relatively easy access to their regional specialties: Sanibel Island in Florida for waders and shorebirds, southeastern Arizona for hummingbirds, the Rio Grande Valley for migrating warblers. Then it got a little more involved. Eager to see owls, we headed to the Owl Research Institute in western Montana, where we spent our time crisscrossing the remote Flathead Indian Reservation by van for glimpses of long-eared, short-eared, and Northern pygmy owls. Another year we stood for three cold days in March along Nebraska's Platte River, watching the annual spring migration of sandhill cranes.
At this point my father stepped in. Convinced there was a way to see birds that didn't require quite so much traipsing and Gore-Tex, he did some research, then made sure our next trip was to Canopy Tower in Panama. Perched at the top of a hill in a rainforest 30 minutes outside Panama City, Canopy Tower can be described only as a place where everyone falls in love with birds.
Canopy Tower was originally built in 1965 as a radar tower used by the United States Air Force in defense of the Panama Canal; it was later employed for air-traffic control and for the detection of planes suspected of running drugs from South America. In 1997 a prominent Panamanian businessman and conservationist named Raúl Arias de Para bought the abandoned property and embarked upon what he calls "the ultimate recycling project" of a structure that has been lovingly compared to a giant beer can. Today, a stay at the Canopy Tower is one of the premier ecotourism experiences in the world.
With its old radar dome looming overhead like an enormous bubble, the tower looks from the outside much like the military installation it once was. This is intentional; Arias de Para wants guests to see that swords can be made into plowshares. "To take down the dome," he says, "would be like taking the head off a statue." Inside, every feature of the tower is designed with the birder in mind. Two floors of guest rooms fit together around the cylindrical structure like pieces of pie, giving each window an equally strategic view into the trees; this way, retiring to your room doesn't have to mean missing a keel-billed toucan. The third floor doubles as dining room and natural-history library, complete with hammocks and couches near the windows so you can read with binoculars in your lap.
But the focal point of the tower lies at the top of its last flight of stairs. Climb these, and you emerge through a hatch onto the observation deck, a dazzling 360-degree open-air walkway around the dome that provides a panoramic view of the rainforest canopy. Birder, bird watcher, nonbirder—on that deck it doesn't matter, because the birds are all there, right in front of you at eye level. It is impossible not to be drawn in. My mom and I saw scores of avian species, but also howler monkeys, sloths, tamarins, all kinds of bats and butterflies—as well as freight ships making their way through the Panama Canal—without taking more than a few steps one way or another.
When we weren't on the observation deck, we spent our time following one of Canopy Tower's expert guides along remote dirt roads left behind by the military, or riding in the open-air "bird-mobile" to some of the best birding spots in central Panama. On these outings I learned to look down as often as I looked up, so I wouldn't miss the fascinating colonies of leaf-cutter and army ants—or the occasional anteater hunting for them.
Of all the birding hotspots I've visited, Canopy Tower was the first to make me think, "My husband would love this." The exceptional view it afforded right into the roof of the rainforest would enchant anyone. Arias de Para agrees. While Canopy Tower remains at heart a birder's haven, he says interest is growing in the new tours he launched this fall focusing on animals and natural history. Nonbirding guests can also arrange for various excursions to Panama City or the Panama Canal, or for a zipline adventure in the cloud-forest habitat of El Valle de Anton.
It's a model that has taken hold. Staff member Barry Lyon of Victor Emanuel Nature Tours says bird-based vacations connect people to the natural world; by devising trips that draw in nonbirders, such as one focusing on birds and culture in Oaxaca, they are "opening up a window into a whole different side of life." Wings, another worldwide birding-tour company, has developed a "Birds and..." series, meant "for birders whose traveling companion's interests may not be so intensely ornithological." Among its offerings are Birds and Art in Provence, Birding the American Civil War, and Birds and Music in Austria.
Sign me up. I learned something from my mom a long time ago: follow the birds. You never know what else you might discover.