Mayor Condemns Alabama Pastor's Anti-Gentrification Sign 'Black Folks Stay Out of White Churches'
Church leaders and the mayor denounced the racial "division" caused by a Birmingham, Alabama, pastor who put up a provocative sign reading "Black folks need to stay out of white churches" to fight gentrification.
New Era Baptist Church Pastor Michael R. Jordan told WBRC-TV he posted the sign in protest of Church of the Highlands—Alabama's largest non-denominational, multicultural church—opening up a new branch for its more than 40,000 weekly worshippers nearby in Birmingham. On the reverse side of the sign outside the overwhelmingly African-American Cotton Avenue church, Jordan's sign reads "White folks refused to be our neighbors."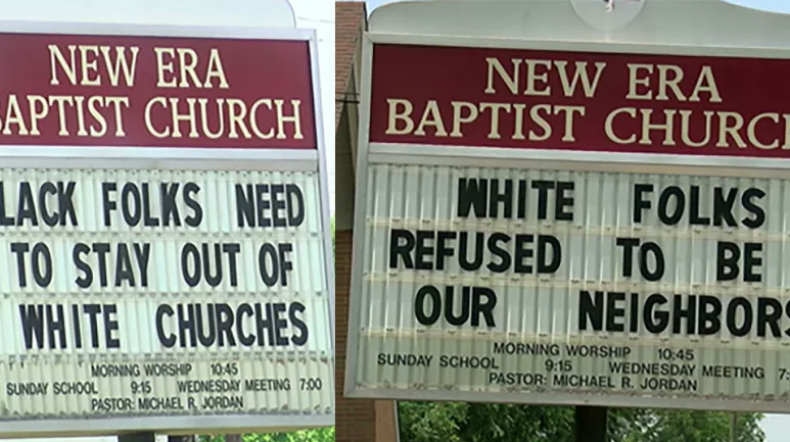 Birmingham Mayor Randall Woodfin posted a response to remove the signs on social media, writing on Facebook Tuesday he'd like to "elevate the conversation" and move beyond divisive racial tactics.
"There is a spirit that is over this city that has to be brought down," Woodfin wrote. "A spirit of racism and division. We have to change the conversation to what we need it to evolve into. 'Darkness can not drive out darkness. Only light can do that. Hate can not drive out hate; only love can do that.'"
Jordan doubled down on the controversial statement on his sign, telling The Birmingham News that the Church of the Highlands is a "slavemaster church." Jordan said he's concerned that its founding pastor, Chris Hodges, and proposed pastor, former Auburn University football player Mayo Sowell, will acquire government funding for the church's construction. He said that poor, predominantly black communities in West End, Ensley or Fair Park neighborhoods will be hit with funding the sprawling project.
"I call it plantation religion, slavemaster religion," Jordan told The Birmingham News. "The white rich folks start a church and put a black pastor in charge of it. Now you're supporting the white church coming into a black neighborhood? I think our young mayor is oblivious to what's going on here."
Jordan justified the wording behind his sign by saying that while "blacks have flooded white churches and into white neighborhoods," nearly all white people would never "go to a black church."
Pastor Jordan has used his marquee lettering to post dozens of controversial statements in recent years. A 2017 sign read, "Undercover racist elected Donald Trump." Another read "Rape a white woman and you will die in prison," and a pair condemning homosexuality stated: "AIDS is God's curse on a homosexual life."