Birmingham-Southern College Republicans Call for Abortion Memorial, Compare to Church Bombing
The College Republicans at Birmingham-Southern College applauded Alabama's recent passage of a highly restrictive abortion law and called for a memorial to be erected outside a Birmingham Planned Parenthood, similar to the one that honored four girls who were killed in a church bombing.
On Wednesday, Governor Kay Ivey signed a bill into law banning abortions in every case except when there was a "serious risk" to the mother. The bill was heavily criticized for being an attack on women's rights, especially because it contained no stipulation for rape or incest. However, supporters championed it as a victory for the unborn.
The College Republican chapter at Birmingham-Southern College, a private liberal arts school in Birmingham, Alabama, published a response to the bill in a now-deleted Instagram post, citing their pride in Alabama legislators for "championing the fundamental human rights of children in the womb."
In their response, the College Republicans cited Alabama's "ugly and tragic" history regarding human rights—a history that included lynchings, discrimination and murder. The College Republicans claimed Alabama can't atone for its transgressions, it can only move forward. The law, the organization said, was a "courageous step forward in the name of human rights." Newsweek reached out to the Brigham-Southern College Republicans but did not receive a response in time for publication.
Get your unlimited Newsweek trial >
The group also related abortions to the September 15, 1963, bombing of the 16th Street Baptist Church in Birmingham, killing four young girls. Addie Mae Collins, Cynthia Wesley and Carole Robertson, all 14, and Denise McNair, 11, were found deceased in the church's basement.
"As a memorial currently sits outside of 16th Street Baptist Church for four little girls wrongfully killed, may one be erected at 1211 27th Pl S in remembrance of the 8,020 babies murdered annually in the state of Alabama," the College Republicans' chapter said.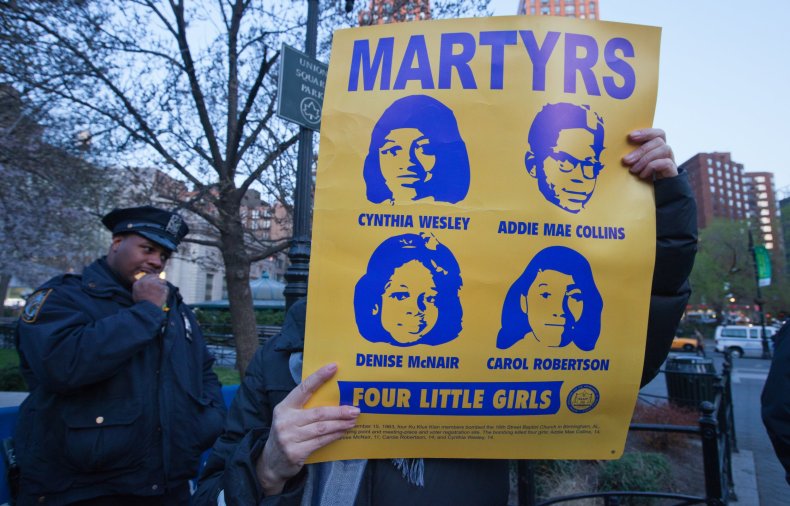 The address of the Planned Parenthood center in Birmingham is 1211 27th Place South. It is the only Planned Parenthood center currently open in Alabama, as the one in Mobile, Alabama, is closed for renovations, according to the organization's website.
Get your unlimited Newsweek trial >
"Your health, not a politician's beliefs, should drive important medical decisions. We'll do whatever it takes to stop these dangerous bans so that our patients can continue to access the care they need," Planned Parenthood posted on Twitter, noting that the ban isn't in effect yet and patients can still make appointments.
In response to the statement, the Birmingham-Southern College Democrats posted a photo of the four girls who were killed on Instagram with an overlay of text saying they "are not your props."
Birmingham-Southern College President Daniel Coleman was also criticized for the manner in which he responded to a concerned student's email. The final line concluded with, "I am here to help students deal with it." In a message to the community on Friday, Coleman said he left off the word "to."
"I had no intention to ever tell a student to 'deal with it,' on any issue," Coleman said. "I was referring to our role as educators to prepare students to handle difficult situations such as language that offends."
One student posted on Facebook that the College Republicans' message was one of many reasons black students don't like the Birmingham college.
Coleman called the college a "safe place" in that the school will protect students' safety and encourage them to develop their views and express them. A "safe place," Coleman said, is not a place where students will not be offended and encouraging freedom of expression means they have to protect disagreeable sentiments.
"As I mentioned above, it is our job to make you safe. However, we cannot protect you from ideas and language that may offend you. We cannot keep you in your comfort zone," Coleman said. "In fact, we must do the opposite. Leaving your comfort zone is how you learn, how you grow, and how you become stronger."
With graduation nearing, Coleman noted that students will enter a world that is both "exciting and hostile," and the college wants them to be ready.
Birmingham-Southern College Republicans Call for Abortion Memorial, Compare to Church Bombing | U.S.