The Birth of Kenny Chesney's 'There Goes My Life' Began in Tragedy
In the Kenny Chesney classic "There Goes My Life," the young protagonist in the song learns he's going to be a father and selfishly believes that his life is over. "There goes my life," he laments in the first chorus. "There goes my future, my everything, might as well kiss it all goodbye."
Many men in American life—and women too—have known and will know that feeling of being thrust into parenthood before they planned. Many embrace the life of an unexpected son or daughter. Others run from it. Others have the opportunity stolen from them because of miscarriage or premature death.
Few things, if any, produce more grief than the loss of a child. That, it turns out, was the genesis of Chesney's biggest hit song, which reached the top of the country charts in late December 2003 and stayed there for seven weeks, only to be displaced by another country classic, "Remember When" by Allan Jackson.
Songwriter Neil Thrasher, who co-wrote the Chesney hit, thought he knew everything about his best friend and fellow songwriter Wendell Mobley. But as he pitched a song to his pal in 2003, Thrasher tapped into a secret part of Mobley's life, a painful memory hidden for nearly two decades.
"We were writing together and I came out on the front porch and said, 'Why don't we write a song about a boy who gets his teenage girl pregnant but they hung in there?'" Thrasher told Country Weekly, now CountryDaily.com. "I'd had the words 'there goes my life' in a notebook for over a year."
Thrasher's idea struck a nerve in his friend. Soon, Mobley was telling the story of the daughter he fathered when he was still in high school. "My daughter's name was Lexi," Mobley told Thrasher. "We lost her when she was a year old. Her birthday is March 17."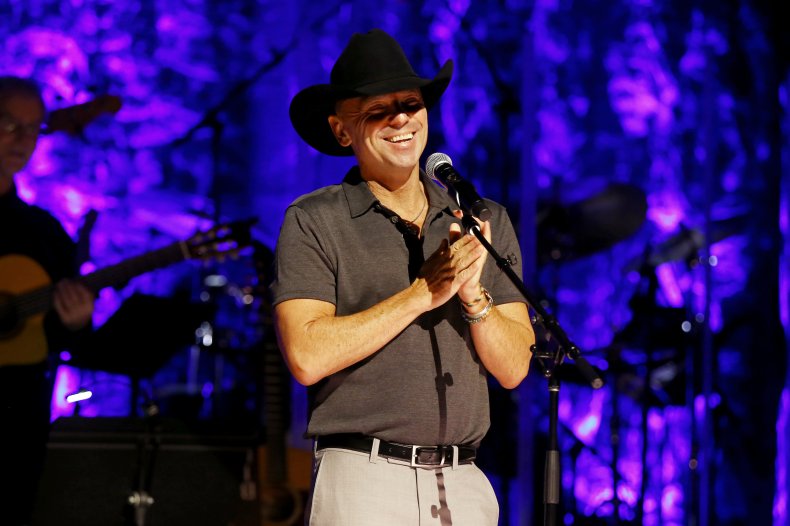 Though he had been Thrasher's friend for years, Mobley never shared this painful part of his past with his buddy. The revelation rocked Thrasher to his core. "I had no idea about his past when we started writing that first verse on the porch," Thrasher himself is the father of two daughters. "I've got to tell you, being friends as long as I had been and finding out something like that," he said, followed by a lengthy and emotional pause. "Man, that just got all over me. I later broke down in front of my wife."
But it also turned out to be the perfect time to write the song. "I was getting kind of funky around her birthday, wondering what she'd be like now," Mobley told his friend. As the two began writing, the emotions poured out. "We cried and wrote and sang and ate and cried and wrote and sang and ate," Thrasher said with a tension-releasing laugh. "There wasn't any stopping us. It was almost like therapy, writing a song like that with someone so close to me."
By the time the two were finished, they'd come up with a song that was so good, Chesney, one of country music's biggest stars, couldn't believe it was available to be recorded.
"I remember the first time I heard this song, my producer Buddy Cannon—we were in his truck—he played me this song, and the first words out my mouth were, 'Are you sure we can record this song?' Because I knew this was one of those songs that you just don't come across every day," Chesney told a small crowd assembled in Boston in 2011 to honor songwriters. "I couldn't believe that I was the guy who got to go out and sing this song the rest of my life."
It was indeed a song that country singers don't come across every day. The opening verse and chorus hook listeners from the first acoustic guitar riff and the very first line:
All he could think about was
I'm too young for this
Got my whole life ahead
Hell I'm just a kid myself
How am I gonna raise one?
All he could see were his dreams
Goin' up in smoke
So much for ditchin' this town
And hangin' out on the coast
Oh well, those plans are long gone.
And he said, "There goes my life
There goes my future, my everything
Might as well kiss it all goodbye
There goes my life."
Then comes the remarkable second verse, which gives the song's chorus a new and more profound meaning.
A couple years of up all night
And a few thousand diapers later
That mistake he thought he made
Covers up the refrigerator
Oh yeah, he loves that little girl.
Mamma's waitin' to tuck her in
As she fumbles up those stairs
She smiles back at him
Draggin' that teddy bear, sleep tight
Blue eyes and bouncin' curls.
He smiles
There goes my life
There goes my future, my everything
"I love you, Daddy, good night"
There goes my life
In one of the best bridges written in country music history, Mobley and Thrasher's protagonist helps his daughter prepare to leave the nest, providing a real-life bridge between his daughter's youth and adulthood.
She had that Honda loaded down
With Abercrombie clothes
And 15 pairs of shoes
And his American Express.
He checked the oil, slammed the hood
Said, "You're good to go"
She hugged 'em both
And headed off to the West Coast.
And he cried, "There goes my life
There goes my future, my everything
I love you, baby, goodbye
There goes my life
Baby, goodbye
There goes my life."
I defy any mother or father who's had that experience, or is about to, not to cry when listening to the song or watching the video directed by Shaun Sliva, which has nearly 100 million views to date and counting. As the father of an about-to-be 18-year-old daughter, I know that day is not far away. The song makes me cry every time I hear it. I cried as far back as the year my daughter was born, 2005, because I always knew that bittersweet day was coming.
But the song has affected fathers and daughters in ways that even the writers of "There Goes My Life" themselves could not have imagined. "We've heard so many stories from so many people," Mobley told Bart Herbison of the Nashville Songwriters Association. "I remember playing the Bluebird [Cafe] one time, and a 24-year-old girl comes up at the end and starts telling me the first time she heard that song, she pulled off on the side of the road because she was thinking about her dad. And then she just started bawling on my shoulder. She always wanted her dad to feel that way about her. He wasn't in her life."
Thrasher added to Mobley's story, not missing a beat. "You get the negative things like that, where someone is wishing for that, and the ones where it actually brought them together," he said. The songwriters have heard countless stories of estranged fathers and daughters reuniting because of their song.
For men and women who've lost a child to a miscarriage or premature death, as Mobley did, the song speaks to them on a deep level. They too have taken flights of imagination, wondering what their sons and daughters might be like today—what they might be doing—if they were alive.
"Right after the writing was done, Neil and I talked about how the song was the perfect marriage between personal and universal storytelling," Mobley told Country Weekly. "It's these kinds of stories, when they are happening all over, that are so rewarding to write."
"When we sing, we pray twice," St. Augustine once wrote. "There Goes My Life" is an answered prayer to the millions of listeners who have been touched by the song and are especially touched when they sing along. And the millions more who will be listening and singing the song for years and decades to come.
No one understands the power of Mobley and Thrasher's ballad better than Chesney, who has carried the party-music torch for his musical hero Jimmy Buffett for two-plus decades of writing and performing. Twenty years after recording the song, "There Goes My Life" is still the highlight, the beating heart and soul, of every Chesney concert because it is a celebration of life. And what happens when we deny the most selfish aspects of our nature and instead choose to commit our lives to another human being.
The song is, in the end, like few ever written—a celebration of fatherhood and parenthood. And love itself.