Dr. Deborah Birx, the White House Coronavirus Response Coordinator, warned Americans to avoid large family gatherings and to avoid traveling ahead of the Thanksgiving holiday due to the surging COVID-19 pandemic. But during that holiday weekend, she reportedly took a trip to her Delaware home accompanied by three generations of her family.
On November 27, after millions of Americans had traveled to gather with their families for Thanksgiving, the White House official also traveled with her husband, her daughter, son-in-law, and two young grandchildren to a vacation home on Fenwick Island in Delaware, the Associated Press reported on Sunday.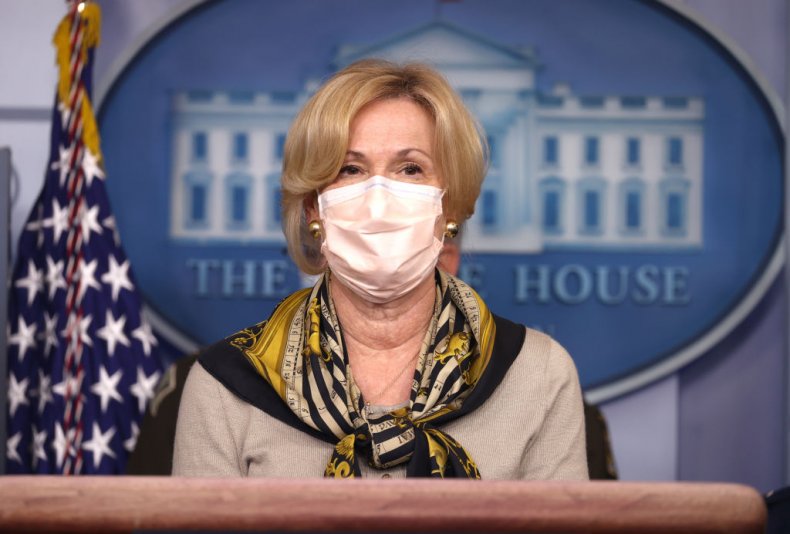 Birx confirmed to the Associated Press that she had taken the trip. She said the visit was about 50 hours in length and that the purpose was to winterize the property. The public health official claimed that everyone present was from her "immediate household," but also acknowledged that they live in two different homes.
Newsweek reached out to the White House for further comment from Birx, but did not immediately receive a response.
"I did not go to Delaware for the purpose of celebrating Thanksgiving," Birx told the Associated Press in a statement. However, she noted that they did have a meal together while at the Delaware home.
In October, Birx told reporters: "We will have to adapt this Thanksgiving." The public health official said "we also need to bring that same attention to detail into our homes and ensure that we're not bringing small gatherings together, un-masked, in houses, where there could be spreading events among those individuals that are silent spreaders because they don't know they're infected."
Later, Birx urged Americans to "be vigilant" during the holidays and to limit their celebratory gatherings to "your immediate household."
Ahead of the Thanksgiving holiday, the Centers for Disease Control and Prevention (CDC) issued specific advice to Americans. "Travel may increase your chance of getting and spreading COVID-19. Postponing travel and staying home is the best way to protect yourself and others this year," the CDC advised.
After Thanksgiving, Birx went on CBS News' Face the Nation and said that those who traveled or attended gatherings over Thanksgiving should assume they were positive with COVID-19.
"We know people may have made mistakes over the Thanksgiving time period," Birx said at the time. "If you're young and you gathered, you need to be tested about five to 10 days later. But you need to assume that you're infected and not go near your grandparents and aunts and others without a mask."
White House officials are regularly tested for COVID-19. But that has not prevented several outbreaks of the novel coronavirus at the White House. Executive branch officials have been accused of organizing and hosting super-spreader events that resulted in numerous staff and Republican officials becoming infected.
President Donald Trump himself contracted COVID-19 and tested positive at the beginning of October. He made a full recovery after a few days of treatment at Walter Reed Medical Center.
Birx isn't the first public official to urge Americans to take precautions and then apparently disregard their own guidance.
California's Governor Gavin Newsom, a Democrat, apologized in mid-November after he had a large indoor dinner party at an upscale restaurant alongside at least three other households. Democratic Mayor Steve Adler of Austin, Texas urged his city's residents to stay home ahead of the holidays, but he was actually vacationing in Mexico following his daughter's wedding when he made that appeal. Adler later apologized after local media reported on his trip.
Senator Marco Rubio, a Florida Republican, tweeted Sunday about what many see as double standards from elected leaders and public health officials. "People are tired of being told they have to stay home & can't work or open their business by people who break their own rules and haven't missed a paycheck," he wrote.