Mysterious Bitcoin Player Manipulated Cryptocurrency to Historic $326 Billion Market Value, Study Claims
A single mysterious player on the cryptocurrency exchange Bitfinex appears to have massively manipulated the price of Bitcoin in 2017, a new academic paper claims.
The peer-reviewed study is an updated version of a 2018 paper investigating if a stablecoin called Tether influenced the values of the cryptocurrency Bitcoin during its unprecedented boom back in 2017, when the price of a single coin spiked in price to almost $20,000.
The fresh updates were first reported by Bloomberg and The Wall Street Journal and are likely to add fuel to the ongoing federal investigations into allegations of cryptocurrency market manipulation.
Authored by University of Texas Professor John Griffin and Ohio State University Professor Amin Shams, the paper, Is Bitcoin Really Un-Tethered, examines transactions of Tether and Bitcoin stored on their blockchains from March 2017 to March 2018.
It found purchases of Bitcoin on Bitfinex jumped when Bitcoin value fell by "certain increments" and noted the existence of "one large player" who was toying with circulation, Bloomberg noted.
"Biggest implication? Crypto can be pushed around easily by big whales," Griffin told Newsweek today. "It's not an efficient vehicle for ETFs [exchange-traded funds]."
Tether is a cryptocurrency that claims to be stable, meaning that its values are not as susceptible to the instability seen in rival coins. It claims to be pegged 1-to-1 with the U.S. dollar (as in 1 Tether is equivalent to one U.S. dollar) while being backed 100 percent by its own reserves.
Bitfinex is a major crypto trading platform which, according to the New York Attorney General's office, is "owned and operated by the same small group of individuals" as Tether. The academics did not name the whale responsible for manipulation, but the findings were damning.
The new 43-page research paper says: "By mapping the blockchains of Bitcoin and Tether, we are able to establish that one large player on Bitfinex uses Tether to purchase large amounts of Bitcoin when prices are falling and following the printing of Tether. Such price supporting activities are successful, as Bitcoin prices rise following the periods of intervention."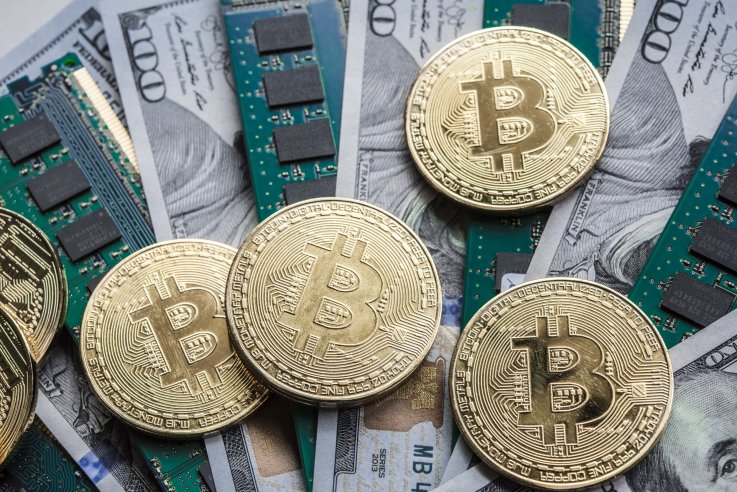 A visual representation of the digital cryptocurrency, Bitcoin with US Dollar on November 9, 2017 in Hong Kong.
StudioEAST/Getty
"We find that one large player is associated with more than half of the exchange of Tether for Bitcoin at Bitfinex, suggesting that the distribution of Tether into the market is from a large player and not many different investors bringing cash to Bitfinex to purchase Tether."
Tether and Bitcoin are closely linked, with CryptoCompare analysis cited by The Wall Street Journal indicating more than 70 percent of Bitcoin trading is in exchange for Tether.
The culprit remains unknown, as are the amounts of profit—if any—received from the suspected scheme. "If it's not Bitfinex it's somebody they do business with very frequently," Griffin told Journal, which noted how Bitcoin's overall market value in 2017 reached an unprecedented $326 billion.
As reported by Bloomberg, the paper suggested that Bitcoin prices can be manipulated by Tether coins being created without adequate reserves of U.S. dollars. In theory, the new Tether coins are then used to buy Bitcoin—which results in the overall Bitcoin value increasing.
One of the authors' main hypotheses posited that Bitfinex creates Tether regardless of demand from cash investors. As such, any "additional supply of Tether can create an inflation in price of Bitcoin that is not from a genuine capital flow," the researchers noted.
The claims were rejected by Bitfinex General Counsel Stuart Hoegner, who described the findings as "foundationally flawed" and said: "Updates or not, the paper lacks academic rigor."
Statements published by Bitfinex and Tether last month suggested the study was based on "flawed assumptions, incomplete and cherry-picked data, and faulty methodology." It would be used to spark a "meritless and mercenary" lawsuit against the firms, its executives claimed.
The preemptive rebuke was firmly rejected by Griffin.
"The new version wasn't even released when they made their comments so they are claiming something isn't rigorous that they haven't read," the professor told Newsweek.
"They denied the original version too but have never been able to point to anything. The original paper claimed, and this paper shows even more evidence, that there was at times insufficient backing for Tether. Bitfinex denied this too but in court filings have admitted as much.
"Their story keeps changing. One can read the detailed evidence and see the truth. A common theme throughout history of all fraudsters is that they attack their accusers instead of admitting the fraud. I'm used to it by now." Bitfinex bosses have denied any wrongdoing.
In its earlier statement, Bitfinex said: "Bitfinex and its affiliates have never used Tether tokens or issuances to manipulate the cryptocurrency market or token pricing.
"All Tether tokens are fully backed by reserves and are issued and traded on Bitfinex pursuant to market demand, and not for the purpose of controlling the pricing of crypto assets.
"It is irresponsible to suggest that Tether or Bitfinex enable illicit activity due to the efficiency, liquidity and... applicability of Tether's products within the cryptocurrency ecosystem."
But the company has long been linked to controversy, at least in the U.S. In April this year, the NY Attorney General, Letitia James, said her office had obtained a court order against Bitfinex and Tether related to fraud. An investigation alleged Bitfinex operators "engaged in a cover-up to hide the apparent loss of $850 million" from clients and investors, James said.
Authorities noted: "Executives of Bitfinex and Tether engaged in a series of conflicted corporate transactions whereby Bitfinex gave itself access to up to $900 million of Tether's cash reserves, which Tether for years repeatedly told investors fully backed the tether currency '1-to-1.'"