Bitcoin Claws Its Way Back Up; Retail Sales on the Rise
CryptoCorner
Bitcoin's 10% climb in the last two days raises a basic question: Is this a dead cat bounce or the foundation for a rally?
Two unrelated actions raised Bitcoin's profile: El Salvador became the first nation to adopt Bitcoin as legal tender, and ForUsAll, a provider of retirement funds, announced plans to allow workers to invest up to 5% of their 401(k) contributions in Bitcoin or other cryptos.
But there may be trouble ahead for world's leading cryptocurrency.
Analysts at JPMorgan Chase note that Bitcoin's spot price is above the futures price, and that's a reason for caution.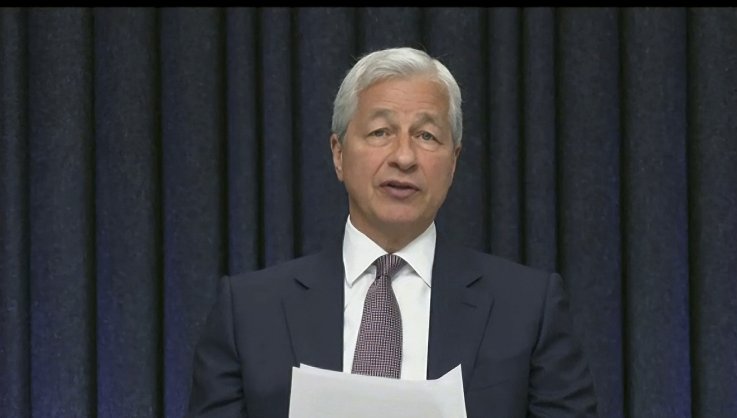 "We believe that the return to backwardation [in Bitcoin] in recent weeks has been a negative signal pointing to a bear market," JPMorgan strategist Nikolaos Panigirtzoglou said in a research note. Pictured is JPMorgan Chase CEO Jamie Dimon testifying virtually to the Senate Banking Committee on Wednesday, May 26, 2021.
Uncredited/AP
"We believe that the return to backwardation in recent weeks has been a negative signal pointing to a bear market," JPMorgan strategist Nikolaos Panigirtzoglou said in a research note.
JPMorgan analysts reviewed the 21-day rolling average of Bitcoin futures on the Chicago Mercantile Exchange and found weak demand among institutional investors.
Bitcoin has plodded along since plunging from its record high of nearly $65,000 in April. So far, nothing has goosed the market and pushed the price above $40,000.
The news points in contradictory directions and doesn't appear enough to resurrect the cat. That may mean the market will continue to trade within a narrow range in the immediate future.
The Bitcoin market split in the current downturn. Many retail investors sold into the downdraft in an apparent effort to cut their losses, but most institutional investors bet on future price gains and held.
One major player plans to expand its Bitcoin holdings.
MicroStrategy, often credited with igniting the last bull market, said it would raise $500 million in debt to acquire more Bitcoin. This looks like a shrewd—and gutsy— decision to buy the dip.
Bitcoin trading volume is down, suggesting retail investors aren't as active in the market as they have been in the past.
June trading volume is about 47% below May's record level and the lowest since December, CoinDesk reported. That may impinge on a hot IPO. Coinbase Global, a cryptocurrency exchange, went public in a direct listing and opened about 52% above its reference price of $250.
The stock recently fetched $223.67, down from a high of $429.54 when shares first traded in April.
Coinbase's results released last month showed that it earned $771 million in the first three months of 2021 compared with $32 million for the same period a year ago. Revenue surged to $1.8 billion from $191 million.
But analysts at Raymond James said competition from other sites could erode future revenue and force Coinbase to cut its fees.
However, Coinbase Global may be able to generate new fee income in its deal with ForUsAll to allow workers to invest up to 5% of their retirement money in Bitcoin, Ethereum, Litecoin and other cryptos.
But if a retirement fund seeks to secure the future, the volatile crypto market may not be a good choice. It's unclear how many workers will add cryptos to their portfolios.
A gauge of market sentiment may suggest the market's immediate course.
The Bitcoin Fear & Greed Index registered 21 Thursday on a 100-point scale where 0 means "extreme fear" and 100 means "extreme greed."
"Extreme fear" suggests investors are worried and may indicate a buying opportunity. "Extreme greed" may indicate the market is due for a correction.
The readings aren't based on an algorithm and reflect market sentiment based on a range of factors, including social media, volatility, trading volume and Google searchers. However, the index foreshadowed the recent market swoon.
But new regulations may change the equation.
Analysts have said it's unlikely governments will ban Bitcoin to preserve their monopoly on issuing currency, but instead will restrict it with new regulations making it harder to use, while driving up the cost.
The Basel Committee on Banking Supervision, a Switzerland-based group of central bankers and regulators, proposed that banks be required to set aside enough capital to fully cover any Bitcoin losses.
"Certain crypto assets have exhibited a high degree of volatility, and could present risks for banks as exposures increase," the group said in a press statement.
The committee doesn't enforce the rules, but after getting public comment sets standards for central bankers. The rules are administered locally. If adopted, the rule could make dealing in cryptos more expensive for banks, and could force some banks to drop Bitcoin, or at least limit services offered.
Some banks have already declined to deal with Bitcoin. NatWest will not work with business customers who accept payment in Bitcoin or other cryptos.
But Mastercard has announced plans to support Bitcoin on its network. Bank of New York Mellon, the nation's oldest bank, provides secure holding services for major companies that invest in the crypto.
In China, police arrested about 1,100 people on suspicion of using cryptocurrencies to launder money.
Others have warned investors about Bitcoin's risk as an investment.
The United Kingdom's Financial Conduct Authority, a watchdog agency, previously warned that crypto investors "should be prepared to lose all their money." On the other hand, New York investment bank Goldman Sachs last month launched a cryptocurrency trading desk.
Maybe the cat isn't dead. Maybe the cat is just confused and taking a snooze until there's a clear direction in the market.
In mid-day trading Thursday, Bitcoin changed hands at $36,875.95, up 1.60% in the last 24 hours and up 27.26% for the year. The 24-hour range is $35,687.44 to $38,461.25. The all-time high is $64,829.14. The current market cap is $690.72 billion, CoinDesk reported.
MarketPulse
Lockdown restrictions are easing, COVID-19 vaccination rates are rising and cash registers are ringing. The National Retail Federation (NRF) said it expects retail sales to increase 10.5% to 13.5% this year compared with 2020.

The National Retail Federation (NRF) said it expects retail sales to increase 10.5% to 13.5% this year compared with 2020.
nrf.com
The revised forecast is nearly double the estimate the NRF made in February, when it looked for retail spending to grow between 6.5% and 8.2%.
Consumer spending represents about two-thirds of the U.S. economy.
"The economy and consumer spending have proven to be much more resilient than initially forecasted," Matthew Shay, NRF President and CEO of the Washington-based trade organization, said in a news release. "The combination of vaccine distribution, fiscal stimulus and private-sector ingenuity have put millions of Americans back to work."
But labor shortages, tax hikes, new regulations and inflation could slow future sales growth, he warned.
Consumer prices rose in May 5% from a year earlier, the biggest jump in prices since August 2008, just before the recession caused by the collapse of the subprime housing market sent the economy into the worst recession since the Great Depression of the 1930s.
The increase followed a 4.2% for the year ended in April, the Labor Department said Thursday.
The core-price index, which doesn't include food or energy, increased 3.8% in May from the year before. It was the largest increase since June 1992.
Bond yields edged up on the news.
But the S&P 500 rose to a new intraday high of 4,249.74, eclipsing its previous high reached on May 7. The Dow Jones Industrial Average and Nasdaq Composite also advanced as investors shrugged off the inflation news.
The Federal Reserve, the nation's central bank, believes the jump in inflation will be "transitory" and reflects strong demand as the economy reopens following the shutdown intended to curb spread of COVID-19.
It expects inflation to exceed the 2% target this year and perhaps into next before declining to the expected range.
But some analysts aren't so optimistic and expect inflation to persist.
NRF's forecast includes both online and store purchases. However, it excludes spending at restaurants, purchase of cars and gasoline. Last year, the trade group estimated retail sales at $4.02 trillion, including $920 billion online purchases.
Last month, several retailers, including Target, T.J. Maxx and Macy's, reported strong sales in the spring quarter as many people spent Uncle Sam's stimulus checks.
Macy's said same store sales, or sales at stores open at least one year, were 62.5% higher than the same period in 2020.
"In our first quarter we outperformed sales expectations across all three of our brands: Macy's, Bloomingdale's and Bluemercury," Jeff Gennette, Macy's chairman and CEO said in a press release. "These results were driven by the positive effects of the government stimulus program and expanding vaccine rollout."
Macy's stock has risen since October and now trades at the high end of its 52-week range.
The NRF raised its forecast for full-year Gross Domestic Growth (GDP) growth to 7% from the 4.4% to 5% estimated earlier this year.
The GDP is the value of all goods and services produced in a year.
"We are seeing clear signs of a strong and resilient economy," Jack Kleinhenz, NRF's chief economist said in a report. "Incoming data suggests that U.S. economic activity continues to expand rapidly, and we have seen impressive growth. Most indicators point toward an energetic expansion over the upcoming months and through the remainder of the year."