Bitcoin Price Drops After Jerome Powell Warns Public of Volatile Crypto
Bitcoin's price faltered this week as the cryptocurrency struggled to reach the all-time high of over $61,000 achieved just two weeks ago.
Despite starting Monday with a price of around $58,000, Bitcoin entered Tuesday down by thousands, hitting a low of about $53,200 before climbing to around $54,000, where it remained at the time of publication according to CoinDesk's real-time tracker.
Between March 13 and March 14, the crypto shattered price records, surging past the $60,000 mark before eventually plummeting to around $53,000 only three days later, the metrics show. In February 2021, the price was as low as $45,000.
Bitcoin's price surged this month as large companies including Elon Musk's Tesla and Mastercard voiced support for its potential as a payments option in the future.
What is clear is the cryptocurrency's reputation for volatility remains intact. What is less clear are the exact reasons for the latest price drop—and if or when it will recover.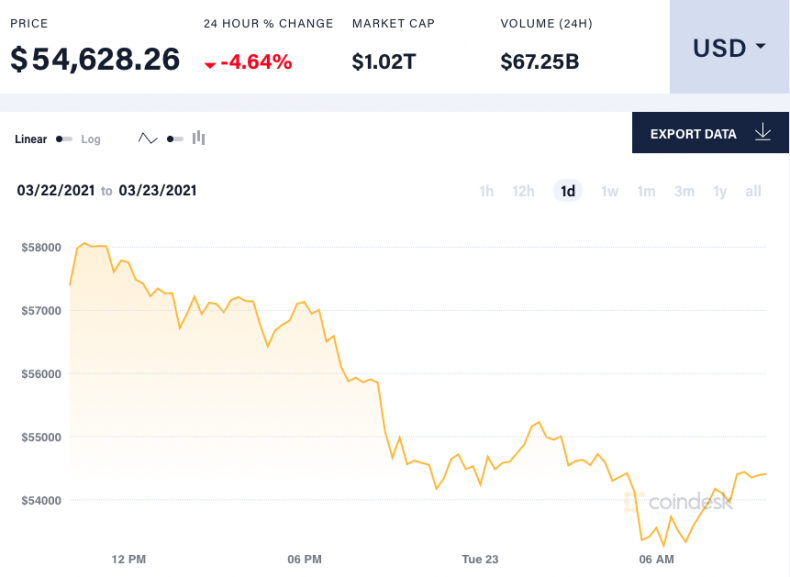 The downward shift came the same day as the Federal Reserve Chair Jerome Powell warned Bitcoin was unpredictable and "not really useful as a store of value."
Speaking via video call at the Bank of International Settlements Innovation Summit on Monday, Powell said of crypto coins: "They're highly volatile, see Bitcoin."
He continued: "They're more of an asset for speculation. So they're also not particularly in use as a means of payment. ... It's essentially a substitute for gold rather than for the dollar. And I think with crypto assets the public needs to understand the risks."
Elaborating on those perceived risks about digital currencies, Powell had listed the price volatility, the "outsized" energy requirement for mining - a process used to create the coins with computing power - and "the fact that they are not backed by anything."
He said stablecoins—which are digital currencies that claim to have a more stable value because the price is tied to another asset such as the dollar of the price of gold—could play a role in future financial systems, but only with proper governance.
Powell said: "Stablecoins may have a role to play with appropriate regulation but that role will not be to form the basis of a new global monetary system. [They] are not going to be a... substitute for a sound monetary system based in central bank money."
Charles Hayter, the CEO of market tracker CryptoCompare, told Newsweek via email on Tuesday that volatility appeared to be leveling off but, referencing the unstable nature of the prices, a "pattern of acceleration and deceleration in the space is typical."
Hayter said: "There are two clear thematic trends at play that have a direct underlying commonality—crypto markets and traditional markets colliding.
"We are a canary in a coal mine with respect to the data clients we see coming over the horizon, from regulators to wealth managers. On this point, we can firmly say that the interest is from product providers globally, and wealth managers who are seeing strong demand from clients to hedge the ever apparent realization that fiat is a mirage."