As Bitcoin Enters Market Mainstream, Regulation Appears Imminent
Bitcoin's move into the mainstream has received tacit endorsement from a range of financial leaders and institutions, underscoring its emergence as a distinct asset class.
Next up: New regulations.
"It's impossible for digital assets to go mainstream without clear regulation and sufficient safeguard," Vytautas Zabulis, CEO of H-Finance, a digital asset trading company based in Vilnius, Lithuania, said in a research report.
"As Bitcoin becomes an institutional asset, market participants expect regulation to be in place to protect capital and have clearly set rules," the report said. "As cryptocurrencies start being treated as a new asset class, at least some clear rules will need to be put in place to solidify international adoption."
But it's unclear what the new regulations might cover or when new rules will be enacted.
For many lawmakers, the primary concern is the possible use of Bitcoin to fund illegal activity. Some foreign governments seek a complete ban on cryptocurrency while others seek to curb its commercial use.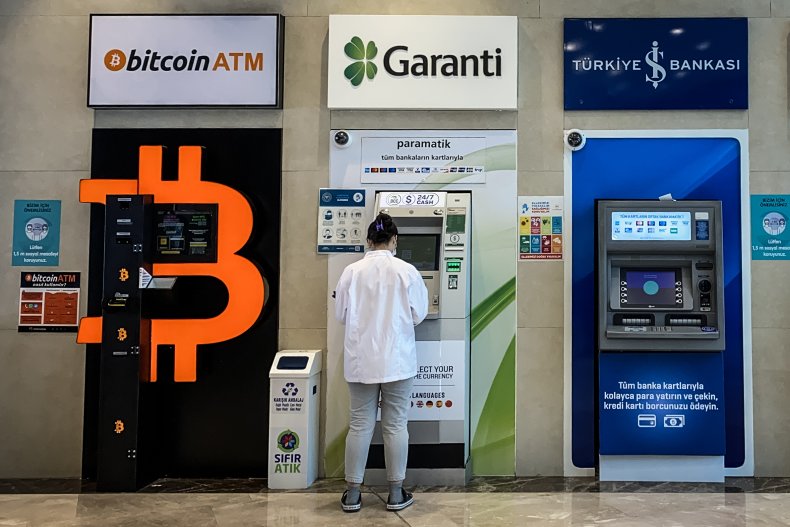 It's a confusing mix pulling in opposite directions. For now, Bitcoin is generally wide open and an opportunity for gutsy investors.
Tesla's Elon Musk and Twitter's Jack Dorsey have invested in the cryptocurrency, lifting its profile and price. MicroStrategy is often credited with igniting the rally that sent Bitcoin to an all-time high. It's one of about 25 publicly traded companies that have invested an estimated $4 billion in the cryptocurrency—and doubled their money.
Major Wall Street investment banks now offer Bitcoin investments to select customers. Bank of New York Mellon, the nation's oldest bank, provides secure custodial services for major investors seeking to park their holdings securely.
Some mutual funds have expanded their offerings to include indirect Bitcoin investments. There's a stampede to create a Bitcoin Exchange Traded Fund in the U.S. Bitcoin derivatives are traded on the Chicago Mercantile Exchange (CME).
Micro Bitcoin futures got off to a strong start on CME, trading 80,561 contracts. The futures are 1/10 the size of one Bitcoin and 1/50 the size of typical contracts. The micro futures are intended to open the field to retail traders and provide pros with added versatility in trading.
On the retail side, Mastercard, Visa, PayPal and Square opened their payment systems to Bitcoin, and some commercial banks are exploring the possibility of making the cryptocurrency available to customers.
About 46 million Americans, or 14% of the nation's adults, now own Bitcoin. The Coinbase app was the top seller on the U.S. Apple App Store, the first time the crypto exchange held the slot since 2017, the Block reported.
But Uncle Sam isn't sure how to define the cryptocurrency, and that complicates the regulatory picture.
The Internal Revenue Service classifies Bitcoin as property, the Commodity Futures Trading Commission says it's a commodity, the U.S. Treasury Department regards it as money and the U.S. Securities and Exchange Commission says it's not a security like stocks or bonds, while the Federal Reserve, the nation's central bank, has compared it to gold.
Regardless of what you call the cryptocurrency, capital gains earned on Bitcoin are taxable.
Last month, news that President Joe Biden will propose a hefty increase in the capital gains tax sent Bitcoin's price below $50,000 for the first time since early March.
Biden is expected to propose raising the Federal capital gains tax to 43.4% from the current top rate of 23.8%. That's an increase of 82.35%. Including the 3.8% ObamaCare tax on investment, the new rate would be 43.4%.
But that's just the Federal tax rate.
Including California's 13.3% capital gains tax rate and New York's 11.85% hit, plus a 3.88% tax bite in New York City, the new rate would climb close to 60% in those states. It's not clear what effect the higher capital gains tax rate would have on Bitcoin investment.
Government officials in the U.S. and Europe have expressed concern about the possible use of Bitcoin in illegal activity, including money-laundering and funding terrorism.
At a hearing conducted in February by the House Financial Services Committee's Subcommittee on National Security, witnesses said law enforcement lacks full legal authority to pursue suspected illegal activity.
Proposed legislation would require the Government Accounting Office to study fundraising of suspected domestic terrorists and explore possible links to foreign extremists.
India may ban cryptocurrencies. Last month, Turkey banned the use of "excessively volatile" cryptocurrencies in commerce, and Bitcoin's price fell about 4%.
Yet crypto fans push onward.
The cryptocurrency market appears to be splitting between Bitcoin, the world's largest by market cap, and Ethereum, the runner up. The apparent split: Bitcoin has become a buy-and-hold investment for major companies while Ethereum is a bet on the future development of a new decentralized financial system based on self-executing "smart contracts" when specific conditions are met.
For some, a maturing crypto market may erode its allure.
"It is a big step forward to make the assets more usable and stable," Zabulis said. "First of all, banks will be able to work with a compliant crypto sector—something that currently is more of an exception than a rule. But we need to be honest and acknowledge that a fully regulated crypto sector will lose its charm and I would not be surprised that a new type of 'Bitcoin' or technology will emerge."
In mid-day trading Wednesday, Bitcoin changed hands at $55,537.77, down 0.96% in the last 24 hours but up 91.30% for the year. The all-time high is $64,829.14. The market cap is $1.04 trillion, CoinDesk reported.
Etheremum set a new high Wednesday, reaching $4,382.73. It recently fetched$4,195.61, up 3.86% for the day. It's up 471.91% for the year. The market cap is $486 billion, CoinDesk said.
Market Pulse
Inflation increased at the fastest pace since September 2008, the U.S. Labor Department reported Wednesday.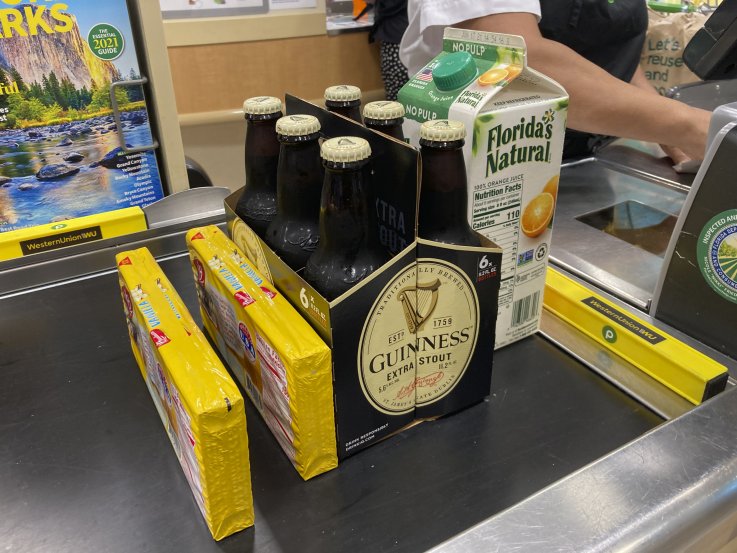 Groceries are shown at a checkout counter, Friday, April 16, 2021, at a grocery store in Surfside, Fla. U.S. consumer prices surge 0.8% in April, pushing the rise in inflation over the past year to the fastest rate in more than a decade, an acceleration that has stirred worries about rising inflation. The Labor Department reported Wednesday, May 12, that the price consumers pay for their purchases of everything from food and clothes to new cars rose at a faster pace than last month's 0.6% rise.
Wilfredo Lee/AP Photo
The Consumer Price Index (CPI), a measure of a basket of goods plus energy and housing costs, jumped 4.2% from a year ago.
Analysts surveyed by Dow Jones expected a 3.6% increase. The monthly increase was 0.8% compared with the anticipated 0.2%.
Excluding food and energy prices, which can be volatile, the core CPI rose 3% year-over-year and 0.9% on a monthly basis.
Energy prices are up 25% from a year ago, including a 49.6% jump in gasoline prices and a 37.3% increase for fuel oil.
The prices of used cars and trucks rose 21%, including a 10% increase in April.
Part of the steep increase in prices can be attributed to a statistical quirk. Inflation was low a year ago because the COVID-19 pandemic slammed the economy as governors ordered businesses to close as part of the effort to limit spread of the coronavirus.
In short, rising prices as the economy restarts are measured off a low base and this magnifies any increase.
The Federal Reserve, the nation's central bank, has said it will keep its easy money policies in place despite a strengthening economy and rising inflation.
"Inflation has risen, largely reflecting transitory factors," the policy-making Federal Open Market Committee said in a statement after last month's meeting.
Skeptics aren't so sure.
The dollar dipped to a 2.5-month low ahead of Wednesday's report because investors believed rising inflation would undercut its value.
In the past, the Federal Reserve increased interest rates to slow inflation, but the nation's central bank has said it plans to keep interest rates low through 2023.
The Federal has held interest rates close to zero since March 2020. This makes it cheaper for businesses and individuals to borrow and make credit purchases. Consumer spending represents about two-thirds of the U.S. economy.
Last week's job report—266,000 jobs added in April, well below the 1 million expected by economists—also hurt the dollar.
The unemployment rate edged up to 6.1% in April from 6% in March. Joblessness peaked at 14.7% in April 2020 as the COVID-19 pandemic pummeled the economy.
Commodity prices are also climbing. Oil, copper, lumber, corn and wheat are up.
Corn prices have risen about 50% this year. That means consumers will pay more for food and gasoline. Corn is used in tortilla chips, whiskey, soft drinks and about 40% of the U.S. harvest is made into ethanol and blended with gasoline.
Major stock indexes were down at Tuesday's close in anticipation of the gloomy inflation report and remained in the red in mid-day trading Wednesday.