Bitcoin Price Crash: Ethereum, Ripple Also Plunge After Goldman Sachs Ditches Crypto Plans
The prices of Bitcoin, Ethereum and Ripple plunged this week after news that U.S. banking giant Goldman Sachs was ditching plans to open a crypto trading desk.
The value of a single bitcoin plunged from $7,400 to around $6,300 in less than 24 hours, according to metrics recorded by the websites CoinDesk and CoinMarketCap.
Bloomberg noted that bitcoin's price had tumbled as much as 9.8 percent between Wednesday and Thursday. It said the market was trading near its lowest level since November last year. Analysis indicated that each of the top 20 cryptocurrencies had fallen in price over the past week.
"The fall in ethereum has spooked the market," Charles Hayter, CEO of CryptoCompare, told Newsweek. He appeared hesitant to blame the negative shift solely on Goldman's move, saying, "Goldman Sachs's reappraisal of their digital asset trading desk is nothing to be alarmed. There are multiple incumbent financial institutions looking closely at the space."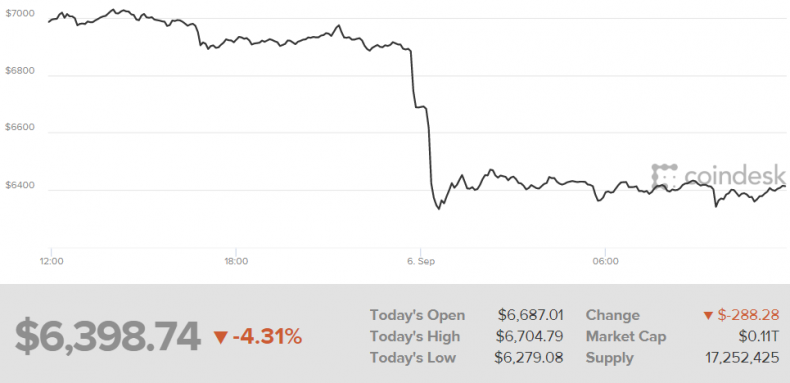 In any case, the market's spiral—whatever the reason—was clear to see.
Business Insider reported Wednesday that the Wall Street goliath no longer considered crypto trading a priority. Goldman, sources said, was still seeking changes in regulation, especially around how to protect the institution from the volatile nature of the market. U.S. regulators have criticized trading platforms and are reportedly probing possible price manipulation.
"At this point, we have not reached a conclusion on the scope of our digital asset offering," Goldman Sachs spokesperson Michael DuVally told Reuters on Wednesday.
Bitcoin gained attention last year as its value surged. At one point, a single bitcoin was worth close to $20,000 thanks to eager new investors. But the old adage "what goes up must come down" was proved accurate in the months following, as prices fell.
Financial experts and banking bosses warned last year that bitcoin's increasing value was a bubble. JPMorgan Chase CEO Jamie Dimon made headlines after branding it a "fraud."
But last October, Goldman Sachs CEO Lloyd Blankfein teased cryptocurrency users by saying that he was "still thinking about bitcoin." He tweeted: "No conclusion—not endorsing/rejecting. Know that folks also were skeptical when paper money displaced gold."
Several mainstream financial institutions are not focused on bitcoin but have shown interest in its underlying technology, a type of digital transaction ledger known as a blockchain.
Last month, a major bitcoin price drop caused alarm after values dropped to below $6,000. The price of a single bitcoin at the time of publication on Thursday afternoon was $6,398.74.