Bitcoin Finds Investment Portfolio Niche; Crude Oil Reaches Pre-Pandemic Price
CryptoCorner
When building a portfolio, Bitcoin vs. gold is the wrong debate, a fund manager believes.
Instead, investors should establish their goals, define the appetite for risk, keep an eye on the actuarial tables and develop a mix of assets to generate the desired yield.
In some cases, Bitcoin can be part of the investment strategy.
"It's not about avoidance but rather portfolio construction based on an individual's investment goals or situation," Bill Herrmann, Co-Founder and Managing Partner at Wilshire Phoenix in New York told Newsweek.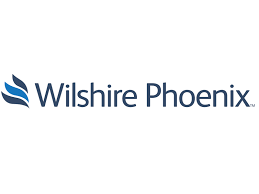 "It's not about avoidance but rather portfolio construction based on an individual's investment goals or situation," Bill Herrmann, Co-Founder and Managing Partner at Wilshire Phoenix in New York told Newsweek. "For example, if a person recently retired or is soon to be, that person would likely focus on capital preservation or generating income from their investments."
wilshirephoenix.com
"For example, if a person recently retired or is soon to be," he said, "that person would likely focus on capital preservation or generating income from their investments."
Investing in Bitcoin can be intimidating for some—especially when investors buying directly from an online trading platform can be hit with high fees.
An Exchange Traded Fund (ETF) would be the simplest option for many investors, but none is available in the U.S.
"A Bitcoin ETF would be the most accessible and convenient way for most investors to obtain exposure to Bitcoin, but I don't think anyone should hold their breath waiting on approval in the United States," Herrmann said.
He said that companies keep pursuing them, but progress has been difficult.
"It runs the imagination why so many firms have recently filed applications for Bitcoin ETFs, when the Securities and Exchange Commission has made it quite clear that there are significant hurdles that they need to overcome," Hermann said. "Instead, these firms should consider donating the high legal and other fees associated with their filings to charitable organizations."
An ETF tracks an index, commodity, sector or other asset such as cryptocurrency. The fund can be purchased or sold on a stock exchange like the shares of any publicly listed company. The strategy can include the purchase of a range of stocks in a sector to spread the risk, but ETFs also can be tailored to commodities using varying investment strategies.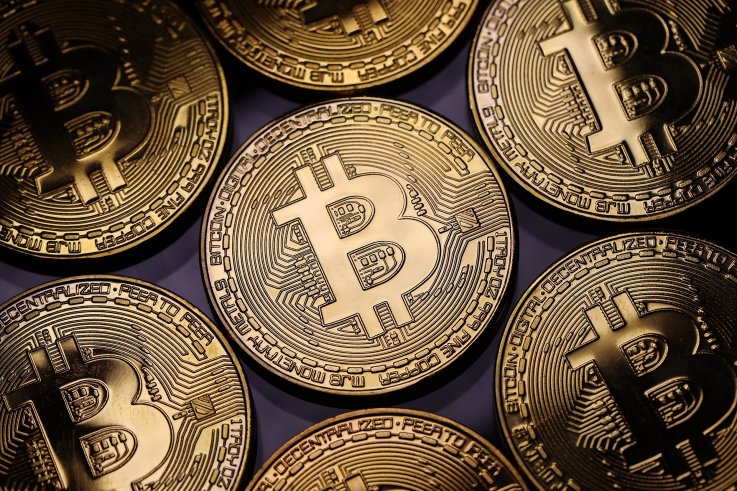 A visual representation of the digital Cryptocurrency, Bitcoin on December 07, 2017 in London, England.
Dan Kitwood/Getty
In Canada, three Bitcoin ETFs trade on the Toronto Stock Exchange. The value of similar products in Europe exceeded 1 billion euros in 2020.
In March, Anthony Scaramucci, perhaps best known outside Wall Street for his 10-day stint as former President Donald Trump's communications director, joined the stampede to Bitcoin ETFs through SkyBridge Capital, the company he founded in 2005.
While no Bitcoin ETFs have been approved in the U.S., there is a wide array of stock funds available.
There are other ways to invest in Bitcoin—and each requires careful study.
"Bitcoin futures are another way to gain exposure, but trading futures, whether that's Bitcoin or S&P 500 futures, comes with many inherent risks," Herrmann said. "Before even thinking about investing in futures, one should be an expert in the underlying market or asset, and I would say the same for options, another form of derivative."
CME Group now offers micro Bitcoin futures contracts, underscoring the growing acceptance of the cryptocurrency among established traders. Investors now will be able to trade contracts one-tenth the size of one Bitcoin. Prior to Monday's launch, one contract was worth five Bitcoins or about $183,000 at today's price.
Smaller contracts open the field to individual investors, but futures aren't for neophytes and may not be a good choice for first-time Bitcoin investors.
Ethereum, the second most popular cryptocurrency based on market cap, may be better suited than Bitcoin for commerce, the St. Louis Federal Reserve Bank said in a research report.
But that doesn't necessarily make it a better bet for crypto investors.
"Bitcoin is the leader and bellwether among digital assets," Herrmann said. "For most investors, it represents the most direct way to obtain exposure to the space, and that includes Ether because of its high correlation to the price of Bitcoin."
The hackers who seized control of the Colonial Pipeline demanded to be paid in Bitcoin. For some, the use of Bitcoin in criminal activity tarnishes its image.
Herrmann doesn't dismiss the concerns, but believes they miss a basic point.
"Most ransom demands are in U.S. dollars, and that does not erode the dollar's value or image," he said. "I think people focus too much on Bitcoin being used by criminals. Most Bitcoin transactions can be effectively and successfully traced."
The Federal Reserve, the nation's central bank, said it expects inflation to exceed its 2% annual target this year, but Bitcoin's volatility negates its utility as a store of value—especially for those nearing retirement.
At the depths of Bitcoin's recent downturn, the crypto plunged as much as 50% from its record high.
"Bitcoin has never existed in an inflationary environment, but it does share a lot of the same characteristics as gold, which has historically been an effective hedge against inflation," Herrmann said. "At this time, though, the volatility of the price of Bitcoin may present a challenge for it to serve as an effective hedge."
Some see Uncle Sam's increased tax enforcement and new regulations as initial steps in gutting cryptocurrencies simply because the government doesn't want to relinquish its control of issuing money.
But Herrmann believes increased scrutiny and regulation will improve the Bitcoin market and make it safer for investors.
"The digital asset industry has been seeking new forms of regulation for quite some time," he said "With clearer regulatory rules and regulatory frameworks in place, many more people and institutions will be more comfortable investing in Bitcoin."
Despite Elon Musk's celebrity and influence over the cryptocurrency market, Hermann questioned the value of the company he leads as CEO: Tesla.
"I think the value of a company like Tesla is disconnected from reality or any rational valuation," he said, " so I don't invest in the company."
An investment in Bitcoin requires the basics: Do your homework, know what you're getting into, and spread the risk.
"It's impossible to predict the future price moves of any specific investment, whether it's shares of Apple or Bitcoin," Herrmann said. "However, that does not stop many high-profile investors from making grand proclamations. Such people often have separate agendas and should be ignored. I think investors should do their own research to understand what they are buying, and then allocate capital according to their personal financial position."
In early trading Friday, Bitcoin changed hands at $36,839.50, down 4.63% in the last 24 hours but up 27.30% for the year. The 24-hour range is $35,593.79 to $39,287.31. The all-time high is $64,829.14. The current market cap is $689.85 billion, CoinDesk reported.
MarketPulse
The price of oil, a barometer of future economic activity, is returning to pre-pandemic levels as the U.S. and world economies restart.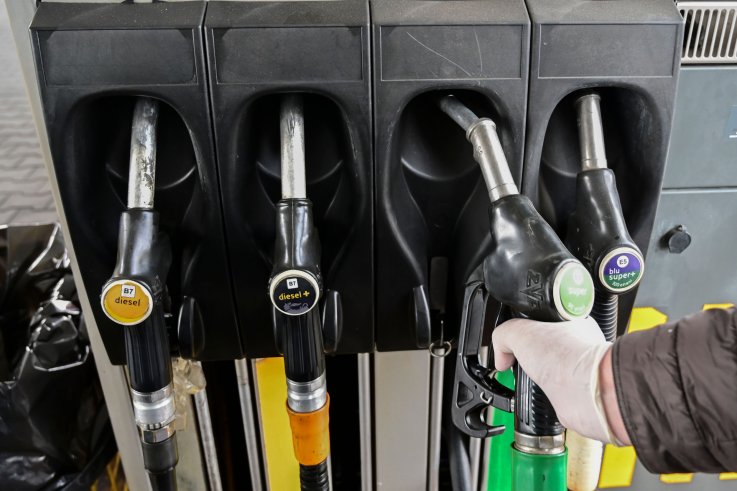 This file photo shows a customer at a gas station on the outskirts of Milan, Italy on March 25, 2020.
MIGUEL MEDINA/AFP via Getty Images/Getty
The price of Brent Crude, the international benchmark, climbed to $71.99 a barrel Friday, its highest price since May 2019.
West Texas Intermediate Crude, the guide for U.S. prices, rose Friday to $69.61, the highest price since June 2018.
The price of West Texas oil briefly turned negative during the worst of the economic shutdown last year as demand collapsed and supplies swelled.
The price of other commodities, including copper and lumber, have also climbed.
Some economists say consumer price increases aren't an on-going concern and reflect a sudden, sharp increase in demand as the economy emerges from the shutdown intended to curb spread of the coronavirus.
In some cases, kinks in the supply chain limit available goods, driving prices higher. Many expect the surge in demand to ease and supply problems to be resolved.
But others are concerned that "re-inflation"—restarting the economy pummeled by COVID-19—will lead to ongoing inflation.
The U.S. Commerce Department said consumer prices rose 0.6% in April from the previous month and 3.6% from a year ago. Core prices, excluding energy and food, rose 0.7% month-over-month and 3.1% year-over-year.
The Federal Reserve, the nation's central bank, expects inflation to exceed its 2% target this year and into next, but believes the increase will be "transitory."
The Organization of the Petroleum Exporting Countries (OPEC), an intergovernmental organization founded in 1960 to establish trade policies and set prices, recently agreed to boost production by about 450,000 barrels a day starting next month to meet increased demand.
A barrel is 42 gallons.
OPEC and its allies agreed in April to boost production by about two million barrels a day by the end of July.
Cumulative production increases in the last year total about four million barrels, or less than half the 9.7 million barrels a day the organization agreed to cut last year to support prices during the worldwide economic shutdown.
In the U.S., the supply situation is mixed.
After Joe Biden was sworn in as president on January 20, he revoked the permit for the Keystone XL pipeline, designed to carry about 800,000 barrels of oil a day from Alberta, Canada to refineries on the Texas Gulf Coast.
"The permit is hereby revoked," Biden's executive order said. "Leaving the Keystone XL pipeline permit in place would not be consistent with my Administration's economic and climate imperatives."
Biden has expressed doubts about fracking, but hasn't banned it.
The Global Energy Institute of the U.S. Chamber of Commerce estimated that a ban on fracking would eliminate 19 million jobs and slash the gross domestic product (GDP) by $7.1 trillion.
The nation's GDP, the value of all goods and services produced in a year, totaled $21.43 trillion in 2019, the year before the COVID-19 pandemic hit.
Earlier this week, the Biden administration suspended oil leases in Alaska's Arctic National Wildlife Refuge. The action blocked plans to drill for the first time in the 19 million-acre site.
It may not matter. Bids totaling about $14 million from small companies were well below the billion dollars projected by the Congressional Budget Office three years ago.
Major oil companies seek to cut costs and boost profits, lessening interest in Alaskan oil that must be pumped about 800 miles through a pipeline to Valdez and then shipped south to reach West Coast markets.
ANWR bumps against Canada's Yukon Territory and is about the size of South Carolina. In the past, the proposed drill site was about the size of New York's Central Park.
Alaska's North Slope, the site of current drilling, is an arctic plain about as scenic as western Kansas. It's not near the Brooks Range, the pristine mountains often pictured as a proposed drill site.
The debate about drilling and the feasibility of achieving carbon neutrality in the U.S. by 2050 will continue. What's clear is that demand for oil is growing and domestic supply may tighten in the future.
Higher energy costs are likely to wash through the economy and boost consumer prices, perhaps leading to ongoing inflation.