Bitcoin Flash Crash Due to 'Market Overreaction' to 'Non-issue,' Analyst Says
Bitcoin plunged nearly 20% less than a week after reaching a new high as automatic sell orders kicked in, deepening the downturn and underscoring the cryptocurrency's volatility.
Sunday's "flash crash," similar to wild computer-driven swings in the stock market, did no lasting harm, and Bitcoin's price quickly made up some of the loss.
"A power outage in the Xinjiang region of China where a significant portion of Bitcoin mining takes place caused a very sudden dip in the global hashrate which, in turn, caused transactions to back up and fees to rocket temporarily," Jason Deane, Bitcoin analyst at Quantum Economics, London, told Newsweek.
"Weaker hands interpreted this to be a major problem for the network and off-loaded their Bitcoin in quantities just sufficient enough to trigger a chain reaction of liquidations via automatic executions of stop loss (orders), thereby driving down the price very quickly," he said.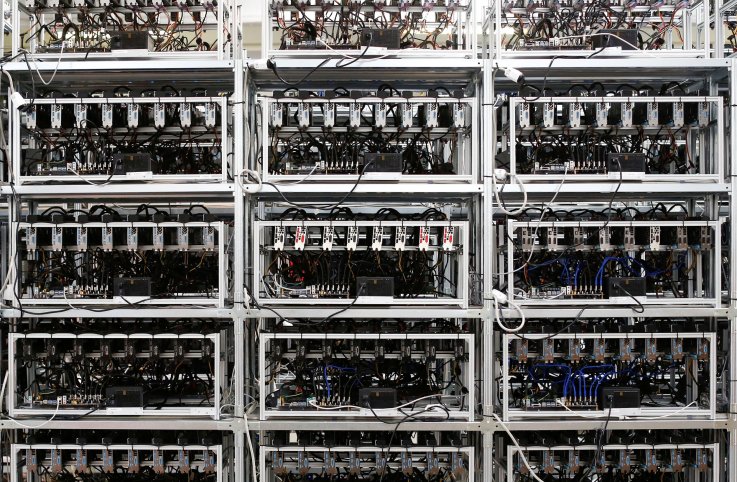 Bitcoin mining computer servers are seen in Bitminer Factory in Florence, Italy. Truby recommends taxing the purchase of bitcoin mining machines.
ALESSANDRO BIANCHI/REUTERS
A "hash" is an alphanumeric code of a set length used in Bitcoin mining, or solving complex problems with computers. If successful, the miner earns a predetermined number of the newly created Bitcoins as reward. A strong "hash rate" indicates vigorous Bitcoin mining activity and that's needed to maintain the blockchain ledger, an unbreakable record of all transactions in the cryptocurrency.
Data provider Glassnode tracked liquidations totaling $1.9 billion, but platforms like Bybt measured $4.9 billion in Bitcoin sell-offs and $9.38 billion in total liquidations, including altcoins, the New York Digital Investment Group said.
Bitcoin fell Sunday to $52,138.98, a drop of 19.56% from its record high $64,829.14 set the previous week. A decline of 20% or more is considered a bear market.
In mid-day trading Monday, Bitcoin changed hands at $54,578.94, a 4.68% gain from Sunday's low. The cryptocurrency is up 90.13% for the year, CoinDesk reported.
Deane said Bitcoin's fundamentals remain intact and the downturn highlights the strength of its network.
"The domino effect was sparked by a market overreaction to what is essentially a non-issue," he said.
"The extra irony is that the significant reduction in hash rate actually demonstrates just how resilient the decentralized Bitcoin network really is" he said. "While a temporary outage of this size is extremely rare and can result in higher fees and longer processing times in the very short term, the network continues to operate perfectly and will readjust automatically in due course."
Major institutions and big name investors buy and hold Bitcoin as a long-term investment. This reduces the number of coins available to new investors or those seeking to expand their holdings and should, in theory, smooth out wild price swings.
"It's certainly possible that in the medium to long term that levels of Bitcoins held by institutions and perhaps even sovereign funds would lead to some price stability as many of the available coins would be 'locked' for long periods," Deane said.
"However, we're not there yet," he said. "Bitcoin is still a very young asset, which is not always properly understood by some who trade it. Put simply, any perceived negative activity can create nervousness in some traders."
Bitcoin set a new high last week just before Coinbase Global, a cryptocurrency exchange, went public via a direct listing on Nasdaq.Investors snapped up the shares and Wall Street analysts liked the company's growth potential.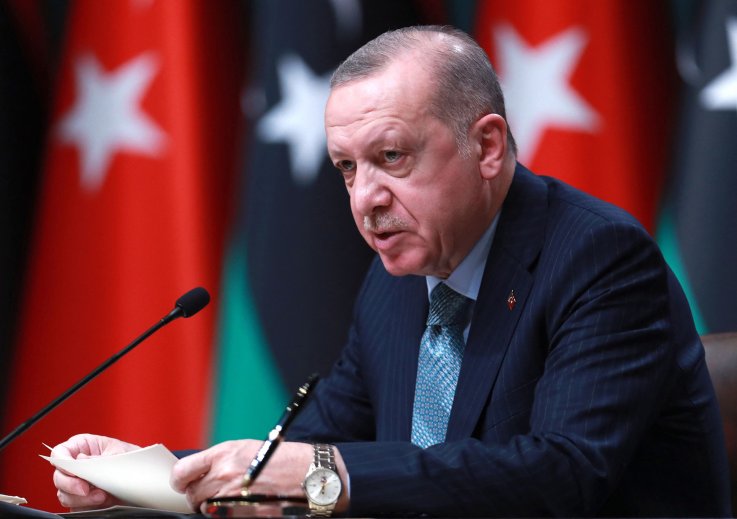 Turkish President Recep Tayyip Erdogan. Turkey has banned the use of "excessively volatile" cryptocurrencies such as Bitcoin in commerce.
ADEM ALTAN/AFP via Getty Images
Bitcoin dipped 4.32% in early trading Friday after Turkey banned the use of "excessively volatile" cryptocurrencies in commerce. Turkey's central bank said Bitcoin and other cryptocurrencies are unregulated and could be used to fund illicit activities.
China banned cryptocurrency trading in 2017 and is testing its own digital currency that some believe could challenge the U.S. dollar. India's parliament is considering a bill to ban Bitcoin and other cryptocurrencies and is also exploring creating its own digital currency.
Regulators in the U.S. and Europe are concerned that Bitcoin can be used to launder money and to fund illegal activities and are discussing tighter regulations. Despite concern about Turkey's action, discussions about new laws governing Bitcoin didn't drive its price down Sunday.
"Underlying demand remains strong and it's likely that the price will resume its original trajectory in due course," Deane said.
Dogecoin, a parody cryptocurrency launched in 2013, rallied 14.27% during Bitcoin's downdraft to $0.32. On Monday, Dogecoin rose to $0.39.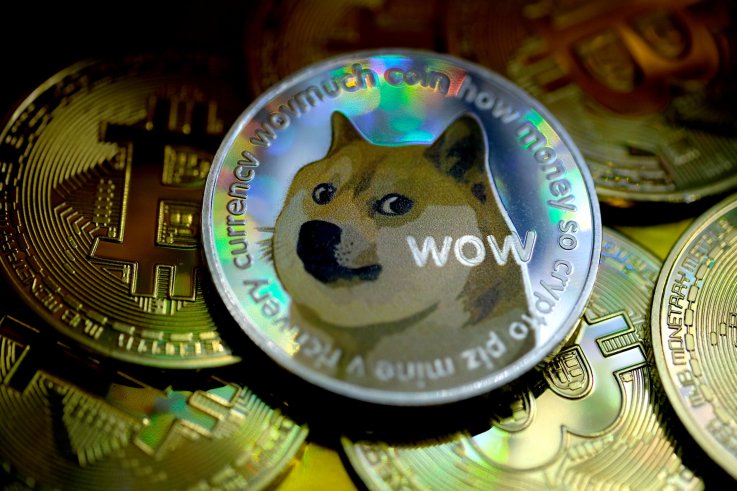 In this photo illustration, visual representations of digital cryptocurrencies, Dogecoin and Bitcoin are arranged on January 29, 2021 in Katwijk, Netherlands. An increasing number of companies now accept Dogecoin as a form of payment.
Yuriko Nakao/Getty Images
But no serious investor sees Dogecoin as a safe haven—despite Elon Musk's playful musings that it could become the world's currency.
"Dogecoin is a meme coin that is designed purely for fun," Deane said.
"That said, Dogecoin is so loved and enjoyed by so many crypto enthusiasts that it will probably be part of the crypto ecosystem," he said, "and may well have as much longevity as Bitcoin—just for entirely different reasons."
Market Pulse
NASA awarded Elon Musk's company SpaceX a $2.89 billion contract to build a launch and landing system to carry astronauts to and from the moon.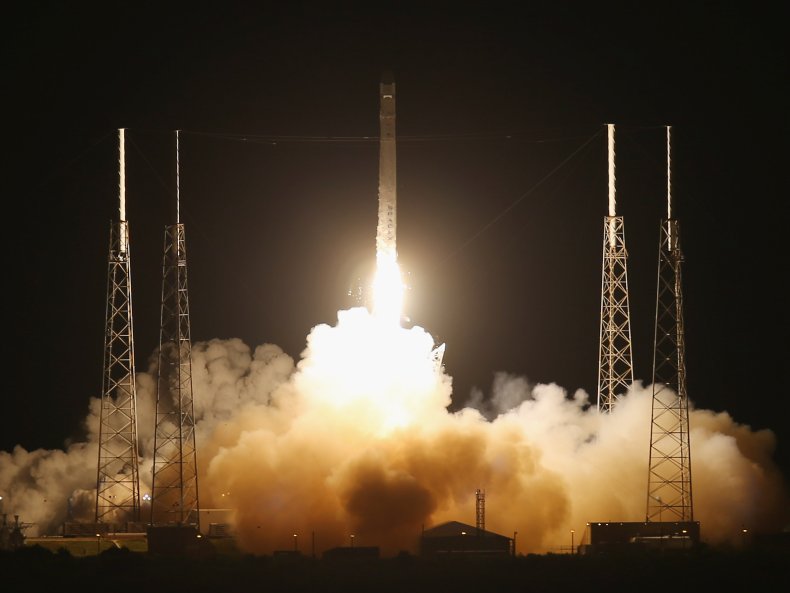 Musk's closely held company, officially known as Space Exploration Technologies Corp. and based in Southern California, beat out a combined bid by Blue Origin, owned by Amazon's Jeff Bezos, and major defense contractors.
Bezos and Musk, ranked first and third, respectively, by Forbes magazine as the world's richest people, share a personal interest in space exploration and have competed to be a part of man's first return to the moon since 1972.
Musk's Starship is intended to develop into a reusable vehicle designed to carry astronauts to the moon, Mars and perhaps more distant destinations.
NASA said SpaceX will make a test flight of the lander to the moon before astronauts make the trip. If all goes well, that could be as early as 2024.
"NASA Rules!!" Musk tweeted after the announcement.
The contract underscores NASA's increased reliance on the private sector as it seeks to establish a long-term presence on the moon as a way station to explore Mars.
SpaceX tweeted, "We are humbled to help @NASAArtemis usher in a new era of human space exploration."
Musk's company bid individually. Blue Origin submitted a joint bid with Lockheed Martin, Northrop Grumman, Draper and Dynetics, a unit of Leidos Holdings.
SpaceX has received space-related orders estimated at $5 billion. The company also won contracts valued at about $6 billion to provide rocket launches for the military and satellite prototypes.
However, SpaceX's contracts are small compared with the $26 billion Boeing generated last year in space and defense contracts.
Lockheed Martin, the nation's leading defense contractor, received about $21 billion in space and missile contracts. The company also builds high altitude reconnaissance aircraft, fighters, air tankers, unmanned stealth aircraft, drones and helicopters.